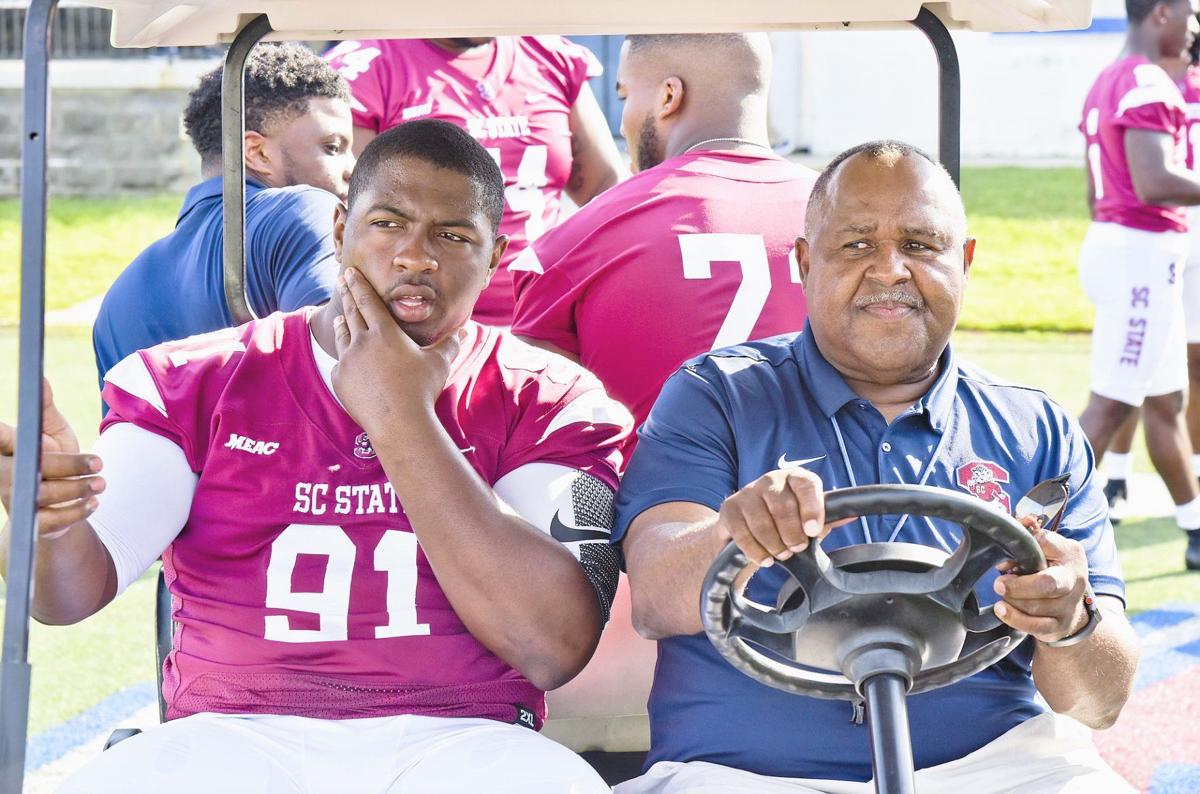 Less than two weeks ago, the Mid-Eastern Athletic Conference decided to postpone fall sports, including football, in order to keep student-athletes apart and perhaps safer during the current coronavirus pandemic.
That move led to several top MEAC football players announcing this past weekend that they will be leaving their respective programs to move on with their playing careers at other levels.
Three of the conference's top pro prospects, representing the offensive and defensive lines, are on the way elsewhere, either through NFL Draft prep or the NCAA transfer portal.
South Carolina State defensive tackle and preseason All-American Roderick Perry has announced that he will immediately enter the NCAA transfer portal.
The 6-foot-2, 315-pound lineman from Cary High School in Raleigh, N.C. had 34 tackles, 14.5 tackles for loss, 4.5 sacks and forced a fumble in 2019.
Perry has drawn the attention of NFL scouts and will likely be an interesting piece for Football Bowl Subdivision schools looking for a talented D-lineman to add to their roster.
Since SC State has not released anything official, it is not public knowledge if any other Bulldog players plan to enter the NCAA transfer portal at this time.
Florida A&M offensive tackle Calvin Ashley announced on Friday that he will forgo his final season of eligibility to prepare for the NFL Draft. The 6-foot-6, 335-pounder spent one season with FAMU after transferring from Auburn.
Ashley isn't the only stud MEAC offensive tackle moving on. North Carolina A&T's Dontae Keys (6-foot-4, 300 pounds, from Fayetteville, N.C.) announced he will be entering the transfer portal on Monday. The all-MEAC offensive lineman was a part of three-straight MEAC championship squads and Celebration Bowl winners.
According to Steven J. Gaither of HBCUGameday on Sunday, none of the student-athletes have directly stated that the MEAC's decision to sit out fall 2020 play forced them to move on. But the fact that all three made their decisions in late July definitely seems to hint at it.
There is still the possibility the MEAC and fellow HBCU conferences have a spring football season. However, that would also coincide with preparation for the NFL Draft for draft-eligible players.
Reported by HBCUGameday, one MEAC pro prospect who has stayed put is NC A&T running back Jah-Maine Martin. The 2019 Protect Your Skull/HBCU Gameday Offensive Player of the Year broke several of (current Chicago Bear running back) Tarik Cohen's records as a junior. Martin, who first played at Conway High School and then Coastal Carolina University, has NFL size, speed, and talent that many FBS programs would like to have.
HBCU podcast postponed for 2020
Due to the COVID-19 pandemic and the postponement of football in the fall by HBCU conferences, BOXTOROW, a subsidiary of DWCommunications, LLC, is postponing its HBCU football daily podcast.
Hosted by FROM THE PRESS BOX TO PRESS ROW host Donal Ware, now in its fourth season, the podcast has already previewed 20 of the 52 HBCU football playing schools. The podcast began on June 16 with a preview of Alcorn State and the last podcast posted on July 22 with a preview of Prairie View A&M. Ware talked with the head coaches of each school with the exception of Texas College and Alcorn State. The Braves were previewed with longtime play-by-play voice Charles Edmond. All 20 podcasts from this year can still be heard, in addition to all of the podcasts going back to 2017.
The podcast hopes to return early in 2021 and an announcement will be made prior to its return.
Concerned about COVID-19?
Sign up now to get the most recent coronavirus headlines and other important local and national news sent to your email inbox daily.