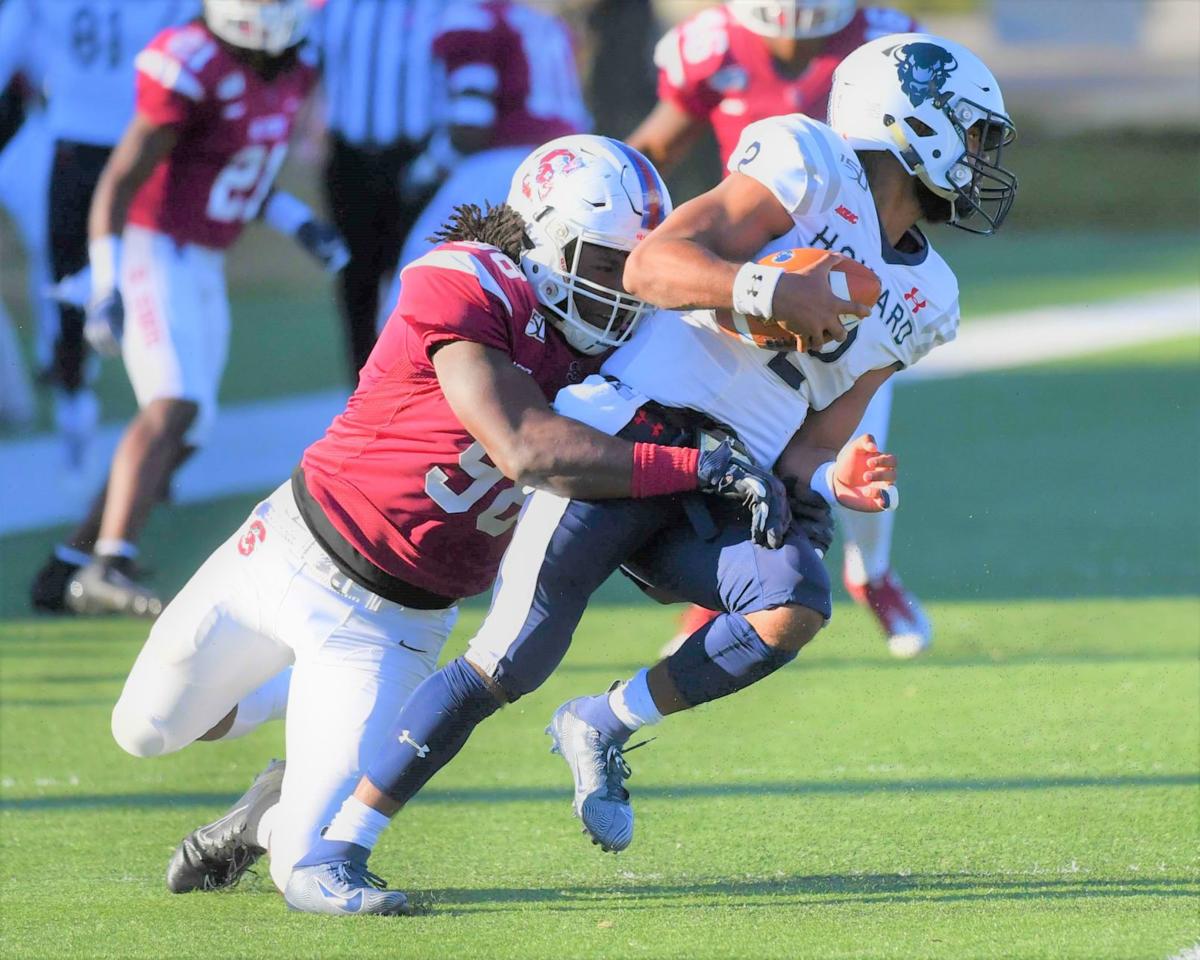 Some college football teams find themselves with little more than a win to play for in their final game of the regular season.
Such is not the situation for South Carolina State on Saturday, in an important 1 p.m. start at Norfolk State in the Mid-Eastern Athletic Conference 2019 finale for both programs.
A win by the Bulldogs (7-3 overall, 5-2 in MEAC) against the Spartans (5-6, 4-3) would give SC State at least a share of the conference title. A win coupled with a loss by North Carolina A&T at home against NC Central on Saturday would give the Bulldogs the outright MEAC championship.
"Them guys (at Norfolk State) are getting after it," SC State head coach Buddy Pough said earlier this week. "They've won 3 in a row and 4 of their last 5.
"They were sitting around there for a while having lost 5 of their first 6 games. But they're doing pretty good now."
So good that the Spartans are dreaming this week of beating the Bulldogs and being in the mix for a share of the MEAC title.
If the Spartans get the win Saturday and North Carolina A&T somehow loses to North Carolina Central, Norfolk State would have a share of the title.
"We've got to beat them on Saturday, because we think that we've got a good shot to get into the (FCS) playoffs," Pough said. "I've got no real feelings for the fact that Central can beat A&T this week.
"We would take that shot to play in the Celebration Bowl. But, I don't have much confidence in the fact that that could happen, we are hoping that we can get into the playoffs. Wofford (which SC State won against), Furman, Kennesaw State and a few other schools around here we think will get in and would be natural matchups for us in the playoffs." 
The matchup between SC State and Norfolk State is a bit more of a rivalry this year, with recent changes across the MEAC landscape.
"Norfolk's our rival game now, since we both lost our rivals last year," Pough said. "Norfolk lost Hampton (left the MEAC) and we lost Savannah State (left NCAA Division I, the MEAC). The two teams who were the closest to us both kind of fell off the MEAC wagon.
"We were both out there looking for a partner, so that's kind of how we got paired together. We played Norfolk here last year, in a non-conference game, and they beat us (17-7 on 9-27-18)."
The Spartans are led on defense by redshirt senior linebacker Nigel Chavis (6-foot-2, 230 pounds), with a team-high 96 tackles, including 1.5 sacks, and a forced fumble.
"Nigel's granddaddy was Elliott Chavis, who played at Orangeburg-Wilkinson High School in the early 1970s and lost his life (along with 76 other people in 1980) in a plane crash with the USA Boxing team (landing near Warsaw, Poland)," Pough said. "Nigel's mom brought him to the MEAC (preseason) press conference this year, since he was Norfolk's player representative. She brought him there and came to talk to me because I taught her in middle school.
"She made sure I knew that his granddaddy was Elliott, who was a famous guy around Orangeburg and was a great football player at O-W and was in the military, one of our heroes. The grandson, Nigel, is No. 9 and he is one heck of a football player."
Regardless of what happens in Saturday's game, this is the best season for Norfolk State in 8 years. A win would earn the Spartans their first non-losing record since 2011.
Pough mentioned this week that he regularly talks throughout the year with Norfolk State head coach Latrell Scott, a 44-year-old former head coach at Richmond and Virginia State.
"We talk all the time, and I kind of feel like I'm going to try to see if I can beat up on one of my children," Pough said. "It's kind of a hard deal. I told Latrell 'I don't know how I'm supposed to feel if I should win against you, it's not like I don't like you.'
"I talk to a good many guys in our league, since I'm the old guy in the league. They call me about stuff, some of the stuff I know and most of the stuff I probably don't know."
What both Pough and Scott know is that this game would mean a lot in the win column for either program.
Norfolk State has played one more game than SC State has this season, and the Spartans have more yards of total offense (4,198 to 3,668) than the Bulldogs, along with more passing yards (2,695 to 2,155). However, the Bulldogs hold a slight advantage in rushing yards (1,508 to 1,503).
One area that could be a big advantage for SC State is penalties. The Spartans have been flagged for 92 penalties this season, while the Bulldogs have only been flagged for 66 penalties.
"We can't go in there and expect them to lay down, we've got to beat them," Pough said. "I've learned this season that we've got a lot of quality people in this program.
"We've got to let them continue to develop and grow. It's special to have the opportunity to be a part of something like this."
Be the first to know
Get local news delivered to your inbox!