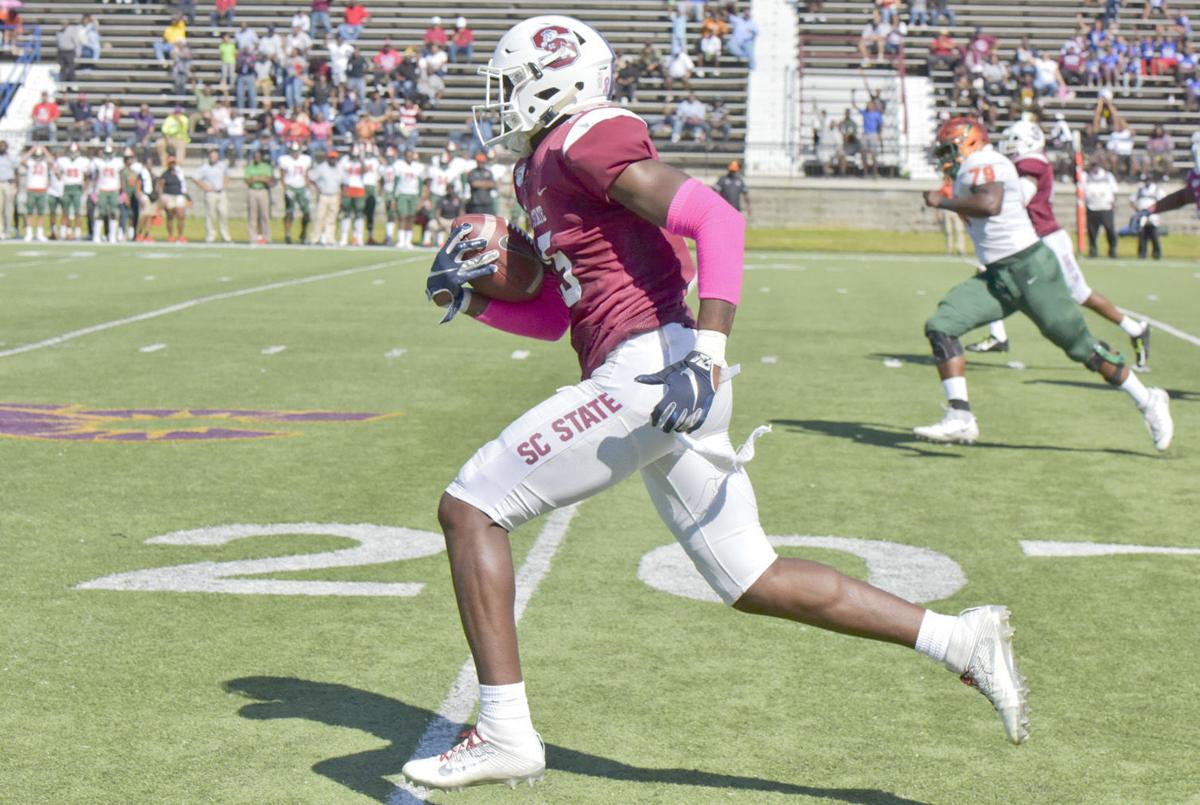 NOTE: Saturday's homecoming game between SC State and Morgan State has been moved to a 10:30 a.m. start on Willie E. Jeffries Field.
There was already a lot of excitement leading up to Saturday's South Carolina State homecoming game against Mid-Eastern Athletic Conference foe Morgan State.
Now Tropical Storm Nestor has forced the fun to move to earlier in the day, changing an afternoon kickoff that was originally scheduled to a 10:30 a.m. start at Oliver C. Dawson Stadium.
Even with the incoming rain, fans in Orangeburg can be thankful that the game didn't get postponed. Last week's guest Florida A&M had its Saturday game with North Carolina A&T moved to Sunday due to the storm.
The homecoming matchup here is a big game, with the Bulldogs (3-2 overall, 1-1 in MEAC play) still in the hunt for a conference title, while the Bears (1-5, 1-2 in MEAC play) are fresh off their first win of the season.
Also, a victory by SC State would give head coach Buddy Pough the all-time record for wins with the Bulldogs' program. During his two tenures leading the Bulldogs (1973-1978, 1989-2001), Willie Jeffries compiled a 128-77-4 record at SC State, which included six MEAC titles and as many postseason appearances.
Pough currently carries a 128-73 overall record in this his 18th season leading the SC State program. His teams have picked up where Jeffries' teams left off, winning two outright MEAC titles (2008 and 2009) and four shared MEAC titles (2004, 2010, 2013 and 2014), while also making four trips to the NCAA FCS playoffs (2008, 2009, 2010 and 2013).
One of Jeffries' favorite points to make is "I coached for 42 years and never worried about the weather." When the field is ready, both teams are suited up, and the officials blow the whistle, he doesn't think sunshine or rain should dampen the excitement surrounding football. And Jeffries would like nothing more than to see one of his former players atop the all-time wins list he has dominated for nearly two decades.
"I'm so happy it's Buddy," Jeffries said. "Buddy and I have lunch together each week, and he is well-deserving of this, because he has done a tremendous job.
You have free articles remaining.
"I'm just happy that we didn't get someone from another university to coach here. Buddy is a 1975 graduate of South Carolina State and, even though I hate to tell it, I'm a 1960 graduate. So, we're keeping it in the family."
The Bulldogs' "family" enjoyed most of an exciting game with FAMU last Saturday, until the final 2 minutes when the Rattlers took the 42-38 win.
Getting back on the winning track against the Bears is key, with a game at Bethune-Cookman (5-0, 3-1) on deck, followed by a home game against defending conference champion North Carolina A&T (4-1, 2-0).
"You've got this record sitting out in front of you and you want to get it done," Pough said earlier this week. "I really didn't want to come back here and deal with this again this week.
"But, you deal with your circumstances in this line of work. Right now, I'm saying hey, let's go and get it done this weekend. With FAMU not eligible for the conference championship, we know that if we win out, nobody else can beat us in that way."
For the Bulldogs to win on Saturday, they will need to outplay a Morgan State team that is coached by former Michigan standout Tyrone Wheatley, who had a 10-year NFL playing career as a running back with the Giants and Raiders.
"We'll have a big crowd Saturday, and there will be smoke from one end of this town to the next, with the grills and all of the different boom boxes, with everybody having a party going," Pough said. "We are proud that we are a centerpiece of that whole affair.
"We are going to go out and see if we can put on a good show for them in the game. I'm glad Morgan is playing better. A good football game will be a lot better gift to our fans than anything. Morgan can get after us, with a big back and a good quarterback, a line that is playing better and an aggressive defense."
The Bulldogs scored on FAMU from offense, defense and special teams. But, Pough hopes to get more points from the offense against Morgan State.
"We need to figure out how to get more on offense, how to become more consistent that way," Pough said. "I'm disappointed as all get out from our offensive approach this past Saturday.
"We've got some work to do to make sure that doesn't happen again." 
With Jeffries and Pough tied at 128 wins since the October 5 win at Delaware State, the anticipation of the record being broken has grown by the day for two weeks.
"This has been tremendous, with every newspaper, every TV station and radio station covering this even for our university," Jeffries said. "It's great to bring all the positive recognition to the university and to the city of Orangeburg.
"And, yeah, this is a conference game, so it really counts. I'm happy Buddy has a chance to break this record today, and that it has drawn attention from all over."
Be the first to know
Get local news delivered to your inbox!