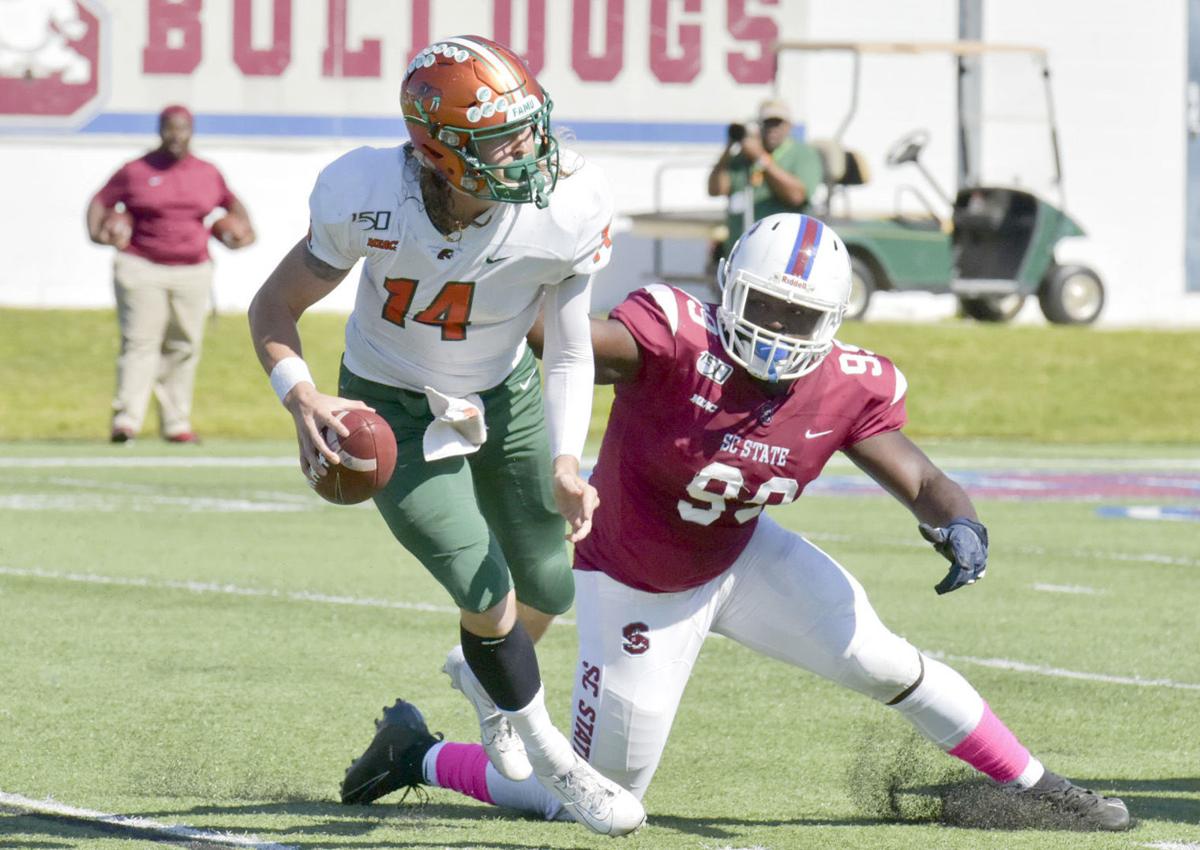 If the South Carolina State football team wanted the bad news first, they got it on Saturday.
Despite leading late in the team's Mid-Eastern Athletic Conference home-opener, the Bulldogs (3-2 overall, 1-1 in MEAC) were defeated 42-38 by a prolific-passing offense from the Florida A&M Rattlers (5-1 overall, 3-0 in MEAC).
Not only was it the first home loss of the season and the first conference loss, but it was the first opportunity for Bulldogs head coach Buddy Pough to eclipse Willie Jeffries' record for coaching wins at SC State (both coaches currently have coached 128 wins each).
However, there is much good news for Pough and the Bulldogs this week.
A 1-5 Morgan State team is coming to town.
The Celebration Bowl and a MEAC championship is still a possibility for the Bulldogs, since FAMU is banned from representing the MEAC in the postseason this season.
And Pough could be the all-time winningest coach in program history before Saturday night.
At his weekly press conference on Monday, Pough talked about the disappointment and the possibilities for his team.
"We got beat Saturday and, to be perfectly honest with you, FAMU played better - as I thought they would - and they probably played better than we did," Pough said. "We didn't play good enough on offense, really stunk the place up for three quarters. But, then we got Corey Fields in there and got something going.
"Thought we had something at the end, getting the punt block and going ahead at the end. But, we couldn't hold on. Defensively, I guess we came apart at the edges, somewhere about the middle of the second quarter, toward the end of the half. We got them stopped some, but not stopped enough. I've got to take my hat off to FAMU, they did a nice job and came in here with a good plan. They basically outplayed us. It was probably the most devastating part of the whole deal that we got back in the game (taking a 38-35 lead with 2:18 left to play) and still lost it late."
Scoring 35 points - which Pough has established as a goal each game - and doing so with two touchdowns off of punt blocks and one off of an 88-yard interception return would normally lead to a win by the Bulldogs.
"All that our players did, it still wasn't enough," Pough said. "The fact that we scored that many points and still lost speaks both to how well FAMU played and how poorly we played defensively.
"That's totally out of character for us."
It didn't help that starting cornerback Scott Robinson was injured returning the first punt on Saturday and was out for the rest of the game.
Giving up 505 yards of total offense to the Rattlers - including 135-plus yards receiving to two receivers - but only losing by a single score was a bit hard to take for SC State the past two days. But, the Bulldogs have moved on to focus on preparation for the Morgan State Bears, a team fresh off their first win of the season (34-3 on Saturday against Delaware State).
Some questions won't be answered until later in the week. Starting redshirt junior quarterback Tyrece Nick (who led the Bulldogs with 62 yards rushing on 15 carries Saturday) is still "banged up" and recovering from Saturday's game, according to Pough.
Redshirt freshman quarterback Corey Fields came on in Nick's place late on Saturday to lead SC State with 155 yards passing, 2 touchdowns and an interception.
So, it's not clear if Nick or Fields will start against Morgan State, or if both will be in the backfield at the same time, since running backs totaled just 26 yards rushing against FAMU.
"Corey Fields was more productive in the one half of a quarter he played on Saturday than Tyrece was," Pough said. "Tyrece didn't make some good reads early and he just didn't have a good game. There is a possibility that Tyrece will play. If that happens, then it will be business as usual.
"The two guys' skill sets aren't that much different. Corey throws it around a bit better than Tyrece, but they both can run. They both have pretty good grasps of the offensive attack overall. We run the same offense regardless."
Be the first to know
Get local news delivered to your inbox!