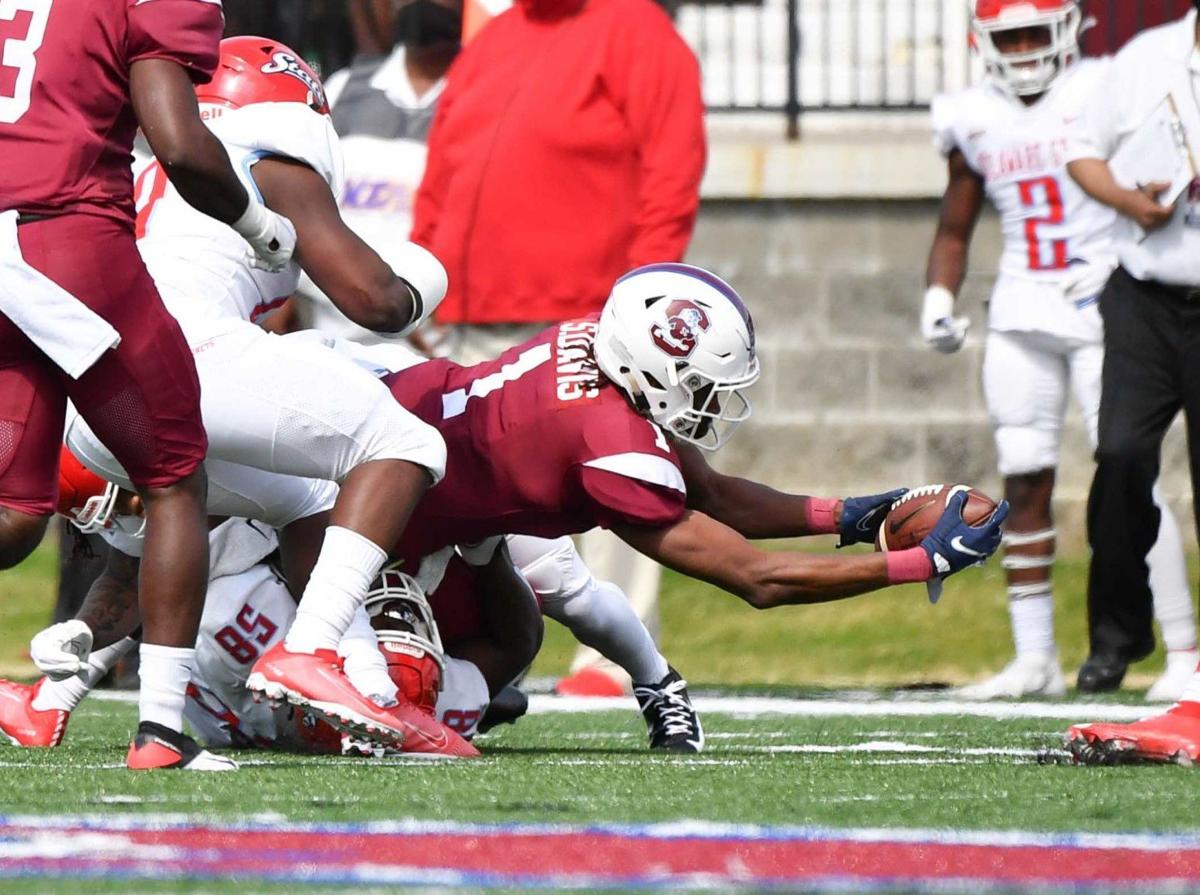 Normally, it would be a big deal to have a mid-season football game between two one-loss teams that are both ranked in the Top 10 nationally.
But this spring, with some HBCU programs not playing after sitting out the fall season due to the coronavirus pandemic, almost nothing is normal.
Even so, this Saturday will be the first road game in more than a calendar year for the South Carolina State Bulldogs, as they go to Alabama State for an afternoon contest.
The Hornets (2-1) are ranked No. 6 in this week's BoxToRow HBCU Football Coaches Poll, while the Bulldogs (1-1) are right behind them at No. 7.
Buddy Pough, head coach at SC State, continues to lead his coaching staff in gameday preparations for the final two contests this spring, while also pushing to develop the talent on the Bulldogs roster for an expected full fall football season.
Despite having a few players on the offensive side of the ball who are quarantining due to contact tracing precautions, Pough is glad his team has gone since early January without a COVID-19 case and is on track to represent the Mid-Eastern Athletic Conference at a Southwestern Athletic Conference program this weekend.
SC State last played on March 13 at home, winning 17-9 against MEAC rival Delaware State.
"The best part about this spring has been the ability to develop our young players," Pough said this week. "It's not nearly as important right now to win games as it is to develop personnel. But we do know we are one of the better teams playing right now.
"We don't necessarily have enough games to go any further than we are going with the regular spring season. The main objective is to get these younger guys reps in practice and in games. The game action creates a sense of urgency that your regular practices or regular scrimmages just don't create."
With about 50 practices already this spring, Pough admits that some players who the coaching staff thought would need more development have shown that they should be able help the team in certain roles this coming fall season.
"Some of them have given us confidence in them, and they have gained some confidence in themselves," Pough said. "You get so many opportunities to see what each guy can do this way.
"Some of them see themselves on film and don't even recognize themselves on tape. Our guys have gotten the chances to show what they can do in practice and in real game situations against other teams, which is really opportunities that I have never had with a team in the spring."
The Bulldogs are playing three freshmen offensive linemen and three freshmen defensive linemen.
"Some of these guys were in high school at this time last year," Pough said. "I think this is really a good thing for us all, with them not losing any eligibility, while getting more development and opportunities.
"The continuity throughout the team has been good for us through missing the fall season and playing now, thanks in part to us having the same coordinators with us since we last played in 2019."
Some Bulldog players will be getting their first road game experience this weekend in the trip to Montgomery. Those who redshirted in the 2019 fall season and then saw the 2020 fall season not happen are among those who have waited extra long for this weekend.
Pough expects ASU to be as tough of a SWAC team to play as Alabama A&M, the team that gave the Bulldogs their loss (31-7) to start the spring season in Orangeburg.
"The SWAC teams are ready to spend what they need to for their programs to do well; for instance, Alabama A&M was able to put together a trip to play us in about 4 or 5 days from scratch, with no prior planning," Pough said. "They are doing things at a level that impresses me some.
"Of course, half the staff at Alabama A&M and at Alabama State have coached at MEAC programs, including at Hampton, Morgan State and here. Those guys have a lot better understanding of how we operate than some other non-conference opponents might have. So there will be some gamesmanship trying to keep our signs and play calls hidden."
The ASU Hornets carry a 2-1 record this spring, but the season has been a mixed bag of results when you look closer.
ASU opened with a 24-21 home loss to Southern, on what was billed to be a Hornet Fun-Filled Weekend at the stadium in February. Then the Hornets took a 2-0 forfeit win without taking the field against Alcorn State the first weekend of March. Things got a little more interesting on March 20, when ASU played at home and outlasted previously-unbeaten and HBCU top-ranked Jackson State, 35-28, giving Deion Sanders his first collegiate coaching loss. But, this past Saturday, the Hornets had their game at Arkansas-Pine Bluff ruled a no contest with just minutes left in the first half, due to heavy storms in that area of Arkansas.