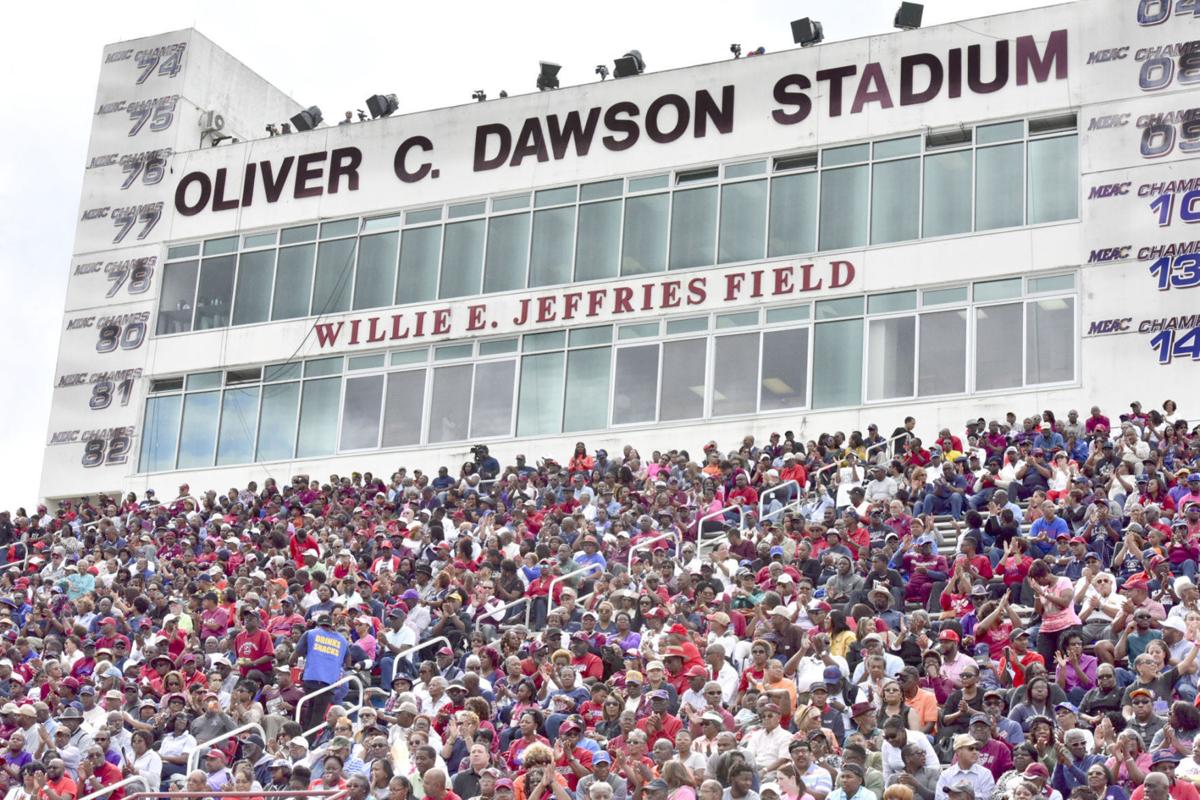 Usually during this time of the year, a few days before Labor Day, the final holiday of the summer, or more appropriately, the first fall holiday, my juices begin churning as the football season is about to officially get underway. But due to the COVID- 19 pandemic, the 2020 fall season will be different, difficult and probably quite weird as there will be no S.C. State football.
As the Mid-Eastern Athletic Conference and many other leagues, both FCS and FBS, around the country, have decided to forego all fall sports – football included – those of us who cherish the sport and have made it a fabric of our lives will have to endure a drastic change in our routine this fall – what to do with our Saturdays. We may or may not get some consolation this spring as an abbreviated, regional schedule is planned by some conferences. But even that is not guaranteed as a projected spring football season will depend on the containment of the coronavirus, which has gripped the country and altered our behavior. We just have to wait and see.
Since covering my first football contest as South Carolina State sports information director in September 1973, my fall Saturdays have been quite predictable. Through over 500 Bulldog football games, the routine has always been the same, varying only for home games as opposed to away contests. I can't begin to think how weird it's going to be this fall without my routine of over four decades.
Home games
For home games, it was waking up early, getting in a morning walk, sometimes a quick breakfast, and then off to the stadium. For the first 40 years of my tenure – until retiring, or maybe a better word would be transiting, prior to the 2013 campaign -- I was usually among the first to arrive at the stadium and the last to leave. That honor now goes to my successor Kendrick Lewis, who is in his seventh season as SID.
I still have a presence at Bulldog football games, however, thanks to Coach Buddy Pough and all the athletic directors who have been at the helm since my transition. They have allowed me to remain engaged with Bulldog athletics, football especially, and for that, I'm most appreciative and count it joy.
Back to my fall Saturdays, after arriving at the stadium and sometimes encountering some occasional early tailgaters – who always extended an invitation to stop by for some good eats and a cold drink if time allowed – I'd make my way to the press box, view the pregame checklist, halftime regimen and postgame duties.
For the first 28 years, my gameday press box staff consisted of only students and volunteers, all very capable, I must say. Later, I was blessed with a couple of full-time assistants, but the students and volunteers still made up the core of our gameday press box crew.
The students changed over the years, but the volunteers remained the same for over 35 years. They included people like Dr. Robert "Wag" Howard and John Brunson, both deceased, Julius Page, Leon Myers, Vandy Gaffney, Reggie Rhodes and others. What a committed crew. We became like family. Page, Rhodes and Myers continue to help Lewis in the press box today.
When pregame duties gave way to in-game chores, which yielded to post-game wrap-ups and, finally, press box lockdown, it was time to stop by a couple of those tailgates before heading home, where usually my late wife, Sheridan, was entertaining guests and holding things down until my arrival, because almost everyone had a question about the game.
"Why don't Coach Jeffries pass the ball more?"
"Why didn't they use #28 more?"
"Why didn't Coach Pough switch quarterbacks earlier? ''
The bombardment of questions was really deep if the Bulldogs had endured a loss, while a win usually led to approval, a little praise and questions about statistics. I was always careful to make sure to bring along a final stat sheet in order to let some of them know how their favorite player did. Whether home or away, we enjoyed wins more often than losses.
Road games
On the road, the quick breakfast became a team meal -- and depending upon the game's starting time -- was followed by the team's pregame meal and finally loading of the buses for the ride to the stadium. For years, I claimed my same seat on Bus 2 (defense), second seat on the right. No matter what time I arrived, out of deference, my seat was always available and that made me happy. After Pough's arrival, we graduated to three buses and I was assigned to Bus 3 for support staff, but that second seat on the right remained my perch.
The ride to the opponent's stadium was almost always quiet and even somber, especially on the players' buses. As one former head coach noted, "They are getting mentally prepared to take care of business, to take it to the opponent."
Unlike at home, I had few pregame road duties, so I immediately sought out tailgating Bulldog alums, who always offered good food, cold drinks and good conversation.
The postgame duties on the road were less demanding as well. After making sure the media got their post-game interviews with the head coach and selected players, I would post scores and stories for the hometown media. Then there was usually a little time to mingle with player parents and friends, and of course, discuss the game as there were always questions. I going to miss this.
And, finally, there was the box lunch and loading up the bus for the trip home. The outcome of the game usually dictated the mood on the bus, but history will note that we had more reasons to celebrate than not, as S.C. State has enjoyed a lot of successes and wins as one of the most dominant teams in the MEAC during my long tenure at S.C. State.
Many memories
I will always remember the challenges football season would present for the Sports Information Office that initially featured just me and a shared secretary – albeit she was one who became well-known to all my colleagues around the MEAC and HBCUs, and revered by most of my campus colleagues. I recounted to you earlier about the students and volunteers who made my gameday experience enjoyable, but the late Fannie Brooks, the secretary I shared for years with the Public Relations Office who later devoted full-time duties to the SID office, was the guiding light behind much of the notoriety we achieved. A consummate professional, she set tone for the respect we commanded from the media, fellow SIDs and other constituents we served. It had to be done right.
When my alma mater gave me -- a young, recent college graduate -- a job as a public information specialist – my first title – some 47 years ago, I never envisioned it would lead to a lifelong vocation in a profession that I have found both enjoyable and rewarding. I was single, without a care in the world, had no aversion to working long hours and thus jumped at the chance.
That first year, a 7-3-1 season, was just a glimpse of what was to come. Bulldog alum Willie Jeffries, whose employment preceded mine by a couple of months at the university, had been installed as head coach, inheriting a team that was 1-9 the previous year.
The first fall Saturday of my long journey began with a 13-7 loss at Bethune-Cookman, followed by a 14-14 tie against North Carolina A&T and a 29-7 loss to Howard. It was not until the fourth Saturday of the season that the Bulldogs got their first win, a 12-0 victory over Virginia Union, in the Jeffries' era.
Not surprising, and following a 1-9 campaign the year before, the Bulldogs were homecoming fodder at 3-4 in 1973, prompting Coach Jeffries to quip, "We were invited to so many homecomings that we built our own float." Ironically, the Bulldogs became the "homecoming spoilers" that season, which ended with a berth in the Orange Blossom Classic.
Of course, S.C. State won the next five MEAC titles and became the class of the conference and the envy of many HBCUs and I-AA opponents, alike, consistently ranking among the nation's best.
Like Bulldog alums throughout the country, I began to look forward to those fall Saturdays, which usually ended with a victory for S.C. State. Even those hot and humid August preseason practices were tolerable as we awaited the September kickoff and those fall matchups.
For me personally, it meant a lot of both long hours on the job and tedious bus rides, but the joy and satisfaction those fall Saturdays provided were unmatched. It became a life of its own. My family and my wife's family soon found out that important family events had to be planned around S.C. State football because if the Bulldogs were playing, I would be with the Bulldogs.
In fact, during my 40-year official tenure as SID, and the seven years that have ensued, I've missed only three Bulldog games – one was when my nephew, who is also my godson, got married; another when my spouse had a medical emergency; and the third when I, myself, was recuperating from outpatient surgery and the doctor limited my travel.
Thus, it has been fairly easy to find me on Saturdays when the season turned to fall and Bulldog football kicked off. That Saturday routine almost never changed. It has evolved somewhat over the years since my transition, but the fun and camaraderie have remained.
But it will not be that way this fall as Bulldog football and so many more of those things that we enjoy and have become matter of fact will not take place due to the COVID-19 pandemic. Exactly what can I do to get through a season without S.C. State football? I got to find some other way to spend my fall Saturdays … and I hasten to say it will be difficult and weird. I can't wait until spring!
Bill Hamilton retired as sports information director at S.C. State after nearly four decades in the post. He is a member of the MEAC Hall of Fame and the recipient of numerous other honors for his service to the university and journalism. He reports on S.C. State as a correspondent for The Times and Democrat.
Be the first to know
Get local news delivered to your inbox!