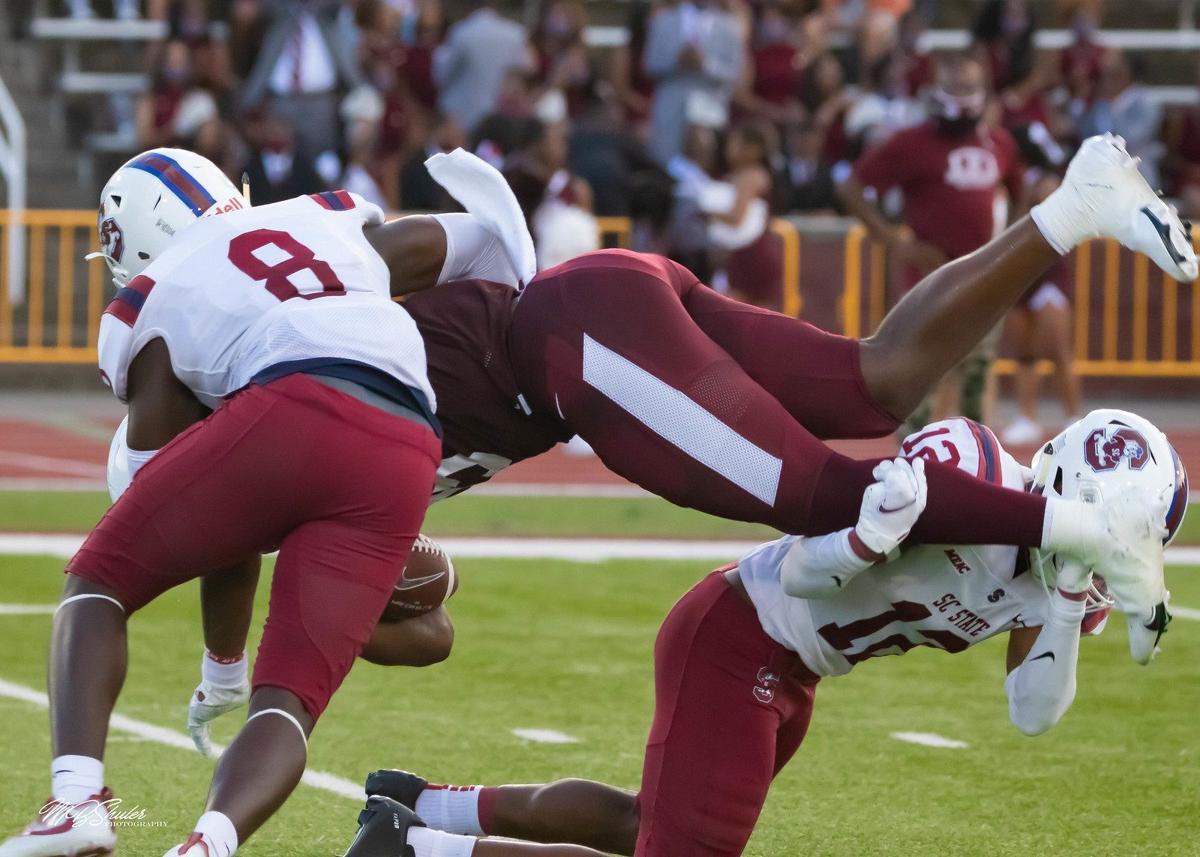 S.C. State may be without one of its top playmakers Saturday when they travel to Memorial Stadium to face the Clemson Tigers.
Head coach Buddy Pough said Monday that receiver Shaq Davis may not play against the Tigers due to a hamstring injury suffered against Alabama A&M. Davis had five catches for 140 yards and a touchdown in SCSU's 42-41 loss to A&M.
"One of the big reasons for the loss Saturday was the fact that we got so low on our depth chart at receiver," Pough said during his weekly press conference. "We didn't have the people in place to drive the football down the field at the end."
Trailing by one, S.C. State mounted a final drive with two minutes left against A&M but could only move the ball to midfield before a fourth down interception iced the game. Pough said his team had opportunities but was unable to capitalize.
"We ended up kicking field goals in situations where we should have scored touchdowns," Pough said. "Twice, we had first-and-goal inside the 10-yard line and ended up not scoring seven. Defensively, I thought we were disappointing in several phases."
South Carolina State gave up nearly 600 yards of total offense.
"We were in soft mode," Pough said. "We weren't really aggressive in our approach in the secondary. They caught a lot of short balls and had a lot of yards after the catch. We have some work to do to clean that up. I was also surprised with their ability to run the ball against us."
Now the Bulldogs travel to Clemson, where they face a Tiger offense that was held to three points in its opener against Georgia.
"We got our work cut out for us," Pough said. "They will want to put on a big-time show this week. I don't know if they played poorly or if Georgia is just that good on defense. It's going to be a tough test."
For Pough, this week is about getting better and making improvements.
"I want to see us gang tackle, run to the football and get guys to the ground after they make a play," Pough said. "When they do make plays, we have to minimize the damage and try to keep the momentum."
Pough said he is excited to see how well his offensive line matches up against Clemson's defensive front.
"We've got some young linemen that we're starting to get excited about," Pough said. "Maybe down the road, we might really have something, but the more experience they get in these situations will allow us to get more of an understanding of how good they can be."
Pough knows Clemson's defense will be prepared after giving up just a field goal to Georgia in a 10-3 loss Saturday.
"Those guys might just be in a murderous mindset," Pough said with a chuckle. "You're talking about a volatile situation. I would have really liked them to have won; the defense played well. The deep concern is how they beat you up but are able to stay fresh due to their depth."
For many S.C. State players, Saturday's game presents an opportunity to get recognized as potential professional options. In 2016, SCSU linebacker Darius Leonard had 19 total tackles against Clemson, including eight solo tackles and a tackle for loss. He was later drafted in the second round by the Indianapolis Colts.
"Our guys have had this game on their radar," Pough said. "They know that this is the game all pro scouts will be watching. They want to see how you performed against a Power 5 school."
Saturday's game is scheduled for 5 p.m. and will be televised by the ACC Network.