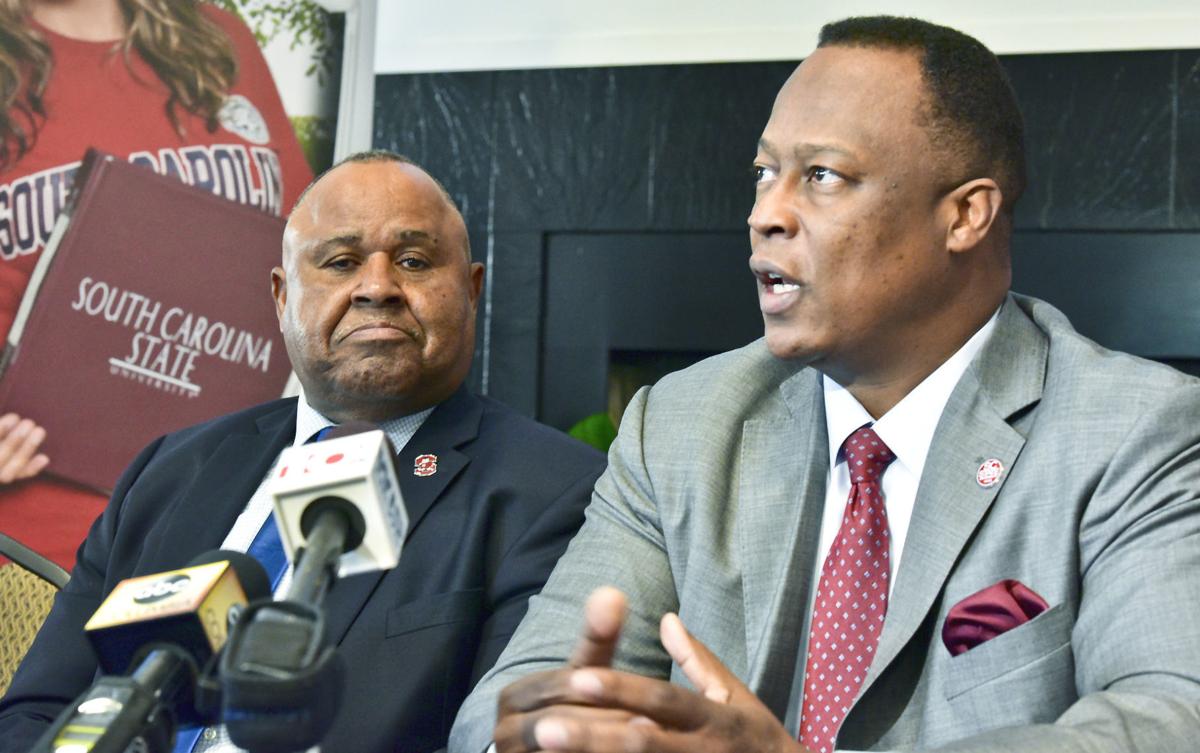 At a Tuesday afternoon press conference on the campus of South Carolina State University, Bulldogs Director of Athletics Stacy Danley announced that Oliver "Buddy" Pough will be returning as head football coach for at least the 2019 season.
It will be Pough's 18th season at the helm.
"When I looked at the program, where we are today, and considered our current reality and what the head football coach at South Carolina State is required to do, there was no question to me that Coach Pough is the man for the job," Danley said. "He is the right man for the job.
"I have asked Coach Pough to come back to be our head coach again next year at South Carolina State University. The administration has given approval and negotiations with Coach Pough have begun. Once we have a contract in place, pending board approval, we will announce the details of that contract. Coach Pough, I'm excited, and today I believe in you now more than I have at any time during my tenure here at South Carolina State."
With Pough's current contract expiring after the 2018 season, Danley said he has been given approval by the S.C. State administration to begin contract negotiations with Pough. He also announced that the decision has not yet been made for the contract to be for one year or multiple years.
The announcement comes after a surprisingly strong season that started at 0-4 but ended at 5-6 with a 4-3 Mid-Eastern Athletic Conference record, good for a 3rd-place finish in conference standings with many freshmen and redshirt freshmen playing considerable minutes for the Bulldogs.
"As I look out here today and see members of our athletic staff, I can tell you that none of us are satisfied with the competitive position we are in now, within the industry and more specifically within the MEAC," Danley said. "But, we are going to work tirelessly to change the narrative and turn this athletic program around.
"Football is the cornerstone of our department because it is the biggest revenue generator. We expect to go to Atlanta and be there for the Celebration Bowl, we expect to win. But, we understand that it takes the resources to win. So we want to give Coach Pough and his staff and his players the best chance to win. I'm proud of Coach Pough, his staff and his players for how they finished this past season. There was some adversity, so much so that, at times, I thought it was going to blow up. But it was his experience and expertise that not only did he handle it like a champion, but he used it to turn the team around and finish the season in an impressive way. I believe they gave us some much-needed momentum. I believe we are poised and prepared to build on that momentum."
Pough's teams have posted a 125-71 overall record at S.C. State, including a 97-35 record in MEAC play, where his teams have won two outright MEAC titles (2008 and 2009) and four shared MEAC titles (2004, 2010, 2013 and 2014).
With as many as 15 freshmen or redshirt freshmen playing considerable roles for the Bulldogs throughout this past season, Pough admitted in the postseason that he got more excited about continuing to coach the more he saw the young talent develop and players mesh as a team in 2018. Pough's teams have posted winning records in MEAC play in five of the last six seasons.
"I look forward to being the guy in charge of this program for some years to come," Pough said. "It's always exciting to get to this time of year.
"I think last year you saw the improvement in our football team and the consistency of having us back and having our staff back. We look forward to being here for a lot of years to come, but next year in particular. We will continue at the task of putting football in the place it is supposed to be in the MEAC conference. Toward the end of the (2018) year, I felt like we could play with anybody in our league. The week before the last game of the season, I felt like we were the best team in our league. This team has got a chance to be pretty good this coming season."
Pough mentioned Tuesday that most of his assistant coaches were in San Antonio, Texas, attending the American Football Coaches Association convention. Later this week they will each be back on the recruiting trail, looking to fill needed positions on the Bulldogs' roster.
"Our kids will be back on campus this weekend and I look forward to us getting back together, with them getting back to school and getting back to (off-season football) work," Pough said. "We kind of sort of know who our quarterback is going to be. It's a lot of fun knowing we just need a couple critical positions. It's good to know where we're headed and we just have a few areas to shore up. We know this team a lot better now than we did this time last year. In recruiting, I can tell you exactly what we need; we need eight guys - we need two defensive ends, two defensive backs, two offensive linemen, and we're going to take a wide receiver and a quarterback.
"That's all we actually have space for on our board. And, it looks like we might be bringing in two mid-year guys as transfers. So that might take the quarterback position and the wideout spot. We might chop some scholarships up and make two or three happen out of one. We will be out recruiting for the next couple weeks or so. Most of what really happens for us happens later in the recruiting year, anyway, and that's when we get hot on most of what's our best players."
Pough played offensive line for the Bulldogs in the early 1970s. Prior to taking the reins at S.C. State, Pough spent five seasons as an assistant coach for the South Carolina Gamecocks. Before his time in Columbia, Pough was among the top high school football coaches in South Carolina, leading Fairfield Central to a 15-0 record and a SCHSL Class 3A state title, and coaching before that at Keenan and Orangeburg-Wilkinson high schools.
Be the first to know
Get local news delivered to your inbox!