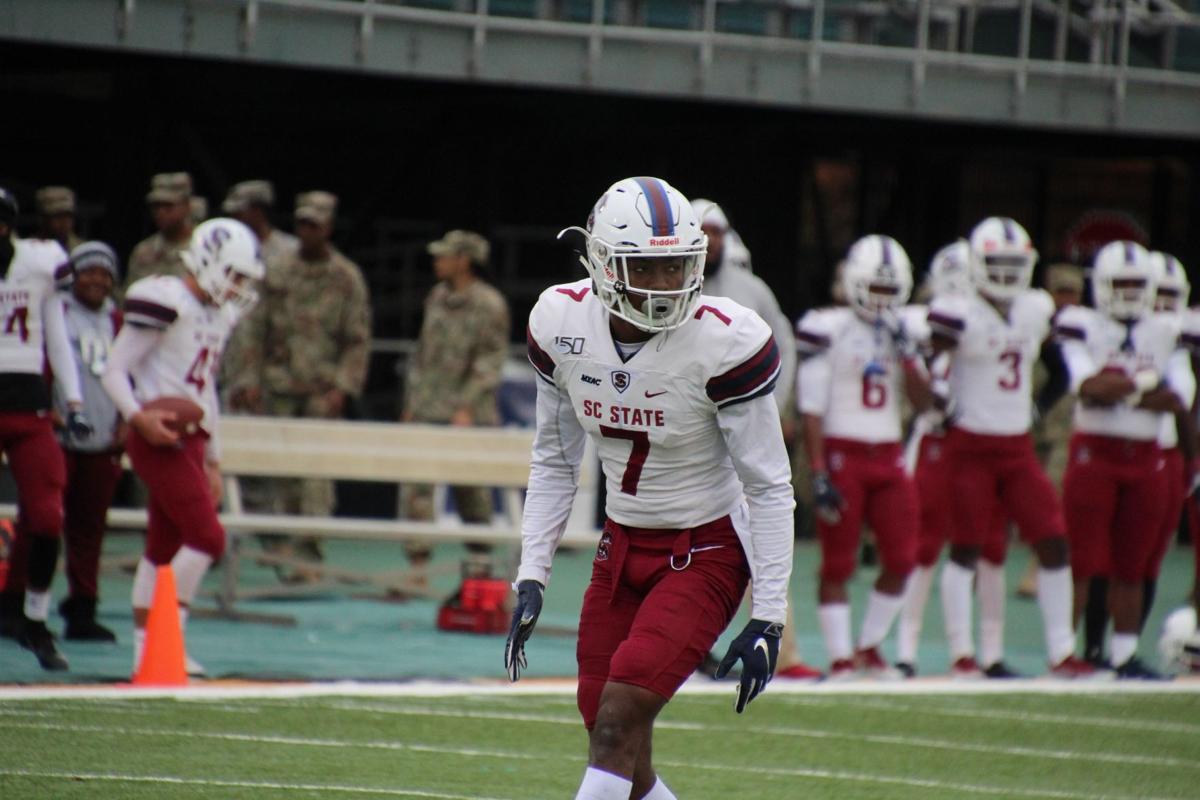 Like many of his teammates of the past three seasons, South Carolina State defensive back Zafir Kelly was all but certain that by now, the Bulldogs would have entertained thousands in The Celebration Bowl, the ESPN-produced December contest pitting the champions of the Mid-Eastern Athletic Conference (MEAC) and the Southwestern Athletic Conference (SWAC) against each other in the mythical national championship game for HBCUs in Atlanta.
The Bulldogs came oh so close in 2019. However, two key losses to MEAC foes derailed the S.C. State march to Atlanta and a chance at a coveted Celebration Bowl Championship, which has continued to elude S.C. State.
In the five-year history of the game, Coach Buddy Pough and his team have had to watch from afar as league rivals North Carolina A&T and North Carolina Central represented the MEAC in the big game -- the Aggies four times and the Eagles once.
Would 2020 finally be the season for Pough, his staff, players and the Bulldog faithful to enjoy the spoils? Certainly, Kelly felt the odds favored the Bulldogs this season. After all, Pough's team was coming off an 8-3 campaign, which included a 6-2 MEAC worksheet and a tie for the league championship.
"Last season (2019), I felt we played good ball throughout the season but we came up a little short in reaching some of our goals," Kelly reflected recently. "In the end, things didn't go in our favor against two of the top teams in the conference, although the games came down to the wire."
Despite S.C. State tying for the MEAC title, Pough's team lost its head-to-head battle against NC A&T 22-20 at Orangeburg, putting the latter in the driver's seat for the league's berth in the Celebration Bowl. The Aggies later clinched the berth with a season finale triumph over North Carolina Central.
S.C. State was also on the wrong end of a 42-38 setback to league foe Florida A&M, also at home. A win over either could have sent S.C. State to the Celebration Bowl.
Nevertheless, S.C. State, and many onlookers alike, felt that the Bulldogs' overall body of work should have earned the team a berth in the Football Championship Subdivision (FCS) playoffs. The 2019 Bulldogs had captured a dominant win over nationally -ranked Wofford (28-13), who went on to win the Southern Conference, and the two league losses to Florida A&M and North Carolina A&T -- both ranked nationally at the time – were close. However, the Bulldogs were denied an at-large FCS playoff berth by the selection committee.
No Celebration Bowl. No FCS playoff berth. Just disappointment.
The disappointment weighed heavily on the minds of Kelly and his teammates during the offseason. Likewise, the opportunity for redemption, atonement, or however one chooses to put it, from last year's near-misses, was not far from their thoughts either.
"My teammates and I could hardly wait to get back on the field and begin preparing for the 2020 season," said Kelly, a few days before the football players, as well as other S.C. State athletes, returned to the campus Sept. 17-18.
"I felt we would put a better team on the field than last year's squad," Kelly said. "Our goal was to go undefeated, win the MEAC championship outright and finally get to The Celebration Bowl. The defense, especially, would be better. We lost Rod Perry (transfer portal) from the D-Line, but all but one of the top players at linebacker would be back, and it's the same in the secondary, which lost just one impact player.
"We would certainly benefit from having played together a couple of years, which also would help us communicate better and give us a better feel for each other. We could hardly wait to get going."
But the Bulldogs' return to the field to prepare for the 2020 campaign would have to wait, and wait and maybe wait some more due to the COVID-19 pandemic. Spring drills were canceled, an Aug. 10 scheduled return to campus to begin fall camp went by, and then came the announcement by the MEAC that no football would be played by league teams this fall.
"'Wow,' was all I could say when I heard the news," said a disappointed Kelly after the coronavirus brought S.C. State's planned preparations of the Bulldog football team for the season to a screeching halt.
"I was really hurt. In fact, the news was heartbreaking. Our seniors, me included, whose eligibility was ending, wouldn't get a chance to showcase their talents."
The disappointment of Kelly and his teammates at not being able to play football in the fall, however, was assuaged a bit when the MEAC later announced a spring football schedule that would consist of at least six conference games and perhaps one or two non-league contests with the opponents to be determined.
Kelly, like his teammates, is grateful for the opportunity – albeit not set in stone -- to play this spring, and they are holding their collective breaths that COVID-19 will be contained enough to allow for such play.
"It (a spring schedule) will not be the same as playing in the fall, but I think it's a great opportunity to get back on the field and play the game that we love," said Kelly. "And it will certainly benefit the young guys by giving them some exposure."
The 6-1, 180-pound Kelly, a senior from Columbia and an Irmo High School product, has been a solid contributor as a member of the S.C. State secondary the last three seasons. He's hoping to elevate his play if, and when, the opportunity arises during this odd school year.
As a freshman in 2017, Kelly started nine games, recording 16 total tackles with seven pass breakups and one fumble recovery. He improved on those numbers in his second season with 20 tackles, five pass breakups and an interception return for a touchdown against Delaware State. Last season (2019), he had his most productive season with 38 total tackles, eight pass breakups and an interception return for a touchdown in a 27-19 Bulldog win at Bethune-Cookman.
Kelly, a sports communications major who aspires to have a career in broadcasting and also coach, is primed for his senior season, no matter when it begins. And he has set some lofty personal goals.
"Despite the early disruption of our preparations, and the disappointments along the way, I took the time off due to the pandemic to refocus," Kelly said. "I have been working harder to get better. The coaches prepared workouts for us and the lines of communications have always been open to help keep us on track.
"But, I decided to go beyond what was required and work out on my own, lifting weights, running hills and doing other drills that would make me better. I will be in my final season and I want to play at a very high level, become a big playmaker for my team and lead the MEAC in interceptions." Lofty goals, indeed.
Kelly is capable of reaching those goals and providing outstanding leadership on the Bulldog defense, according to Pough and Bulldog defensive coordinator Jonathan Saxon.
"Zafir is a good, solid player who has improved each year," Pough said. "I'm excited at how he has matured and we look for him to be a leader in the secondary and on the defensive unit."
"He's among our returning starters and has loads of talent," Saxon said. "He played for us as a true freshman and has been a major contributor since. This year, we will be looking for him to make more plays and provide leadership. He has embraced his starting role and should be an impact player at cornerback for us."
Kelly has demonstrated his versatility in the Bulldog secondary, playing at both safety and cornerback during his career. He began the 2019 season as a starter at safety before moving to cornerback where he found a home and is entrenched as one of the top players at his position in the MEAC.
But, he will have to wait, and maybe wait a little longer, to show it.
The Bulldogs are scheduled to begin preparing for a spring schedule Oct. 19, according to Pough.
Bill Hamilton retired as sports information director at S.C. State after nearly four decades in the post. He is a member of the MEAC Hall of Fame and the recipient of numerous other honors for his service to the university and journalism. He reports on S.C. State as a correspondent for The Times and Democrat.
Be the first to know
Get local news delivered to your inbox!