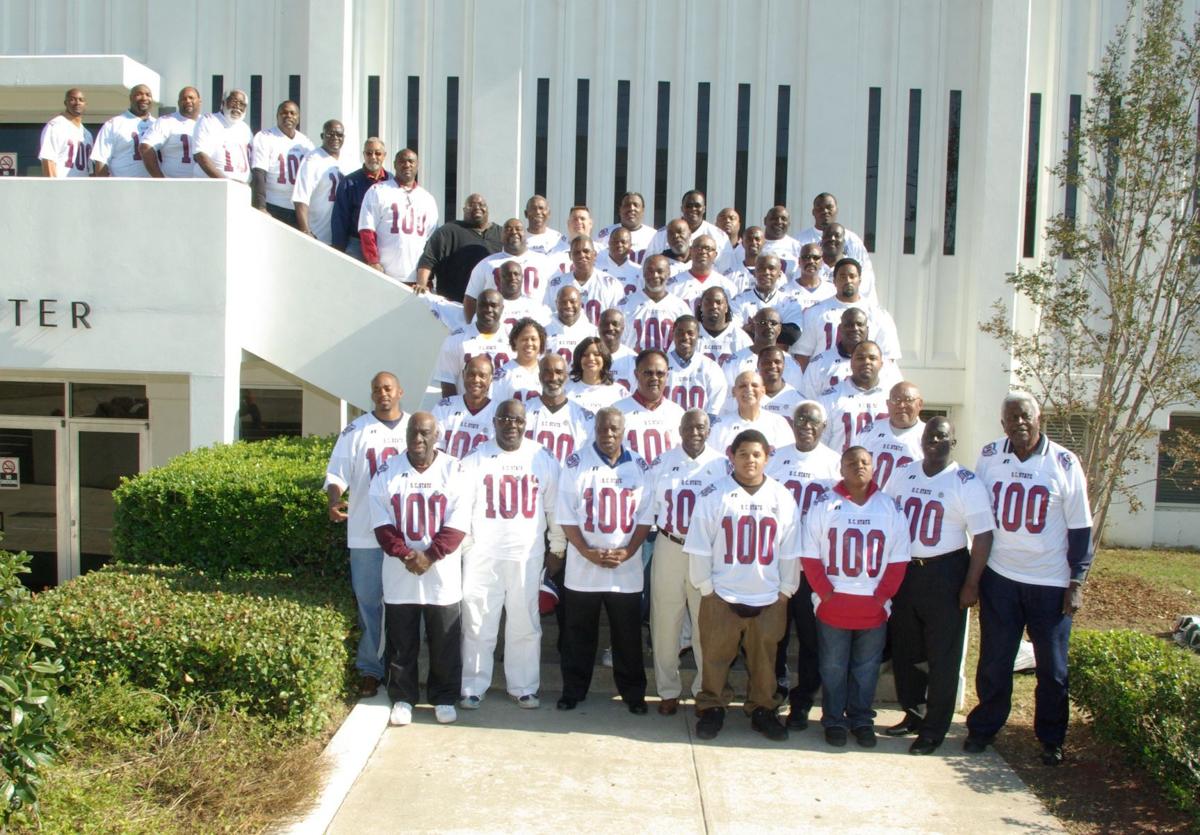 This column, titled "100 Years of Bulldog Football – A Reflection," first appeared in The T&D in November 2007."
I have not been around 100 years, as Bulldog football has been, but as the longtime sports information director here at South Carolina State, I've heard glorious stories almost that old, and witnessed some of the most glorious and exciting occurrences in the football history of the institution.
Today, I feel a little spine-tingling as the University's Football Centennial Weekend gets underway and many of the gridiron greats return. I expect to hear a lot of tall tales and even contribute to some of them as I reminisce with those honorees returning.
It has been some 40 years since I arrived on this campus. Like today, football was king, but there were other successful programs as well. But football sticks out for me because we had some pretty good teams in the late '60s (I arrived in the fall of 1967 and was appointed to my current position in 1973).
Coach Oree Banks' '66 team had gone 7-2, with one of the wins an 8-3 victory over archrival Florida A&M that featured an electrifying kickoff return for a score by John Gilliam, who went on to a great career in the National Football League and is a member of the Centennial Team that will be saluted.
The '67 team went 7-1, with big wins over Alabama A&M and Bethune-Cookman, while the '68 squad produced another 7-2 record. The teams over the next few years were up and down until the arrival of "favorite son" Willie Jeffries in 1973. He turned the 1972 1-9 team into a 7-3 winner in 1973 and guided the Bulldogs through one of their most glorious periods – a six-year 50-13-4 mark that include five MEAC championships and as many postseason appearances.
Over the next few years, I got a chance to know and tout players like Donnie Shell, Barney Chavous, Harry Carson, Mickey Sims, Charlie Brown, Edwin Bailey, Dextor Clinkscale, Rickey Anderson, Nate Rivers, John Alford, Philip Murphy, Leonard Duncan, Ervin Parker and William Judson, most of whom went on to solid professional careers. And there were so many others during that span and beyond who excelled and contributed to the great football legacy we now commemorate.
I remember many of the headlines during that period. "You have to get up early to beat the Bulldogs," the Charlotte Observer proclaimed, referencing not only the early morning practices Jeffries and his staff had installed, but also noting an unparallel string of successes and achievements in the football program.
"Lockerroom fodder sparks Bulldogs," in the Durham Morning Herald after the Bulldogs had raced past defending MEAC Champion North Carolina Central whose publicist had called the game a "tune-up."
Jeffries' staff included Centennial Team member Samuel "Herc" Goodwin, a Bulldog standout as a player and one of the most well-liked football assistants in our history.
Also helping Jeffries lift the Bulldogs to lofty heights during that period were Bill Davis, who succeeded Jeffries as head coach and produced some of the school's most prolific teams; and Robert "Jet" Johnson, an offensive genius, who in doubling as track coach won a national title for the school; Willie Simon, who in doubling as women's basketball coach also nabbed a national title; and James Carson, who in doubling as wrestling coach produced several conference and district championships.
Those were the days, but my most eye-popping experience came a few years later in 1990 when I was during research to prepare for the first organized athletic reunion at the school (thanks Lillian Adderson).
I was somewhat familiar with Marion Motley and Deacon Jones and their great legacy, but I became immersed in reading about the talents of one of Orangeburg's favorites – Alexander "Bubberson" Gardner -- and Henry "Bo" Bowman, two running backs who could have played anywhere.
I was treated to stories chronicling the exploits of Charles Stanley and Taylor Clinton, who also made their names running the pigskin; and Richard "Dim Dim" Arrington, the "Massillon, Ohio Flash," who today would be referred to as "Athlete." He's still around today as men's head golf coach.
Others whose names were almost legendary included Kermit Booker, now 85, a great center, lineman Roy Henderson, and quarterback George Price, who went on to distinguished military career. These guys could play.
I have witnessed some great games during my 35-plus years as the sports publicist for my alma mater. This week, I know I'm going to have to referee a lot of claims of "who was best," "what team was the greatest," and the like.
I have my own idea, of course, about the best, the greatest, but every time I bring up the 1975 team, led by Carson, that was only 8-2-1 but gave up a still NCAA-record 29 points, I will be drowned out by offensive lineman Ed Bailey and his teammates, who will point out that the 1980 team sent 11 players to the NFL.
When I tout the 1982 team that lost its first two contests but rebounded to finish 9-3 and handcuffed Furman in the NCAA playoffs, winning 17-0 at Greenville, I will get flak from some about the 1981 squad that was 10-3 and beat HBCU powers Florida A&M, Grambling and Tennessee State and was an NCAA playoff team.
When I champion the 1994 10-2 Heritage Bowl Championship team led by quarterback Marvin Marshall and running back Michael Hicks, I will have to argue with the players on the 9-3 1997 Heritage Bowl team and Buddy Pough's teams of 2004 and 2005, which produced 9-2 records.
How can I win? Well, having the opportunity to serve the university in this capacity makes me an automatic winner.
So many memories of the past 35 years will forever be etched in my head. Witnessing the first 1,000-yard rusher in Ricky Anderson in 1977; watching Orangeburg native Anthony Reed running over people instead of around them on his way to becoming the second back to reach the coveted 1,000-yard plateau, and relishing the fear most teams felt in facing a punishing and dominant Bulldog defense that consistently ranked at the top in the nation.
I will forever remember the trips to South Bend, Indiana, when Shell and Carson were inducted into the National Football Foundation College Football Hall of Fame. I was also on hand when the two were enshrined in the Division II Hall of Fame in Florence, Alabama. And we all still have fond memories of Carson's induction into the Pro Football Hall of Fame in Canton a year or so ago.
I can never hide the glee I felt when The State newspaper named Coach Jeffries "Coach of the Year," in 1974, setting precedence. And I was also happy when Bulldog players earned national honors, bringing great recognition to the university.
I've had it good at S.C. State. Could it have been better? Perhaps! But I've sharpened my wits for this weekend, anticipating all the arguments I will have to referee. I'm glad for one thing -- I can always pull out the "ole" press guides. Those guys, whose exploits got bigger over the years, may suddenly find out that maybe they are really number two or, maybe, number three.
But we congratulate each for their contribution to the great legacy in athletics here and for "100 Years of Bulldog Football." Welcome home!
(Note: The Bulldogs hosted Morgan State in the Centennial game, winning 28-21 in overtime as senior QB Cleveland McCoy – one of 16 seniors saluted on Senior Day – found wide receiver Terrance Smith in the end zone from 17 yards out to lift the Bulldogs to the victory. McCoy, who closed out his S.C. State home career with the contest, finished 7-14 passing for 74 yards and two TDs, and also had scoring runs of 19 and 61 yards in the game).
Bill Hamilton retired as sports information director at S.C. State after nearly four decades in the post. He is a member of the MEAC Hall of Fame and the recipient of numerous other honors for his service to the university and journalism. He reports on S.C. State as a correspondent for The Times and Democrat.
Be the first to know
Get local news delivered to your inbox!