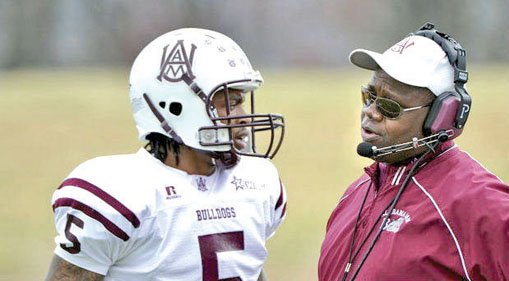 HUNTSVILLE, Ala. – The six-year stint as South Carolina State offensive coordinator is almost a faded memory for Anthony Jones.
In the 15 years since his apprenticeship under Willie Jeffries, the former NFL tight end has had successful head coaching tenures – at Morehouse for four seasons and Alabama A&M the past 11.
The length of elapsed time does not put Jones in a reminiscent mood for the trip to Oliver C. Dawson Stadium for Saturday's match-up against S.C. State.
"It's been a lifetime ago," he said during the Southwestern Athletic Conference's weekly teleconference on Tuesday. "I mean, so many changes have occurred with them. So many changes have occurred with me. I know a couple of guys on staff, a couple that I worked with, but they're not in the same capacity of what they were when I worked with them there. It's been a long, long time ago.
"So, it'll be good to go back there and see some old friends and things of that sort. But we're going there to play a football game and I'm sure Buddy (Pough) is going to be trying to coach a football game as I am I and we're both going to go out and try to put forth our best efforts and be successful."
Also returning to Orangeburg from Jones' staff is former S.C. State assistant Jay Martin, assistant strength and conditioning Coach James Hester and Orangeburg-Wilkinson graduate and freshman linebacker Virgin Johnson, the son of S.C. State athletics director Charlene Johnson. Alabama A&M president Andrew Hugine is also back at his alma mater, where he served in the same capacity.
Jones is more focused with helping his current Bulldogs (1-1, 1-0) rebound from a 23-7 home loss to in-state rival Tuskegee in the Louis Crews Classic. A pair of special teams' miscues – a muffed punt and a fumbled kickoff return – during a span of 15 seconds in the first quarter resulted in two touchdowns for the visiting Golden Tigers. Add 10 penalties for 94 yards and amassing only 284 yards and the end result was Alabama A&M's first loss to a Division II foe since 2008.
"I guess the game can be summarized by turnovers and penalties and missed opportunities and when you play a good football team, Tuskegee's a good football team ... you can't help them by hurting yourself and that's what we did Saturday," Jones said. "It was a big loss for us. A very painful loss, but hopefully it's something that we'll learn from that you've got to be ready to play from the word 'go' and all three phases (offense, defense, special teams) have to be ready to play. And hopefully, we'll learn from that."
In Jones' old Bulldogs team at S.C. State, he sees a squad better than its 0-2 mark given the level of competition in nationally ranked Coastal Carolina and Clemson University.
"I think what happens with people is people tend to look at people's record and also the score instead of the entire game," he said. "And when you see the entire game, you'll see that they have a lot of talent on offense, defense and even special teams. They're big, they're physical, and they know how to play football.
"But when you go up against the best among the best and you make some mistakes ... they made some mistakes in their opener against Coastal (Carolina). They had a chance to beat Coastal. They made some mistakes and that ended up costing them a seven-point victory. Coastal's one of the best teams in the (Football) Championship Subdivision, basically ranked in the top 25. They opened up against them and only lost to them by seven points and still had a chance to win. They scored a couple of touchdowns against Clemson ... and they held their own. They gave up some big plays on some interceptions ... and playing in Death Valley is not an easy place for anybody. I think they're a good football team and they're trying to come into their stride."
Jones sees Saturday's game as another opportunity for his team to further develop understanding of itself on the field. This can be seen in redshirt freshman quarterback Brandon Wells, who will be starting his third collegiate game and just his third since high school three years ago. For the season, he's 33-65 for 404 yards, two touchdowns, an interception and 63 rushing yards.
"We're still learning how to play college football," he said. "We kind of took a step backward this past weekend. Now we'll see if we can take a couple of steps forward."
Kickoff for Saturday's game is set for 6 p.m.
SBN SPORTS BLACK COLLEGE FOOTBALL TOP 10
HERITAGE SPORTS RADIO NETWORK FCS BLACK COLLEGE FOOTBALL TOP 10