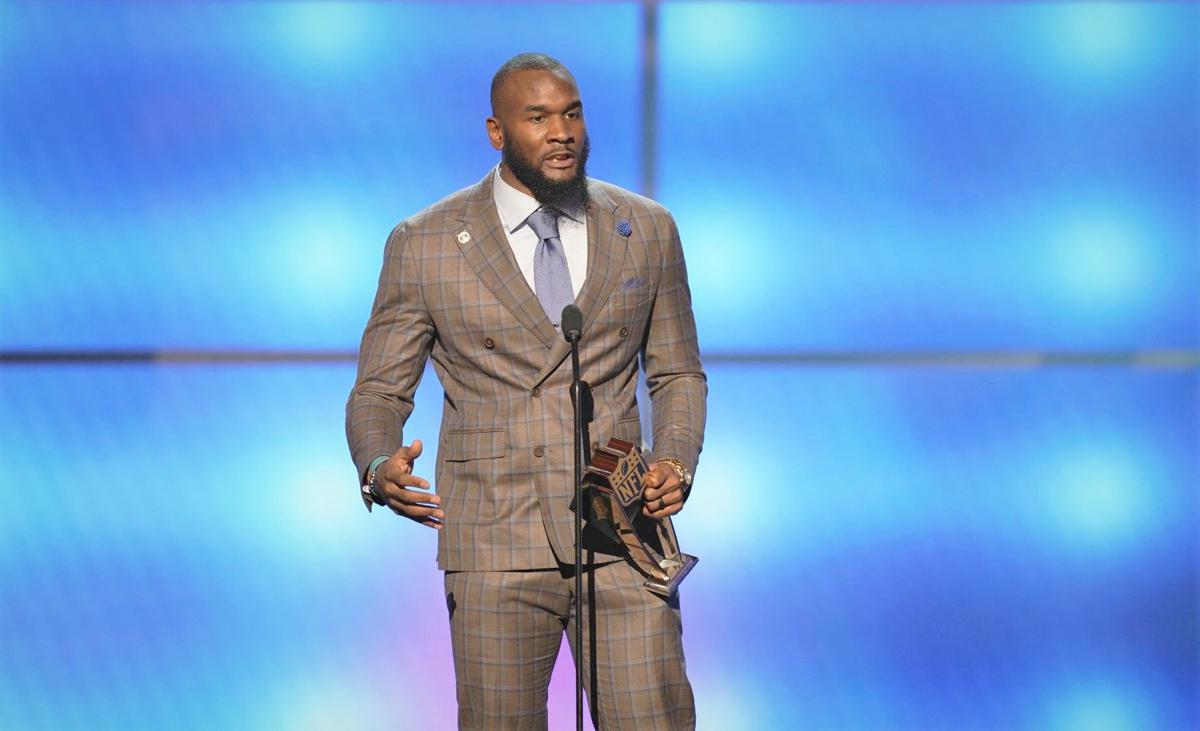 FLORENCE − A Florence restaurant manager has been suspended and corporate officials are investigating after a party of African American diners - including former South Carolina State All-American linebacker Darius Leonard - was asked to leave the Chipotle Mexican Grill on David McLeod Boulevard on Thursday afternoon.
Leonard responded in an Instagram video.
"This world has to change," said Leonard - a Dillon County native who starred at Lake View High School and SC State before leading the NFL in tackles as a a rookie for the Indianapolis Colts in 2018 and making the Pro Bowl in 2019.
"We are currently investigating the incident involving Darius Leonard in Florence, South Carolina," Brian Niccol, chairman and chief executive officer of Chipotle, said through a statement released by the company. "We have a zero tolerance policy for discrimination of any kind, and we have suspended our manager while we conduct a thorough investigation.
"I've personally talked with Darius, and I'm committed to ensuring the appropriate action is taken once the investigation concludes."
The Instagram video was picked up by TMZ and Leonard appeared Friday morning on ESPN's First Take to tell his story.
"Me, my brother, two other black guys and a mixed woman ... we're away from everybody, eating at the outside seating," Leonard said in the video. "Toward the end of our meal, the manager came up. He came outside with a terrible attitude, asking us do we have a problem. We're all lost, trying to figure out what's going on.
"He said a white guy said that we were verbally abusing him, talking trash to him and it was a lie. We got kicked out of Chipotle because of that. They said they were going to call the police. That's what being black in America is right now. Us not doing anything wrong, going out to eat with our family, trying to spend some quality time, and you can't enjoy eating anymore. We're talking about Black Lives Matter, and for a guy to look at us and lie and laugh in our face as we walk out; ...that's the white privilege we're talking about. You are wondering why all the protests are going on right now. We are tired of this. We're not saying black lives are the only thing that matters, no. We're saying we want to be treated equally. Just sit down and eat without being bothered."
On ESPN, Leonard talked about his concern with being wrongfully accused and targeted for arrest.
"When you think about being a black male now in America, and to hear that they want to involve the police, the first thing that went in my mind was I have a wife and a kid," Leonard said to a nationwide audience on First Take, referencing former Lake View High School and Claflin University softball player Kayla Sanderson, who he proposed to on the 50-yard line of Willie E. Jeffries Field in Orangeburg after the Bulldogs' Senior Day game in November of 2017. "If the police are involved, you're thinking you're not making it home.
"For me to have to sit there and think that my life is in jeopardy just because I'm sitting there eating with family and friends, not causing no problem, is scary."
Leonard was a 2018 second-round selection by the Colts. He is the all-time leading tackler for SC State, with 394 stops, including 54 for a loss, 21.5 sacks and 9 forced turnovers.
He told First Take that the restaurant manager's demeanor changed after he found out the linebacker's identity, but that was disheartening as well.
"It sucks that you have to be someone in the public eye that they look up to to get treated equally," Leonard said. "Besides me playing football or anything, I am a human being.
"I want to be treated as everyone else. Just firing the manager is not gonna do everything. What you need to do is go out and continue to show a diverse community that that's not who we are. And that's what I want them to do: I want them to step up and take a step forward into change, instead of just apologizing."
The Colts also released a statement to show support for Leonard.
"Darius's experience demonstrates the struggle so many Black Americans and people of color face every day," the team said. "It also demonstrates why we need serious action from our government leaders, law enforcement, businesses, and everyday Americans to end systemic racism and injustice and to continue this important dialogue on how to inspire positive change in our country."
Be the first to know
Get local news delivered to your inbox!