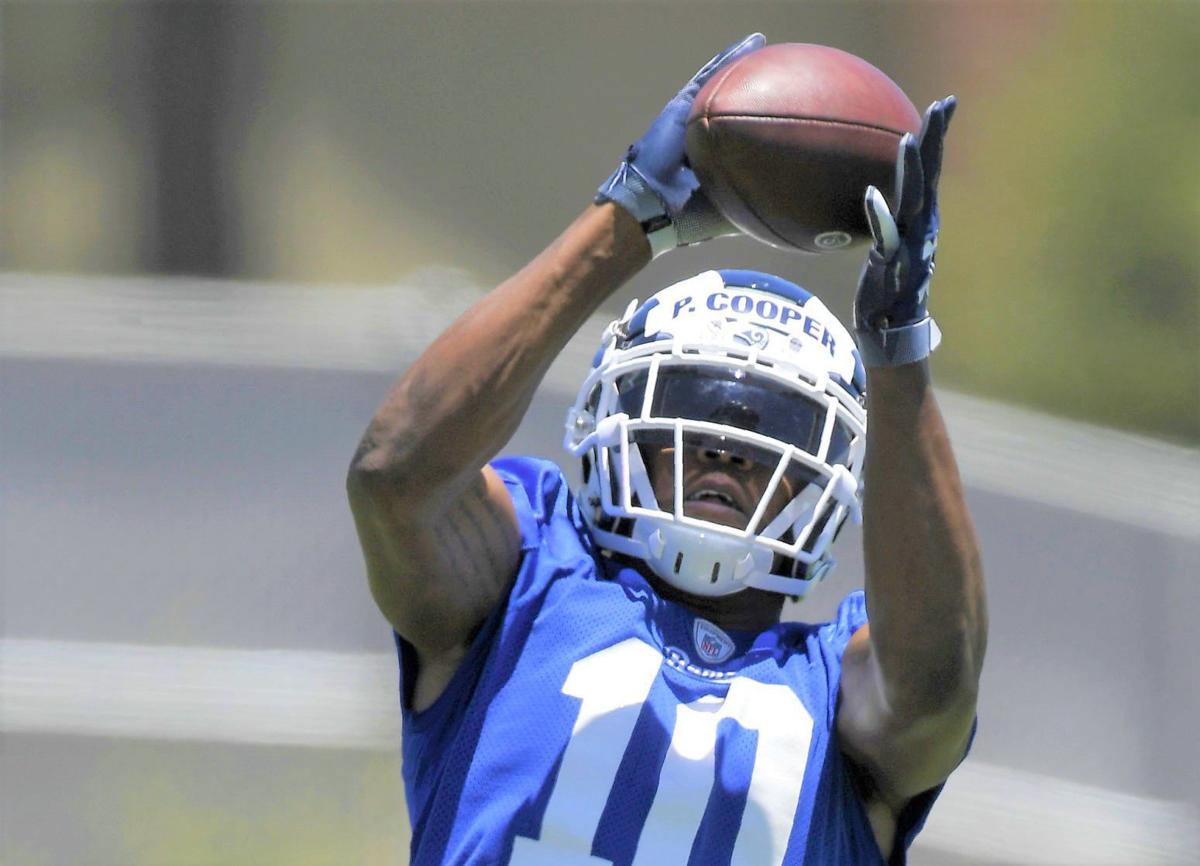 The Carolina Panthers on Friday signed former South Carolina wide receiver Pharoh Cooper, who spent last season with the Cardinals.
In Arizona, Cooper recorded career highs in receiving, hauling in 25 receptions for 243 yards and one touchdown.
Signing with the Panthers means coming home. Cooper grew up in Eastern North Carolina and attended Havelock High School, before heading across the border to play his college ball in Columbia.
Now Cooper gets to fully embrace the Panthers' motto of "Two States, One Team," and represent both of his football homes.
Cooper may be listed as a wide receiver, but he's proven himself to be most dangerous when he's returning kicks. During the 2017 season with the Rams, Cooper earned All-Pro and Pro Bowl honors in just his second year in the league.
That's what happens when you take a kickoff 103 yards to the house and lead the league in combined kickoff and punt return yardage.
Since then, Cooper has been electric to watch on return plays, and last year provided sure hands for the Cardinals' return units.
SC State product Hamilton
signs with champion Chiefs
The Super Bowl champion Kansas City Chiefs signed their first free agent of the off-season on Friday, inking a one-year contract with former New York Giants cornerback Antonio Hamilton, a former standout for South Carolina State.
Hamilton played his high school football at Strom Thurmond in Johnston prior to playing cornerback and key spots on special teams for the Bulldogs in Orangeburg.
From all indications, the Chiefs plan to use Hamilton as a gunner on special teams, a position he has played for the Giants and the Raiders.
According to his representative agency Rosenhaus Sports, Hamilton turned down more money in contract offers from other teams to sign with the Chiefs.
Gurley back home in
Georgia with Falcons
Todd Gurley didn't wait long to find his new NFL home.
The Atlanta Falcons didn't wait long to celebrate the deal.
"WE GOT HIM," the Falcons exclaimed on their Twitter account early Friday, soon after news emerged of Gurley's one-year, $6 million deal with the Falcons.
The agreement was confirmed to The Associated Press by a person familiar with the deal. The person confirmed the agreement on condition of anonymity because the deal will not be official until Gurley passes a physical. The league isn't allowing players to report to new teams immediately for those physicals during the coronavirus pandemic.
The agreement was reached less than 24 hours after Gurley was released by the Los Angeles Rams on Thursday. The three-time Pro Bowl running back was released minutes before $10.5 million in his contract with the Rams became fully guaranteed.
The Falcons had good reason to celebrate the news. They needed a replacement for Devonta Freeman as the leader of their ground game, and Gurley's arrival should be good news for ticket sales.
Gurley will be making a return to the state of Georgia. He was a standout at the University of Georgia, rushing for more than 3,000 yards in three seasons.
The agreement with the 25-year-old Gurley comes less than a week after the Falcons released Freeman. Atlanta ranked only 30th in the NFL in rushing in 2019 and is hoping for a significant boost from Gurley.
Gurley has rushed for more than 1,000 yards in three of his five seasons with the Rams. He ran for a career-low 857 yards with the Rams last season. His average of 3.8 yards per carry was the second-lowest of his career.
Gurley's physical will be especially important. He had a persistent left knee injury that limited his effectiveness late in 2018. The issue remained last season, even though he played in 15 games.
The Falcons also re-signed safety Sharrod Neasman to a one-year contract. 
Broncos sign Gordon
The Denver Broncos agreed to a two-year deal with former Los Angeles Chargers running back Melvin Gordon.
A source said the deal is worth $16 million with all but $2.5 million guaranteed.
The Broncos didn't announce the deal but did tweet a clip of King Features comic strip character Flash Gordon, which is their new running back's nickname.
His $8 million annual salary ranks fourth among running backs.
Be the first to know
Get local news delivered to your inbox!