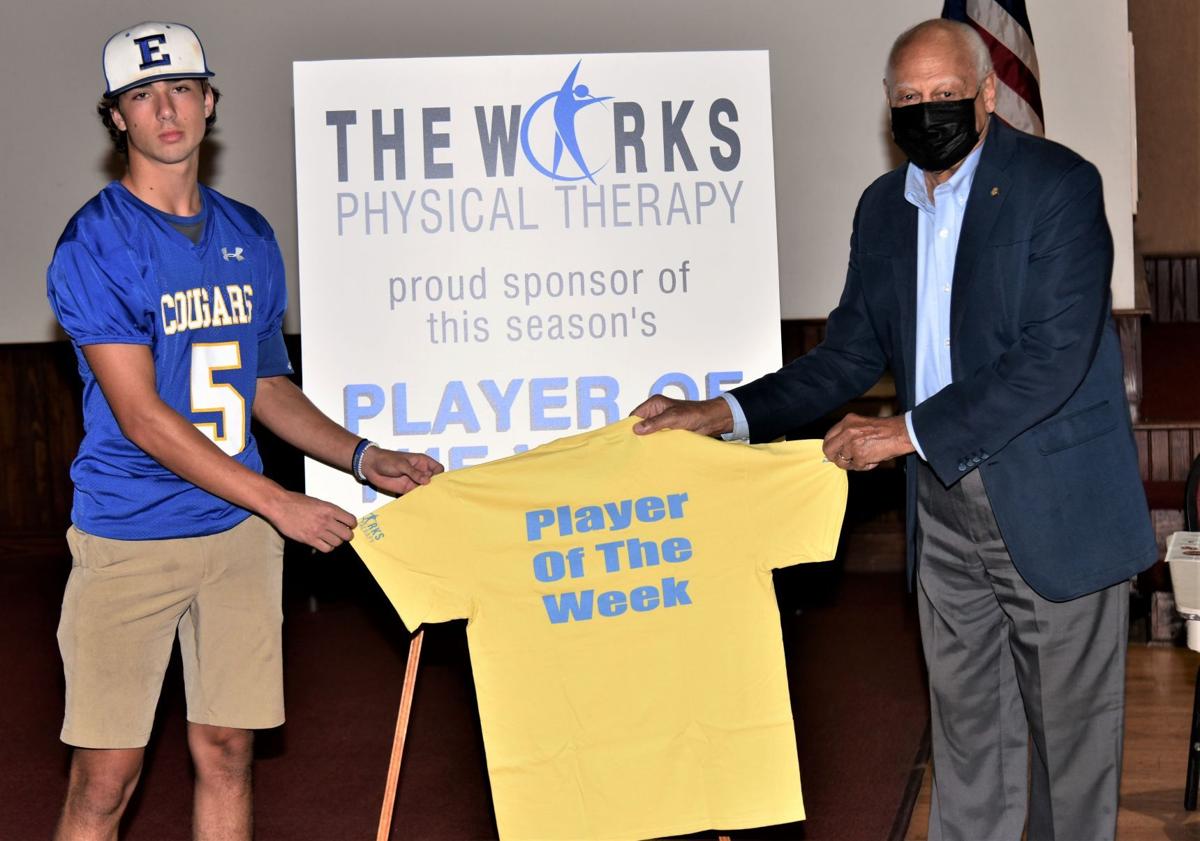 Former Wofford head football coach Mike Ayers injected some enthusiasm into the Orangeburg Touchdown Club Thursday.
Instead of standing behind the podium, Ayers paced around the front tables talking about his coaching career and what he has learned from the game of football.
"I'm not a guy that likes to be behind a microphone," Ayers told the gathered crowd. "I'm going to get out amongst you and see if we can't stir up the flames and excitement for the kickoff of football."
Ayers took the job at Wofford prior to the 1988 season. He inherited a squad that was 1-10 the previous year. He said that first group was "beat down" and he noticed that the players had their eyes on the floor.
"They had given in, given out and given up," Ayers said. "Right then, it turned a fire on inside of me and I told them, get your eyes up! I told them it was a new day and that somehow we would change the ways we do things around here."
Ayers told his players they were not just building a team of players and positions, but a brotherhood.
"We wanted to build a family," Ayers said. "A group of guys that care for one another, love one another and be willing to fight for one another."
It started with a drill where Ayers would command his players to put their hand on a line before running a sprint.
"We had kids behind the line, kids in front of the line," Ayers said. "We ran those drills until you understood that you would start with your hand on the line. Sometimes it would take six or seven attempts."
In Ayers' first season, the Terriers were 5-5. The next season they improved to 6-5. By the third year, Wofford was back in the national playoffs.
Ayers, who led the Terriers for more than three decades, told the group Thursday he gets emotional about the game of football and the players he has coached.
"Basically, they're my sons," Ayers said. "I have over 1,000 of them and the thing that I know is this, as a parent you have to coach them hard. There's a lot of kids out there that aren't willing to put their hand on the line. Then, the next thing you know you get that dreaded phone call and your heart gets broken."
Ayers said he wanted the group gathered Thursday to feel his passion, his love and his heart. In closing, Ayers led the group with some self-talk.
"Self-talk is basically just telling yourself you can do the job," Ayers said. "We all have a responsibility, and all have a job to do. I will win because I have faith, courage and enthusiasm. Start your day with that rather than a cup of coffee and I guarantee you it will be a better day."
South Carolina State coach Buddy Pough gave a preview of his team's opener Saturday against Alabama A&M. Pough and the Bulldogs are scheduled to leave Friday for Normal, Ala., where they will face the top-ranked HBCU team.
"We got our work cut out for us," Pough said. "It's a strange sensation because we just played them five months ago. They were our first game during our spring season and they beat us up pretty good."
Branchville's Philijuan Saldano and Edisto's Tyler Rickenbacker were recognized as the offensive and defensive players of the week sponsored by The Works Physical Therapy.
It was announced that former Furman head coach Bobby Lamb would be the special guest speaker for next week's meeting Sept. 9 at The Cinema.