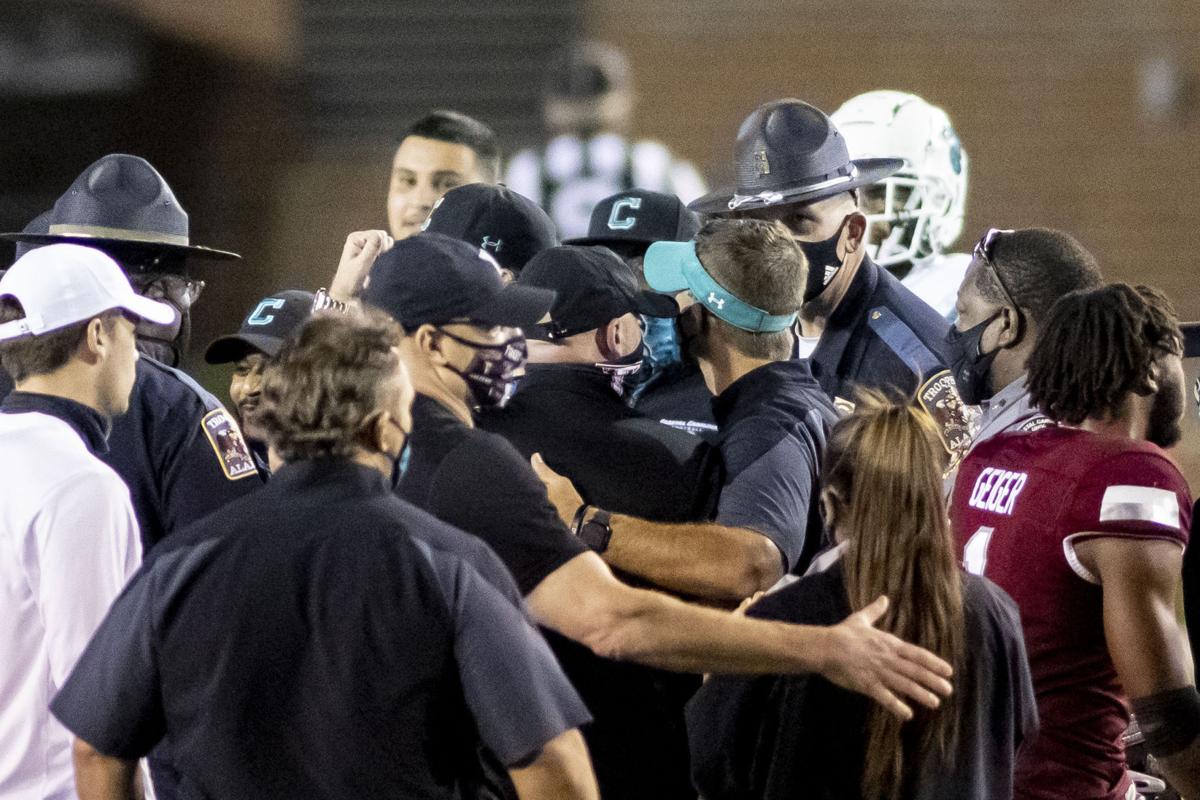 FCA honors Chadwell
CHARLOTTE — The pandemic has not stopped the Fellowship of Christian Athletes (FCA, www.fca.org) from celebrating one exceptional coach. FCA recently honored Coastal Carolina University's head football coach Jamey Chadwell with the 2020 Grant Teaff Coach of the Year Award.
"Fellowship of Christian Athletes has honored an outstanding coach who has impacted countless players over his successful careers" said FCA President and CEO Shane Williamson. "We congratulate Jamey Chadwell for not only his accomplishments on the field, but also for the way he has touched the lives of countless young athletes — all for the glory of God."
Chadwell, a two-time FCS National Coach of the Year finalist and three-time Big South Coach of the Year, became the third head coach in Coastal Carolina football history on Jan. 18, 2019. He finished fourth in the FCS National Coach of the Year voting in 2015 and eighth in 2013 and on the field led CSU to two conference titles, as well as the NCAA Division I FCS Championship Playoffs twice.
On the field, Chadwell has won over 65 games in 10 years as a head coach at Charleston Southern (2013-16), Delta State (2012), North Greenville (2009-10) and at Coastal Carolina (2017 and 2019). A 2018 Broyles Award nominee, an award given to college football's top assistant coaches, Chadwell was the associate head coach, offensive coordinator and quarterbacks coach for the Chanticleers in 2017-18.
MEAC recognizes SCSU's Klock
NORFOLK, Va. -- North Carolina A&T State redshirt senior Chanin Scott and North Carolina Central junior forward Kiyana Brown were selected as the Mid-Eastern Athletic Conference Women's Basketball Co-Players of the Week, presented by Coca-Cola.
North Carolina A&T State's Sean Kelly Darks was named Rookie of the Week, and North Carolina Central sophomore Anissa Rivera was named Defensive Player of the Week.
Among top performers recognized was Trinity Klock (South Carolina State) with 19 and 16-point scoring efforts in a pair of games against North Carolina A&T.
Boston honored by SEC
COLUMBIA -- South Carolina head women's basketball forward Aliyah Boston was named SEC co-Player of the Week. The sophomore shares the honor with Texas A&M's Aaliyah Wilson.
Boston was critical to the Gamecocks' comeback at No. 10/8 Kentucky Sunday evening. After missing most of the first half due to two early fouls, the 6-foot-5 sophomore put her stamp on the game in the second half, finishing with nearly a triple-double - 20 points, 12 rebounds and seven blocks.
Behr named top mid-amateur
CLEMSON -- Former Clemson golfer Stephen Behr Jr. has been named the top Mid-Amateur golfer in the world for 2020 by Amateur Golf.com. Each year Amateur Golf.com selects the top Mid-Amateur (25 years or older) in the world according to a points system.
During his four years at Clemson, Behr was a two-time Academic All-American, including first team as a senior in 2015-16, when he won the Byron Nelson Award, which is given to the top student-athlete in college golf. He also won the Elite 90 Award as the top student on a team playing in the NCAA National Tournament.
Behr played in seven amateur events in 2020. He won the Birmingham National Invitational, finished second at the Georgia Mid-Amateur, and third at the Azalea Amateur. He had five top 10s overall and six top 15s.