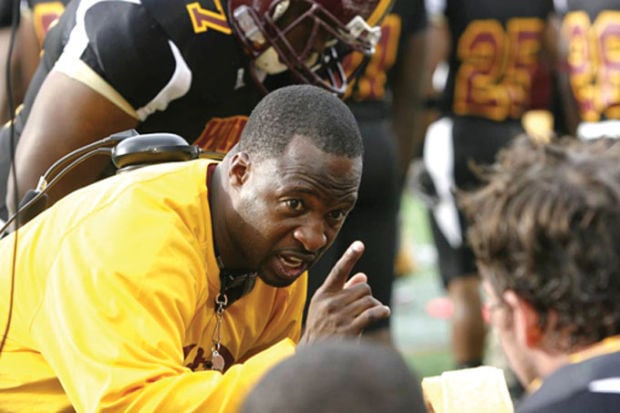 DAYTONA BEACH, Fla. — Since becoming Bethune-Cookman head football coach in 2010, Brian Jenkins has characterized the annual meetings with South Carolina State as a "heavyweight fight."
The #13/14th-ranked Wildcats (6-1, 3-0) have raised their respective hands in victory in three of the four matchups, including two at Oliver C. Dawson Stadium. They also enter this Saturday's visit riding a four-game winning streak, while the Bulldogs (4-3, 2-1) continue to lick their wounds from the 48-35 home loss to North Carolina Central on Oct. 18.
Nevertheless, Jenkins still believes S.C. State is a "ball club to be reckoned with" in the Mid-Eastern Athletic Conference and does not take stock in recent success.
"We look at every team the same," he said. "We don't look at South Carolina State any differently than we look at any other team and that's with all due respect. We look at every team we play as a high-caliber team. We respect every team we play and therefore, mentally, we take the same mental approach and mental preparation for every team. So it's no different when it comes to South Carolina State.
"We don't get into the things of 'Hey, we played there, we've beaten them whatever amount of times' ... and I'll say this. Those are things that we feel don't matter," Jenkins said. "The matter of facts are we have to go into Orangeburg and we've got to line up against a good football team and play them."
"We don't create any type of specialness for any team," Jenkins said. "We just keep our mental preparation and our preparation process the same and prepare like we know how to do and then we go into the contest and operate our scheme."
Bethune-Cookman will once again present a "Wildcat trio" at quarterback. Jenkins opened up the possibility of senior Quentin Williams and freshman Larry Brihm, who had three passing touchdowns and one rushing last week against Savannah State, and graduate Brett Maxie all seeing action this Saturday against the Bulldogs and believes such a strategy works in his team's advantage.
"It can cause a little bit of a stress in preparation because one guy might throw better than the other and you've got to make certain calls for that guy," Jenkins said. "Then another guy might run better than the other one. You've got to make certain calls that are successful. You might have a guy who might do both well. So as a defensive coordinator, you've got to try to think what's the best way to defend this guy and stay within our scheme. So it does in my mind does cause some disruption for the defense."
While Jenkins believes opponents worry about who starts at quarterback for the Wildcats, he does not lose sleep over the opposition. Redshirt freshman Calvin Giles-McClary is still the tentative S.C. State starter with Adrian Kollack (shoulders) and TeDarius Wiley still nursing injuries.
"Our main thing is go through our preparation process that we feel is effective and get our team ready to play and put together a scheme to be able to defend on all of them," Jenkins said. "It doesn't matter what quarterback they bring to the table. The main thing is that we're prepared to defend their offense as a whole and be able to operate our scheme effectively. So, who they play or who they line up with taking the snaps is not a major concern for us."
A certainty is the S.C. State quarterback will face a Wildcats' defense ranked second in the MEAC in turnover margin and against the pass and first against the run. Senior defensive back Thomas Finnie earned conference Defensive Player of the Week honors after picking off two passes in the 48-20 win over Savannah State.
"Finnie is a student of the game," Jenkins said. "He's a guy who respects the preparation process and, therefore, that's why he has gotten the results he got on Saturday. He's a young man that takes pride in the way he performs. Takes pride in the way that he prepares so you're only going to get good results when you have an approach like that."
Kickoff for Saturday's game is 1:30 p.m.