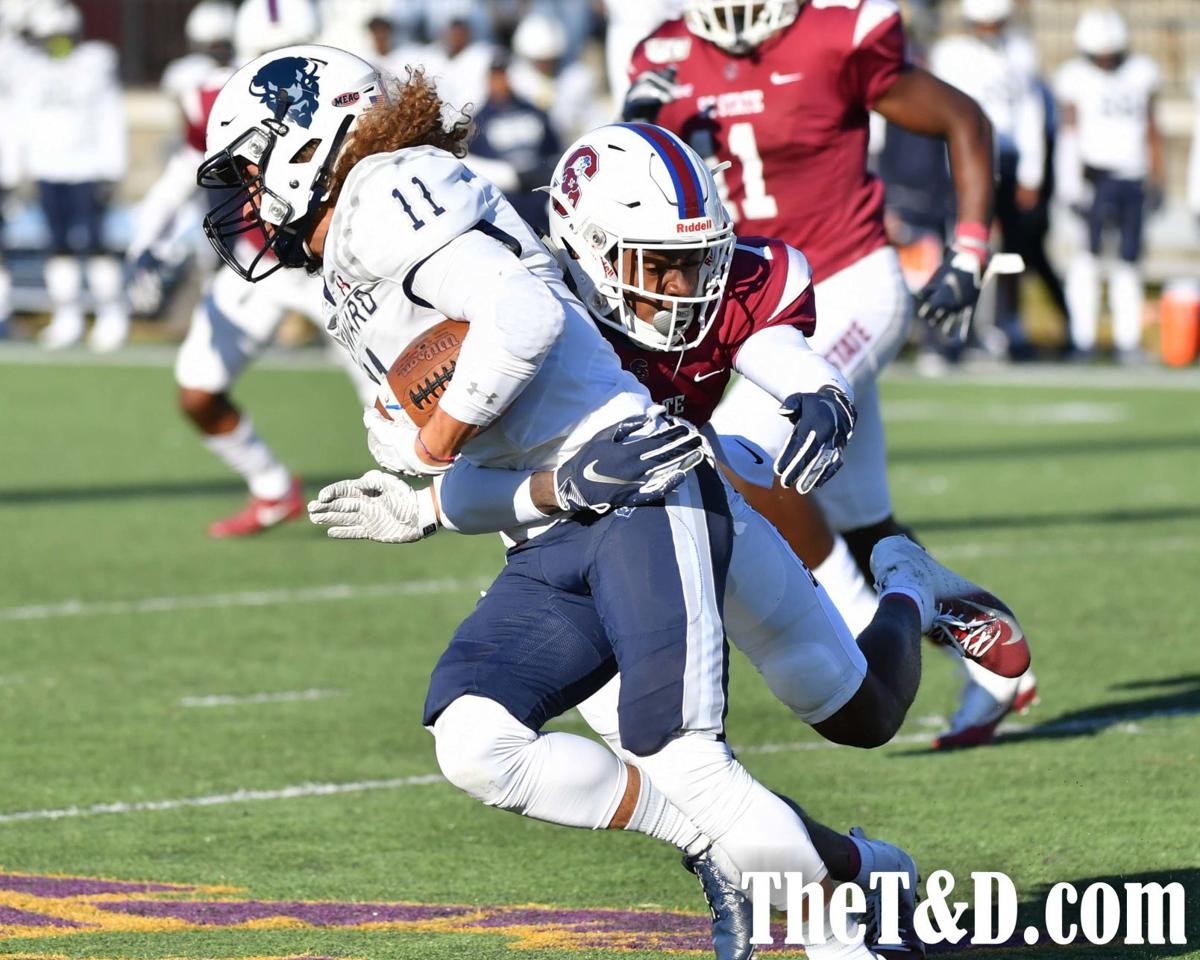 South Carolina State University Athletics plans to bring football players back to Orangeburg for on-campus workouts under strict guidelines starting next week, unless regional or statewide health regulations make that not possible.
And, as of now no major changes are planned for the Bulldogs program, with regard to continued play in the ever-changing landscape of the Mid-Eastern Athletic Conference.
These two topics, along with planned measures for fan safety during this coronavirus pandemic and other athletic department topics, were addressed during Wednesday afternoon's Student Affairs and Athletics Committee teleconference between SCSU board trustees, university president James Clark and director of athletics Stacy Danley.
The teleconference was joined by many State Club officials, SC State faculty and staff members, alumni representing the past five decades, and alumni association officials from chapters including Berkeley County, Charleston, Columbia, Washington, D.C., Charlotte and Atlanta.
Danley prefaced his comments to the committee by stating that he was involved in a Tuesday conference call with other MEAC athletic directors, discussing the best way to move forward into fall sports, specifically football.
"I think, first and foremost, we are planning as a conference to have a full football season," Danley said. "Our first game is scheduled against Grambling (State) University on September 6 in Atlanta (inside Georgia State Stadium, formerly known as Centennial Olympic Stadium and later as Turner Field) in the MEAC/SWAC Challenge.
"I have confirmed with MEAC/SWAC Challenge officials and ESPN officials that we are on target to participate in that event, as we speak today."
The MEAC is going through a bit of unexpected realignment, with the news in June that both Florida A&M and Bethune-Cookman are leaving the MEAC to join the SWAC after the 2020-21 season, joining North Carolina A&T who announced earlier plans to leave and join the Big South Conference at the same time.
"That will put us at 8 conference programs, with 6 football-playing schools," Danley said of the new MEAC structure, after 5 schools will have exited in 4 years time . "We do (continue to) meet the NCAA requirement that you must have at least 6 football-playing schools to be a qualifier for the FCS Playoffs.
"The MEAC, meanwhile, has publicly announced that they have engaged a consulting firm to assist them with creating a realignment plan, where they will be considering other member institutions to replace some or all of the 5 programs which recently departed the conference." 
Danley pointed out that he and his athletic staff will continue to monitor health updates from local, state and national medical experts, along with government officials, as they move toward bringing student-athletes back to campus with plans to start the 2020 season as scheduled.
"The priority will always be the health and safety of our student-athletes, our coaches, our staff, our university community and our fans," Danley said. "With our conference and our football team planning to move forward, we are planning, as of today, to bring our student-athletes back to campus on July 10.
"We have a very comprehensive plan, from testing to monitoring to symptom checks. But, at the same time, we are going to continue to monitor what's going on around us and away from our campus."
Danley said that once the nearly 60 football players return to campus next week, each will be immediately administered a COVID-19 test (paid for by medical groups and conference-wide corporate sponsorship) and a virus antibody test (paid for by SC State Athletics). Each player will be self-isolated on campus for 48 hours, or until their tests come back.
Any positive tests will incur a 14-day quarantine period for that player, with a requirement of two negative virus test results before being allowed to return to any group-oriented activity.
After the initial return of football players, other SC State student-athletes will be returning in phases, based on all state, local and university regulations and requirements.
Plans are to take each players' temperature reading each morning, with 4 players assigned to live together in a pod setting. If one player tests positive for the virus, all 4 players in the pod will be quarantined and regularly evaluated and tested.
Although all MEAC-member football programs are currently planning on playing a full season, Danley said there are two other scheduling models that have been considered, in the case of continuous spikes in the number of virus cases.
In the first alternative model, there is the possibility that MEAC programs would play just their 8 conference games, with no non-conference contests. In the second alternative model, there is the possibility that MEAC programs would play just 6 conference games, limiting competition to just the closest opponents in reference to distance, in areas where virus numbers are not spiking.
"We think that we will be playing football games under COVID-19 attendance restrictions, if we do move forward with the season," Danley said. "We still could play without fans.
"Based on one of our member institution's current state regulations, they would have to play without fans if the games were today. We will need to take into consideration each state's restrictions and requirements."
MEAC athletic directors have already discussed the possibility of one or more football games being postponed a few weeks, or canceled due to a virus outbreak in a particular state. If so, Danley said "one thing we talked about relaxing or, in some cases, suspending conference requirements to be sure that we are being responsible in these conditions, while leveling the playing field for everyone."
Concerned about COVID-19?
Sign up now to get the most recent coronavirus headlines and other important local and national news sent to your email inbox daily.