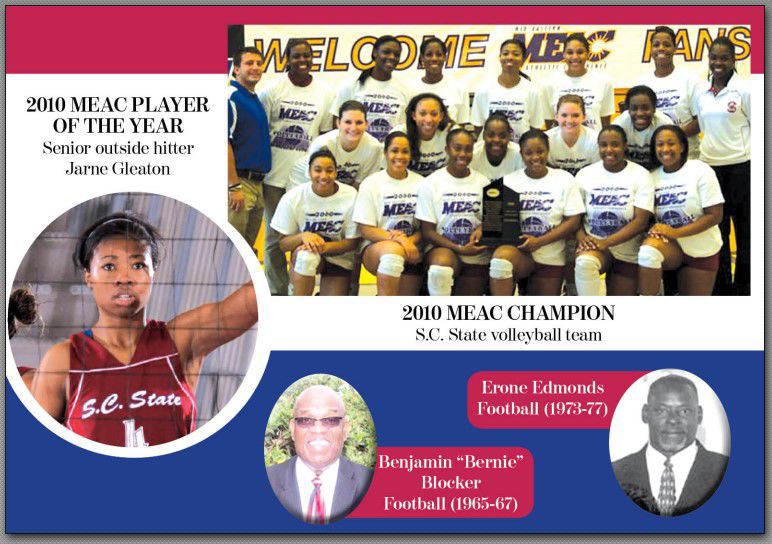 South Carolina State University will welcome eight new members (including a team) into its athletic hall of fame in2020.
DANA LEWIS, track & field (Pawtucket, R.I.) – Was one of the top women's track and field performers at SCSU during her collegiate career ...  MEAC Indoor Champion in the high jump for four seasons (1997-2000), and the MEAC Outdoor Champion in the high jump three years (1997-1999) and the runner-up in the high jump in 2000 … Named the university's Most Valuable Field Performer twice during her career ... Earned a bachelor's in biology at SCSU in 2000 and a doctor of chiropractic from Sherman College of Straight Chiropractic in 2005 … Was a standout at nearby Orangeburg-Wilkinson High School and a member of the school's 1995 and 1996 S.C. Class 4A state championship team and the state high jump champion in 1995 ... Today is a licensed chiropractic in several states, including Rhode Island, where she currently practices.
2010 VOLLEYBALL TEAM – MEAC champion, the second volleyball title in school history … Participated in the NCAA Volleyball Championship for first-ever appearance by SCSU … Won nine of its last 11 matches and six straight in the MEAC, compiling a 17-22 overall record, 6-2 in MEAC … Senior outside hitter Jarne Gleaton was named MEAC Player of the Year and was joined on the 2010 All-MEAC Team by junior setter Bria Brimmer and redshirt sophomore middle blocker Shabree Roberson … Gleaton was also named the MEAC Tournament's Most Outstanding Performer and was joined on the All-Tournament team by Roberson, and head coach Millicent Sylvan was named the tournament's Outstanding Coach … freshman Desire Waller was named Rookie of the Week once.
BENJAMIN "Bennie" BLOCKER, football (Lancaster/Columbia) — Lettered in three sports – football, basketball and track – during his SCSU career … Earned first-team All-SIAC honors as a fullback in 1967 when he was the team's rushing leader and set a single-game school rushing record with 220 yards against Bethune-Cookman and later broke the mark with 250 yards against Fayetteville State … Played in the NFL after being drafted by the New Orleans Saints in 1968 … Earned a BS in physical education from SCSU in 1968 and a master's degree in elementary education at Virginia Commonwealth in 1974, and a master's in Public Administration from the University of South Carolina in 1979 … Was the first African American to serve as county director of the Richland County Deptartment of Social Services … Earned All-America honors in Scholastic Magazine and Parade Magazine while being featured in Sports Illustrated at Lancaster's Barr Street High ... a longtime educator and administrator in South Carolina and Virginia public schools … Member of Omega Psi Phi fraternity. 
MICHAEL W. SUMMERS, football (Millen, Ga./Statesboro, Ga.) — Led the Bulldogs in rushing two seasons – 1986, 522 yards, 3 TDs and 1987, 756 yards, 9 TDs … Averaged five-plus yards per carry during those two seasons ... Also led the team in scoring in 1987 with 54 points … Earned All-MEAC second team honors in 1986 and 1987 … Was South Carolina Player of the Week (as chosen by the Charleston Post & Courier) ... Named Wendy's Player of the Week seven times during his career … Set a Paulson Stadium opponent rushing record of 172 yards against Divivsion I-AA Champion Georgia Southern in 1986 … Was SC Sportswriters College Player of the Week in 1987 … Was rated among the Palmetto State's top NFL prospects in 1988 … Signed a free agent contract with the Indianapolis Colts in 1988 … Earned a bachelor's from SCSU in 1988 and a master's from Fielding Graduate University in 2009
TYRONE WILLIAMS, basketball (Birmingham, Ala.) — Williams was among the Super Class of Bulldog basketball recruits in 1967 under legendary Bulldog basketball Coach Ed Martin … Was a starter at guard three seasons and earned four letters… Four of his teammates are in the Bulldog Hall of Fame… Averaged 13.4 points and 3.3 rebounds during his career … Led the team in free-throw percentage twice … Was second on team in assists twice (1969 and 1971) … Was a two-time All-SIAC selection … Went on to an outstanding career as a public school administrator and quality education activist in Birmingham ... Also served as a U.S. Youth Games Sport Coordinator.
THOMAS (Jackie) KENNERLY, football (Orangeburg) — four-year football letterman ... named to the All-Southern Intercollegiate Athletic Conference (SIAC) Honorable Mention team in 1966 … Also participated in track and field, garnering All-SIAC honors in 1967 … Signed a free agent contract with the Cincinnati Bengals in 1968 but never got to play after he was drafted into the military … After time in the service, became a football coach at Orangeburg-Wilkinson High School, winning a state championship in 1972 … is actively involved in the NAACP, Calvary Baptist Church, as well as the Greater Columbia Chapter of South Carolina State University.
ERONE EDMONDS, football (North/Olar) — a first team All-MEAC selection at linebacker in both 1975 and 1976 ... Earned the SCSU "Bill Goodwin" Award as the team's top linebacker in 1976 ... Earned All-America honors in 1976 … Was a defensive standout on SCSU's 1976 National Black College Championship Team. .. SCSU won three conference championships and the defense was ranked in the top three in the nation twice during his playing days ... Was an all-state linebacker at North High School ... is currently a physical chemical operator/wastewater operator in North. 
BENNIE E. McMURRAY, baseball (Lancaster) — Earned four letters during a brilliant career as a pitcher for the Bulldogs ... Won the Bulldogs' Outstanding Pitcher Award as a senior in 1971, when he helped SCSU to the SIAC (Southern Intercollegiate Athletic Conference) baseball championship. .. Earned All-SIAC honors ... Led the NAIA in Earned Run Average ... Received his bachelor's from SCSU in 1971 and later a master's from South Carolina ... Enjoyed success as a high school football coach with numerous state titles at several high schools: Buford High (Lancaster), Lewisville  High (Richburg), Waddell High (Charlotte, NC) and Lancaster High ... Coached All-American running back DeShawn Baker, who is the No. 3 all-time rusher in SCSU history. 
TONY MAURICE THOMAS, swimming (Columbia) — Earned three letters in swimming during his career ... Was a member of the 1970-71 team that compiled the best record (at the time) in school history and tied Morehouse for the SIAC Championship ... Was a member of the 1971-72 team that finished as runner-up to Morgan State at the MEAC Championship ... Qualified for the NCAA Swimming and Diving Championship in 1972 ... Continued his swimming involvement as an instructor at Benedict (1980) and assistant director at Greenview Park (1975-77) ... Founded Tony Thomas School of Karate in Columbia ... Other honors include Richland County School District One Teacher of the Year (1993-94) and induction into the SCSU Physical Education Hall of Fame in 2011.
Be the first to know
Get local news delivered to your inbox!