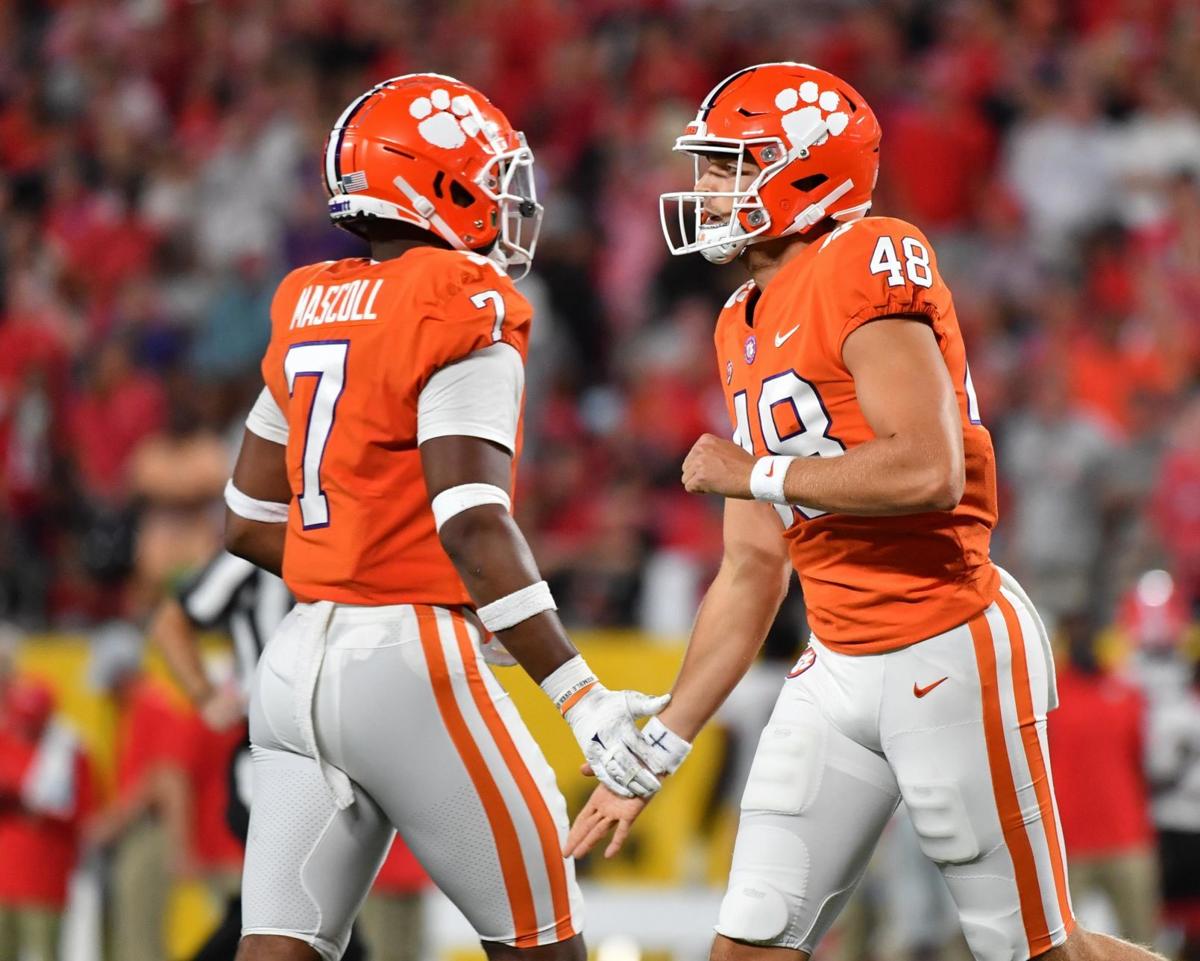 Dabo Swinney had nothing but kind words to say about S.C. State head coach Buddy Pough as Clemson prepares to host the Bulldogs Saturday at Memorial Stadium.
"I'm excited about this week," Swinney said. "Buddy Pough is a friend and a man that I have a lot of respect for. He's a great coach, but also one of the better people you'll ever meet."
While an assistant at Alabama, Swinney recalled being introduced to Pough while he was working on Brad Scott's staff at the University of South Carolina. Their paths would later cross when Pough's son took a job in Clemson's athletic compliance office.
"I know the type of father he is, and just seen him in so many settings," Swinney said. "His consistency and his love of people and his players. It's hard to stay somewhere for a long time; he's a consistent model for most people."
The two men will line up on opposite sidelines for just the third time as head coaches Saturday. Clemson is looking to get back on track after a 10-3 loss to Georgia Saturday in Charlotte.
"Everything from an intangible standpoint that I think you have to have to win was on full display with our kids," Swinney said about the loss. "Their fight, their heart, their will to win, their expectation was tremendous. We certainly have a lot to learn from that game and a lot to improve on, especially offensively."
Swinney said he looks forward to watching how his team improves and build on some of the good things he saw against Georgia.
"Hopefully we can develop our team," Swinney said. "We want to be able to get some guys some experience and have a chance to create some chemistry and rhythm. We want to be able to develop some depth. We didn't get to play a lot of guys last week."
S.C. State also enters the game 0-1 after a 42-41 loss to Alabama A&M Saturday.
"They are explosive on offense," Swinney said. "They're led by a quarterback that is athletic and fast. He's going to be a great challenge for us in being able to handle a mobile quarterback. We're going to see a lot of those guys throughout this year. I think that will be a good challenge for the defense."
Swinney said the strength of the S.C. State offense is the backfield led by Wake Forest transfer Kendral Flowers.
"I think the biggest thing about South Carolina State is that 73 of the 79 players on their roster are from the state of South Carolina," Swinney said. "These kids will be excited to play against us, and we're looking forward to competing against these guys."
Despite last week's loss, Swinney is optimistic that his team will improve, and if they stay healthy, will have a chance to be one of the best teams that he's had while coaching at Clemson.
"We will improve, because we have a team that cares," Swinney said. "We'll improve on precision, on details and not make critical mistakes. That was the difference in the game Saturday ... mistakes."
Clemson and S.C. State are scheduled to kick off Saturday at 5 p.m. The game will be televised on the ACC Network.
Skalski ACC LB of Week
The Atlantic Coast Conference announced that linebacker James Skalski has earned ACC Linebacker of the Week honors for his performance in Clemson's season opener against No. 5 Georgia on Saturday. Skalski recorded a career-high 14 tackles against Georgia, breaking his previous best of 13 set against Virginia last year. He directed a defense that held Georgia to 256 total yards and only three offensive points. It was Clemson's lowest yardage total allowed to an AP Top 5 opponent since holding No. 3 Notre Dame to 248 yards in the 2018 Cotton Bowl.
Zanders out for year
Clemson starting safety Landen Zanders will need shoulder surgery and miss the rest of the season. Tigers coach Dabo Swinney said Zanders hurt himself in the 10-3 loss to No. 5 Georgia this past Saturday night.