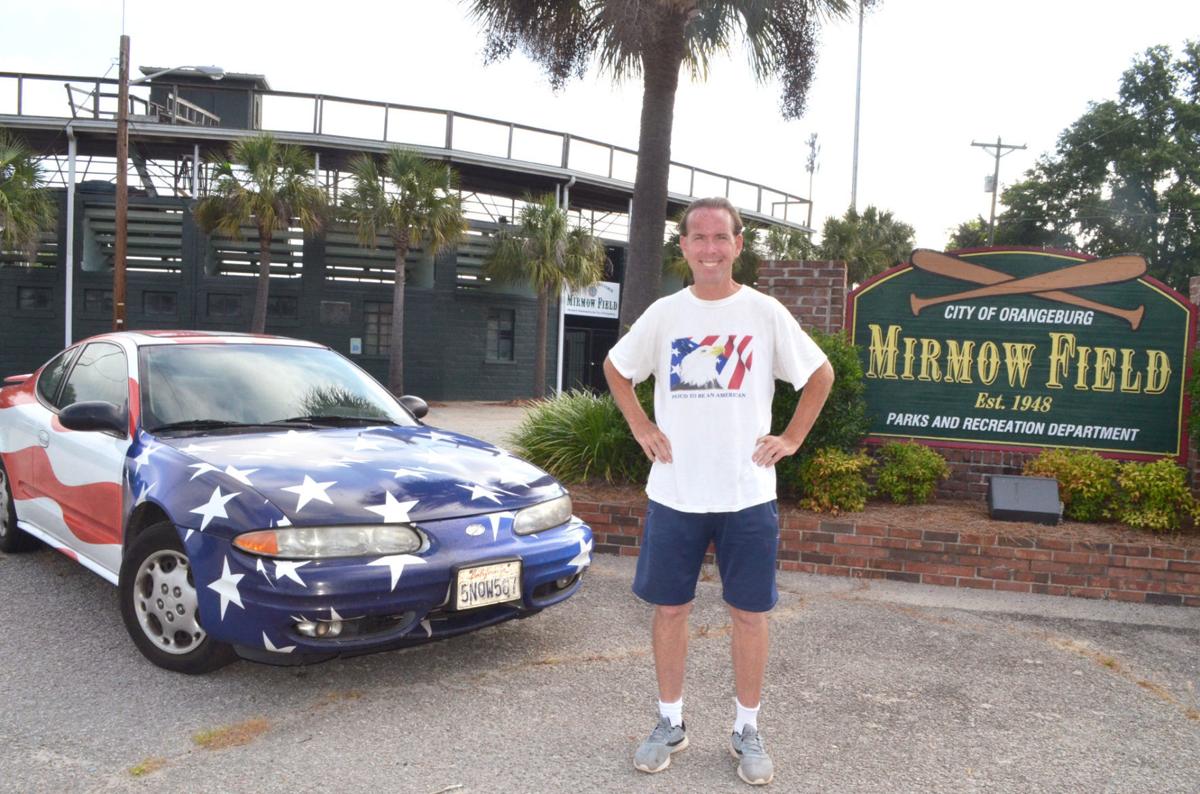 This Memorial Day weekend is a good time to consider how much we as Americans appreciate the past and current sacrifices made by United States veterans, military service members, first responders of all kinds and their families to protect and ensure our freedoms and the lives we enjoy.
Many of us will spend at least some time watching a ballgame, a car race or another sporting event in person or on TV.
With the message of thanking all those who have made possible or still preserve our freedoms in this land, Joe "Mr. Sports Travel" Connor of San Diego, California, has been attending a different sporting event somewhere in America every day since early February of 2018. He left home the day after Calhoun County's Alshon Jeffery and the Eagles won the Super Bowl and he hasn't been back since.
This isn't his first sports road trip, however. Connor's website and Facebook page is Mr Sports Travel. He gives other sports fans tips to better enjoy attending venues they are going to for the first time.
On Tuesday night - his 571st consecutive day attending a sporting event away from his West Coast home - Connor was in Orangeburg to visit 71-year-old Mirmow Field. He watched Orangeburg Post 4 open the American Legion Baseball season with a 3-2 win against West Columbia Post 79.
Connor blends in with any crowd of fans, except when he has his camera out taking photos for his scrapbook files. Some files might be published one day, if the former full-time journalist chooses to share more about his experiences.
His car does anything but blend in among vehicles parked at games. Connor drives a 2004 Oldsmobile Alero with an American flag wrap, proudly displaying the stars and stripes. The back window has a simple message in a single sentence - Thanked a Veteran, Service Member, First Responder or their Families today?
"I saw a quote at Fort Benning (Georgia) earlier this week that reads 'Freedom has a price the protected will never know,'" Connor said. "It's easy for people to take for granted the freedom that we have.
"The families make the sacrifices too, because they never know if that loved one is going to come home or not."
The car draws attention - and once a gifted red-white-and-blue teddy bear from a recent Central American immigrant - as he attends sporting events. But, it's the conversations, the people, the stories of sacrifice that Connor has embraced the most on his American sports fan journey.
There's the baseball fan in Rome, Georgia, who talked through tears of losing his best friend in the 2012 Islamic militant attack on U.S. military members in Benghazi, Libya, the mother at a hockey game in Illinois who lost her youngest son in a 2017 fatal collision of the USS John McCain with a merchant ship off the coast of Singapore, and the mother walking through a Cape Cod parking lot who stopped near Connor's car to share about losing her late firefighter son during the 9/11 attacks on New York City.
"I'll remember the games and the experiences, but these spontaneous moments with Americans who have sacrificed so much is what I will cherish the most," Connor said. "I'm 47, and of course I want to meet someone (to marry) at some point.
"But, I've put all my money into rental properties and that's what's funding my hotel, food and fuel expenses on this cross-country trip. I wanted to see a game with Claflin here this spring, but their schedule changed with rain. So, I'm glad I was able to get here for the game tonight."
Connor liked what he saw.
"Mirmow Field exceeded my expectations," he said. "I like old minor league parks and the history that's there. How many American Legion kids can say they played at a park with a flag pole and a light standard in the field of play? They don't build parks like this any more, with those unique characteristics.
"And there wasn't one during the game, but when the train comes by the park, that's unique too. Baseball used to be a sense of community, where people gathered. I hope that the city of Orangeburg and the citizens understand how important this park is to the uniqueness of the area. Even if you aren't a baseball fan, this is an historical landmark."
Connor is doing more than just urging Americans to thank those who have invested their lives into protecting our freedoms and our everyday way of life. He is trying to complete an extensive bucket list he began checking off more than two decades ago.
He took his first road trip 21 years ago and has visited every MLB, NBA, NHL and NFL venue for a game. He has also visited every HBCU basketball and baseball venue.
"So, I'm trying to see a game at every (NCAA) Division I baseball venue by the time that I'm 50, as well as basketball, football and hockey," Connor said, speaking of his childhood, playing hockey as the son of a Hartford Whalers (now Carolina Hurricanes) season ticket holder in Connecticut. "I've been to all the hockey venues except for the two in Alaska and Robert Morris. I've been to all the Power 5 football stadiums for games, except for Texas Tech, which I'll catch next season. I've been to 351 Division I basketball venues, all but two of them (Hawaii and Seattle). So, the last time I was here was when I saw SCSU (men's basketball) play a few years ago. That's when I drove by the park (at Mirmow) and I knew the history, having done my research, and I said 'I've got to come see a game here.'
"My late father was a smoker, so he died pretty young, when I was in my late 20s. That changed my whole life trajectory. In 1998, my first big road trip year, I called dad from the road, describing all the baseball stadiums I was visiting, including 15 in 21 days. So we had a really strong father-son bond. He died in April of 1999. I saw my last MLB stadium of them all that September in Arizona. That was important for me to finish that, sort of as a thanks to my dad."
Connor didn't stop with ballparks in the U.S., despite changing careers along the way.
"Baseball has always been my first love; I've seen baseball on six continents, in more than 30 countries," Connor said. "South Africa, Uganda, Kenya, Russia, Germany, Austria, Switzerland, Japan, Korea and Taiwan, so many countries have organized baseball. But, at some point, I started branching out into other sports on my trips.
"I've been a journalist. I've freelanced for ESPN, Fox Sports and others. Then I crossed over into corporate marketing and public relations. But, at this stage in life, I'm a career coach mostly for cell phone engineers who come to work in Silicon Valley and I put all my money into rental properties. That's the only way I can afford to do any of this. Life is temporary and seeing all these places and meeting people along the way gives me some perspective. It's an anomaly for a 47-year-old single guy to be doing this. But, that's why I'm doing it - I could get killed in a car accident or be struck by lightning at any point."
Connor wanted to raise awareness and gain support for a charity that supports veterans and/or first responders. But, through various issues in connection with two charities, he has scaled back to just encourage everyone to both thank and encourage military members of any era, first responders and their families.
"It's not about me, even though I worked hard to put myself in a position to take this trip," Connor said, approaching 140,000 more miles on his car since he left San Diego. "To live in a country like this, to be able to do this; you wouldn't be able to do this in Cuba or many other countries, and I've been to Cuba for baseball.
"My dad was in the Air Force right after high school and he served in Vietnam. So, he was my inspiration for this and a lot in my life. I just want to bring joy to people, whether they are a veteran or not. I don't need to promote me. I just want people to be more grateful to people who serve. Today, people are too busy looking at their phones, not knowing that things are so different in so many other countries. Yeah, we have division here, but there's unity in the fact that I have the freedom to do this trip because of people who protect that freedom. Every American has that freedom."
From Orangeburg, Connor was set to see a South Carolina Association of Christian Schools game in Easley, before catching minor league baseball in Asheville, North Carolina, and then Knoxville, Tennessee. On Friday, he was set to catch two games, an amateur tournament in Oxford, Alabama, and the night baseball game in the Southeastern Conference Tournament in Hoover, Alabama. On Saturday, he was set to catch a wooden bat league tournament game in Cincinnati, after which he was to see a Big East Tournament baseball game. On Sunday, he plans to take in the Indy 500 in person, before returning 4.5 hours back to Nashville for a minor league baseball game on Memorial Day Monday. On Tuesday it's the new Birmingham Barons stadium Regions Field in Alabama for a game and, without leaving town on Wednesday, the Rickwood Classic between the Barons and the Montgomery Biscuits at 109-year-old Rickwood Field in Birmingham, the oldest minor league stadium still in use in the country.
Last year, Connor was mostly attending events north of I-70 and east of I-35. This year's trip is mostly south of I-70 and east of I-35.
"My streak is going to end at some point, but I want to try to get to at least 500 (straight days at a different sporting event at a different venue), which would be June 19," Connor said. "I'm going to catch summer league baseball in the Coastal Plain League, the Valley League in Virginia, the Ohio Valley League in the Kentucky and Ohio area, some schools in Missouri and Kansas.
"In a perfect world, if I can go to the end of the college football season, that's what I want to do. The last game I want to see right now is Arkansas playing Missouri for the one time a year they play a game at War Memorial Stadium in Little Rock. That's on Nov. 30, and I may just go home after that."
Connor's story might remind some of the movie character Forrest Gump, running across the U.S., seeing what he could see, just because he could. But, a closer look shows that his story is more akin to American patriot Paul Revere and his ride, a journey to hopefully inspire actions by others.
Memorial Day weekend should be enjoyed, including watching that game, race, or any other sporting event. But time should be taken to thank a veteran, a member of the military, a first responder or a member of their families for our freedom to and our safety as we experience the liberties we have here.
Our attitude of gratitude should be as naturally shared and American as apple pie, family vacations or a day at the ballpark of your choice.
Be the first to know
Get local news delivered to your inbox!