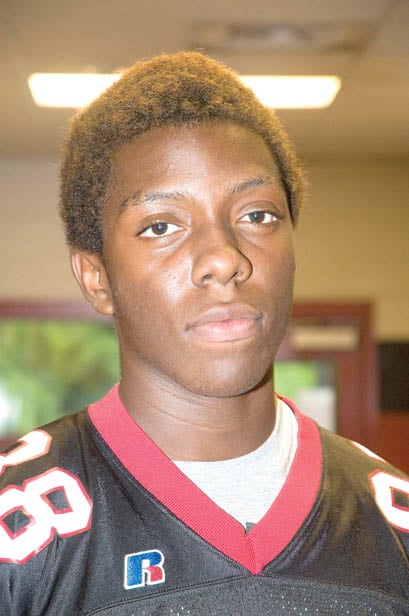 BAMBERG — Bamberg-Ehrhardt, known for a smash-mouth style of football, will actually have one less target to throw to this year.
Highly touted wide receiver Aggadoria Bowers will not return to action for the Red Raiders this year because of injury. According to head coach Kevin Crosby, the timetable for his return is uncertain.
Crosby is also uncertain exactly what the injury is. However, Bowers was seen sitting on the sideline during a scrimmage the Red Raiders hosted against Orangeburg Prep and Hunter-Kinard-Tyler prior to the start of the regular season. Bowers saw little action in that scrimmage as trainers examined his knee on the sideline throughout the exhibition. He was also not active this past week against Orangeburg-Wilkinson.
This will not be Bowers' first stint on the injured list. The standout flanker missed the 2011 season after tearing his ACL in a 7-on-7 drill. A source close to the team says that this year's injury is similar to the one he had last season.
Crosby is not sure how Bowers' absence will affect his team as the season progresses.
"I thought we threw the ball well Friday," Crosby said. "I haven't really thought about it. We haven't had him in two years. "
Bowers has received offers from Arizona, Tennessee, Vanderbilt and a few other schools. Even after missing two years of playing time, Crosby does not believe that recruiters will stop looking Bowers' way.
"They're still looking at him," Crosby said. "They want to see him on the field and we want to do what we can to get him on the field. We want to make sure when we put him out there, he's as healthy as he can possibly be."
Bowers is the cousin of former Clemson star and NFL player Da'Quan Bowers, who is presently out of action with an Achilles' tendon injury.