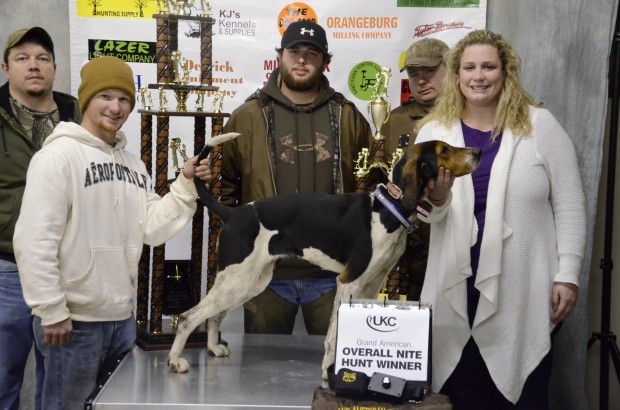 While walking along a wooded fence line on the way back to their trucks a little after 6 a.m. Sunday morning, the hunters, judges and guides of the 2011 Grand American Hunt and Show's championship cast paused and shone their headlamps in the direction of a man calling out from a hardwood bottom off to their left.
Moments later, Garrett Shearing and his female Treeing Walker hound, Screaming War Bird, of Indian Trail, N.C., made their way out of the muddy bottom and were met with handshakes and congratulations from the rest of the men.
It was a fitting reception for a champion.
Through the frigid night, the group traveled, five trucks total, through a slumbering Orangeburg. They rolled past the Cookout, S.C. State and Claflin, hung a left, and pushed out past Wal-Mart toward North. It was out in the woods, somewhere several miles outside of the town of North, that Screaming War Bird took to the woods and shined.
The 3-year-old hound scored 125 points after striking and treeing two raccoons in the championship hunt to claim the Overall Nite Championship in this year's hunt.
"This feels real good," Shearing said after the win. "We've been coming out here now for a few years, and we've put in a lot of work hoping to win this. We placed eighth last year, and got real close to making into the final four, so I'm proud to have been able to come out here and perform so well this year."
Screaming War Bird won casts on both Friday and Saturday night to qualify for the championship round. Friday, the hound scored 375 plus-points, and finished 19th overall. Saturday, she scored 575 plus-points, good for eighth-best in the field.
Nite Champion Ironman's Crank, a 2-year-old Treeing Walker male owned by Sam Drain of Bowman and Randy Steadman of Kingsport, Tenn., finished as the overall runnerup after scoring 50 plus-points in the championship round. Crank scored 600 plus-points on Friday and won casts each night to qualify for the hunt.
Drain's Little Jake, a Treeing Walker male also owned by Sam Drain, finished third overall after scoring 25 plus-points. Jake scored 500 plus-points Friday and finished with 425 on Saturday to qualify for the final hunt.
Nite Champion Tar River Rudy's Trudy rounded out the top four. The female Redbone of Adrian Strickland from Middlesex, N.C., scored minus-25 points in the final round. She qualified for the final after finishing first in Saturday's semifinal with 750 plus-points.
The championship hunt didn't begin until after 4:30 a.m. and took place in North due to the fact that the land originally designated for the final hunt in Bowman was disallowed due to a conflict of interest. The land was owned by Drain, co-owner of Little Jake and Crank.
Upon release, all four hounds struck trail quickly, but were carried on quite a chase by the first raccoon. It took nearly 30 minutes for Screaming War Bird and Crank to tree. Little Jake struck but did not tree on the first raccoon, while Rudy's Trudy struck a different trail.
It took another several minutes to reach the tree of the first raccoon, located in a flooded bottom between a creek and a cow pasture. It took several more minutes still to confirm the raccoon in the tree, as it was hidden in a hollow.
The hounds were released again some 10 minutes later at roughly 5:30, and Screaming War Bird and Crank again struck and treed in a large oak along the fence line in the cow pasture. The raccoon was quickly found and the hounds released again. Crank and Screaming War Bird each struck a trail again, but time expired on the hunt before anything further materialized.
The championship hunt capped off a weekend somewhat affected by inclement weather, along with rule changes that took some getting used to. Still, S.C. Coon Hunters Association president and director of the 2011 Grand American David McKee was pleased with the way the entire weekend of hunting turned out.
"It was a great weekend," McKee said. "It went pretty smooth. There were a few hitches, but nothing major. We improved over last year, and the numbers were up as far as participation. A lot of guys did have to leave, understandably because of the weather coming, and some others didn't have great scores because of the weather on Friday. But, overall I think we had some great scores and a great weekend of hunting. I'm well-pleased with the way everything turned out."