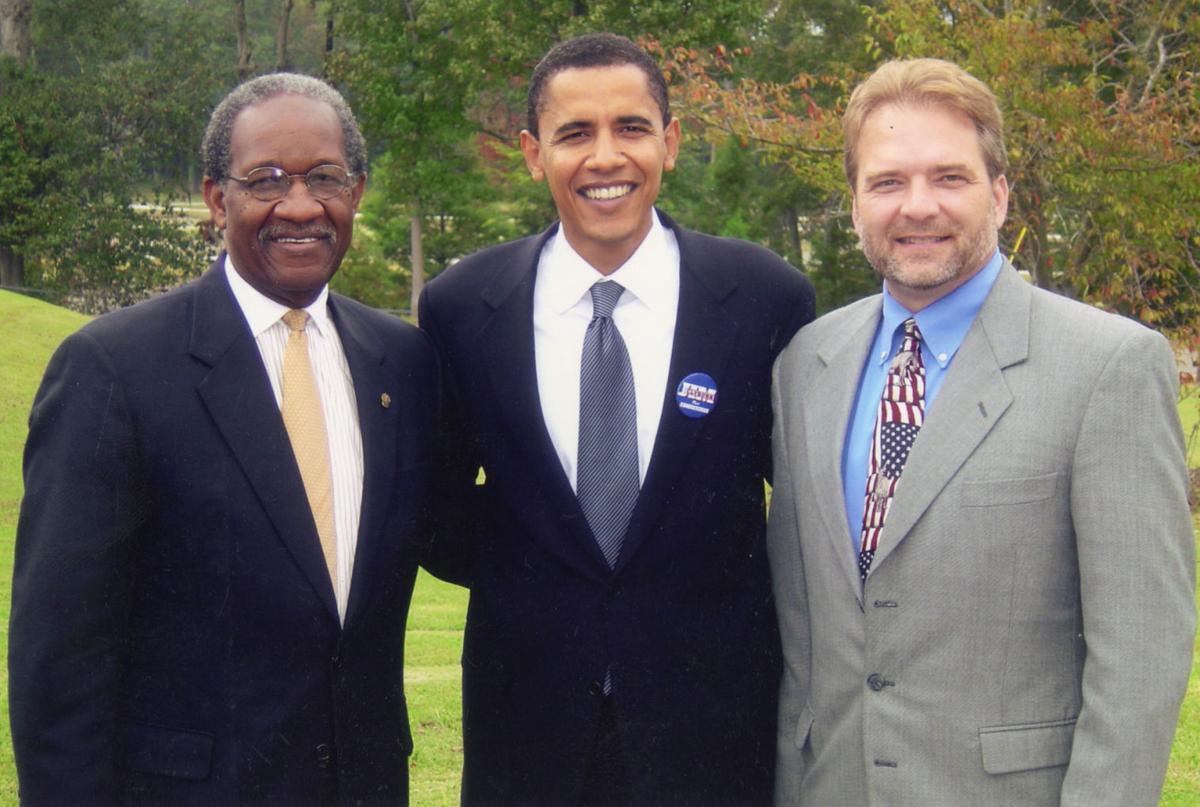 In January 2008, Barack Obama needed a win. He showed he could compete in Iowa, but pundits said his momentum was gone after a loss in New Hampshire.
And then came South Carolina's Democratic primary, where Obama was able to draw on the strength he had been building in the state, and Orangeburg, since 2004.
Before Election Day in 2004, when Obama won a seat as a U.S. senator and after his electric speech at the Democratic National Convention, Claflin hosted the aspiring lawmaker. The event foreshadowed what was to come.
Receiving two standing ovations, Obama was introduced by now-U.S. House Majority Whip James Clyburn.
"He found a cause that he believed in and was willing to work for," Clyburn said. "He has registered more than 150,000 voters, and he entered public life because he wanted to help people. He has spent most of his young life helping people. The next senator from Illinois, Mr. Barack Obama!"
By the time he returned to Claflin in February 2007, Obama was greeted with a packed crowd and chants of "Run, Barack, Run."
Obama's election odyssey began in earnest at the home of the Bulldogs. In April 2007, Obama returned to Orangeburg to duel with the likes of Democratic heavyweights Sen. Hillary Clinton and former vice presidential candidate John Edwards during the election cycle's first presidential debate at South Carolina State University.
State Sen. John Matthews, D-Bowman, believes the discussions Orangeburg citizens had with candidates on the issues of infrastructure, health care and education created the framework for the topics in the debate.
"That shaped the debate and will help shape the next administration," he said.
And then last winter, Obama faced the South Carolina primary after a win in Iowa and a disappointing loss to Clinton in New Hampshire.
The stage was set: The Palmetto State would be integral to any candidate's chance at the nomination.
Only days before the Jan. 26 primary, Obama returned to S.C. State with a flock of stars including Usher, Kerry Washington and Chris Tucker.
Orangeburg County accounted for 4 percent of Obama's total votes in the primary, which he won with 55 percent of the vote to 27 percent for Clinton and 18 for Edwards.
While Obama failed to carry South Carolina in the general election, he easily won Orangeburg County with 69 percent of the vote. Only in Allendale County did a greater percentage of voters support Obama.
Matthews noted Orangeburg County's reputation for being a Democratic stronghold within a red state.
He believes Republicans may even start visiting Orangeburg because they will have to broaden their reach to be successful in future cycles.
Looking back at the journey to last Tuesday's historic election, he recalled that Orangeburg played host to every major Democratic presidential candidate and former President Bill Clinton on two occasions.
"I think we will be on the radar for Democrats to come to this county. In 2012, you'll see them again. In 2016, you'll see them again," Matthews said.