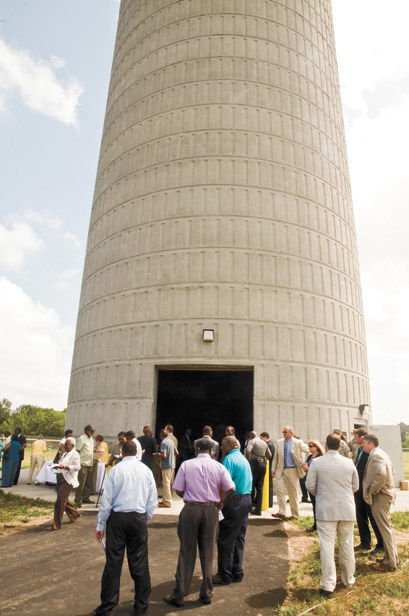 Family, friends and elected officials gathered Friday morning to unveil the sign for the county's newest industrial park named after state Sen. John Matthews, D-Bowman.
Despite the warm and humid conditions, a crowd of about 100 witnessed and celebrated the unveiling of the John W. Matthews Industrial Park, named after the man credited with securing economic development funding for the area.
The park is located on 541 acres at the corner of U.S. Highways 301 and 176, also known as The Oaks.
"The idea is to empower people, give them jobs and create wealth and opportunity so that they can take care of themselves," Sen. Matthews said during the unveiling ceremony. "That is what this issue is about. How do we provide opportunities for the citizens of this area?"
Matthews highlighted the fact that the park's area borders two other counties, Calhoun and Clarendon.
"All of us are in this little triangle and normally people work within 20 to 30 miles from where they reside," Matthews said. "The issue was to try to get some facility, a 'Class A' industrial park to develop this corridor. My passion has always been to serve the citizens of this community and this state."
About $7.3 million has been set aside in state tobacco settlement money to develop water and sewer infrastructure along U.S. 301 between Interstate 26 and U.S. 176 and for future construction of the 540-acre industrial park. The county will match with about $3.4 million.
"It's fitting, as we move toward economic development … that we name the park for Sen. John W. Matthews for his tremendous leadership through the years," Orangeburg County Council Chairman John Rickenbacker said, noting that economic development has both been a priority for the county and for the senator. Orangeburg County Council passed a resolution June 7 approving the name.
"I look at this with pride," Matthews said, joking that he wanted to take a sneak peek at the sign the night before the ceremony.
With infrastructure still absent in the region, Johnson said the plans call for water and sewer at the site within a year.
"If you look at the overall picture of Orangeburg County and what is I-95 and I-26, it is a connection here and a crossroads in Orangeburg County that is completely underdeveloped, completely under utilized, but they are also connected by U.S. 301," said Hal Johnson, Orangeburg County Development Commission executive director, noting that the area is for the most part unrecognized by many.
"We are going to put a stop to that. If they are going to stop here, it is because they are picking up products that are made here, they are going to be distributing products that go to the rest of the world.
"This industrial park … will be the connector of what we call our distribution and logistics corridor that will connect I-26/I-95 and U.S. 301," Johnson continued, adding that there are about 58,000 acres for potential development.
"What will it bring? We don't know … but this is just the beginning."
Whatever the future may hold, Johnson noted that any development will take into strong consideration the natural resources already in place. About 141 acres of the park will be set aside as a conservation easement.
"The fact is we have beautiful natural resources here," he said. "The headwaters of the Four Holes Swamp, which turns into the Edisto River which brings all the natural beauty to our coastline. This is the heart breath of our tourism."
The success of the park, Johnson stressed, will also be a product of team effort of all sectors working together.
"This location will benefit with many, many jobs and a great tax base to come and help us educate our children for the future," Johnson said. "Sen. Matthews, I am honored that your name will be on this park. I know because of your values and what you have done over the last 30 years in this area that it will be easy for South Carolina to go out and demonstrate what you have done to help us."
State Senate Minority Leader John Land, D-Manning, joked at how only Sen. John Matthews can turn a "cow pasture into an industrial park."
"John Matthews I have a lot in common," Land said. "We are the same age, we went to the House of Representatives at the same time, we are both good looking, we are both rich and we both have beautiful wives … but John Matthews just outdoes me … all the time. Now I will have to get an industrial park."
On a more serious note, Land praised Sen. Matthews for his dedication to the county and the people of South Carolina.
The plans for the area are no secret.
A "global industrial gateway," a "distribution triangle," a "transportation corridor" and a "sleeping giant" have often been used to describe the county's potential for economic growth and its access to U.S. 301, U.S. 601, Interstate 26 and Interstate 95.
The area is already home to the Orangeburg County/City Industrial park, which is situated on U.S. 301 and Interstate 26. The park is already home to a handful of industries including residential heating and cooling company Allied Air, axle-manufacturer Dana Corp. and Canadian-based Quality Model Plastics.
Development officials are actively marketing the site for future development.
Further on U.S. 301 near Interstate 95, a strong push has been among economic development officials is under way toward building a 600-acre "megasite" for the entire state.
"He is running," Rickenbacker said, referring to an ongoing joke county officials have about the county being a sleeping giant.
Geraldine, wife of Sen. Matthews, related the fact that the landmark is the first to be named for her husband in his home county of Orangeburg. She noted that his namesake has been enshrined in Bamberg and Hampton county landmarks.
"It is a beautiful day," she said. "It is very special for him and for my family in the work he has done, not only for Orangeburg County, but for all the citizens in all the counties."
Matthews also expressed her happiness that three of the couple's five children and all five of the grandchildren were able to be present for the occasion.
Granddaughters Corliss Hicks and Kenya John were in agreement about their grandfather's legacy serving the county residents.
"We are proud of him that he has dedicated his life to the state for 30 years," John said. "He came a long ways."
Hicks added that it is something she will look forward to taking her own children to witness.
"I will bring my little kids down here and say "That is your great-grandfather." We have some famous people in our family," she said.