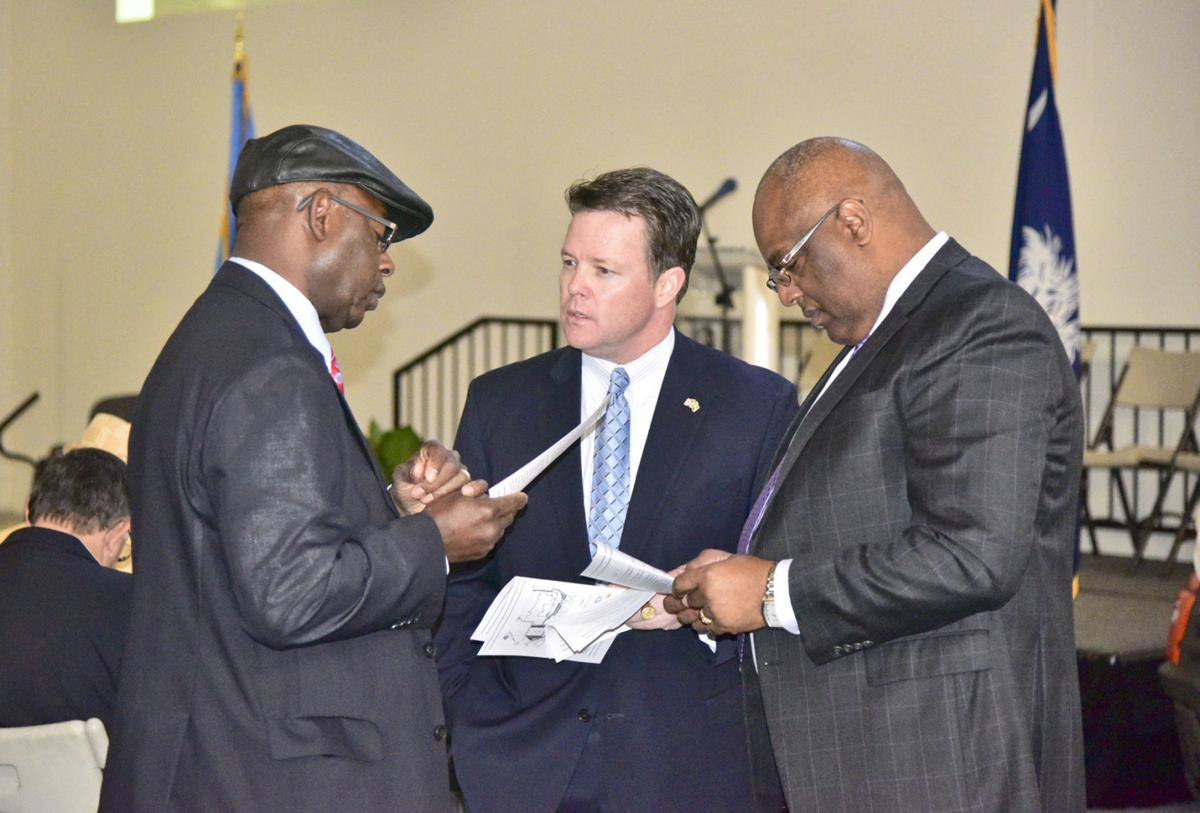 From aerospace to automobiles to lawn mowers to chemicals, Orangeburg County makes things.
The county boasts a diverse industrial landscape of more than 100 firms, with manufacturers employing more than 8,200.
Manufacturing is the largest sector of the county's workforce and is among the state leaders in the largest percentage of its workforce in manufacturing. Roughly 20 percent of the county's workforce is in manufacturing.
Orangeburg County is joining other counties across the state in honoring the impact industries have on the local economy.
"Over the last decade, Orangeburg County has become even more pro-business with an outstanding leadership, workforce, strong training programs and great proximity to the Port of Charleston," Orangeburg County Development Commission Executive Director Gregg Robinson said. "Now, our citizens are reaping these benefits."
"The number of prospects (company leaders taking a close look at Orangeburg County) is one of the highest in five years and unemployment is the lowest in four decades," Robinson said. "We continue to target industrial sectors like automotive, aerospace, logistics, chemicals, plastics, advanced textiles, agri-business and even energy."
Husqvarna, which employs more than 2,000 people, is the county's largest employer. The seasonal company manufactures riding lawn mowers.
Other large employers, according to the OCDC website, include:
Food Lion Distribution Center, distribution of groceries, dry and perishable, with 498.
Zeus Industrial Products Inc., polymer tubing, with 450.
Koyo Corporation of U.S.A., taper roller bearings, ball bearings, hub units, with 400.
Allied Air Enterprises Inc., residential furnaces and air conditioners, with 400.
SI Group, specialty chemical manufacturing, 322.
The Okonite Company, electrical power cable manufacturing, 220.
Holcim, cement, 200.
North American Container Corp., bulk shipping containers, with 150.
Gulbrandsen Chemicals, aluminum chloride products., with 100.
Over the past five years, Orangeburg County has enjoyed more than 170 expansions or new industry locations. During that time period, those companies invested more than $625 million and created nearly 3,400 jobs, according to the OCDC.
In 2018 alone, the county saw $217.1 million in capital investment and 521 jobs. Of the $217.1 million in investment, $115.9 million was in solar farms.
Orangeburg County had the fourth-highest unemployment rate among the state's 46 counties in March. Orangeburg County's rate was 5.1 percent, up from 4.9 percent in February.
From April 2018 to April of this year (the time frame since The Times and Democrat's last industry appreciation publication) Orangeburg County has seen a total industrial investment of $87,766,302 and 255 jobs.
Jobs and capital investment totals are company projections over several years and may not have been fully realized.
Companies that publicly made announcements between April 2018 and April 2019 include:
Fortune 1,000 company Universal Forest Products announced in April it would invest $6.1 million and create 120 new jobs in Orangeburg County over the next five years.
The company located at the John W. Matthews Industrial Park in the 75,000-square-foot speculative building at the park's entrance. The park is located on U.S. 301 near U.S. 176.
The company will operate in Orangeburg County as UFP Cameron LLC and was expected to come online in the fourth quarter of 2018.
The facility will be dedicated to manufacturing products for the industrial market.
Universal Forest Products also purchased North American Container in March 2018.
Valagro, a producer of biostimulants and fertilizers for the agriculture industry, launched its new production operation in Orangeburg County in May.
The company's $14.2 million investment is projected to create 47 new jobs over the next five years.
The Orangeburg County operation will be Valagro's first manufacturing facility in the United States.
The 65,000-square-foot Orangeburg County facility at 397 Millennium Drive is expected to come online in the third quarter of 2019.
Canada-based Quality Model Group announced in February 2019 it is going to invest $9.5 million and create 37 new jobs over the next five years.
About $8 million of the new investment will be used for machines. The rest will be used to purchase land. The expansion has prompted the company to cite the Orangeburg location as its U.S. operations headquarters.
The Orangeburg County facility operates under the QM Group's plastics division, which offers design, tool building and manufacturing services for the power sports, industrial, automotive and aftermarket industries.
Located at 190 Global Drive in the Orangeburg County/City Industrial Park, the QM Group's Orangeburg County facility opened in 2005.
Charleston-based solar company Southern Current announced in August 2018 it is investing $28 million in the development of a 20-megawatt solar farm near Elloree.
The 180-acre solar farm will be known as Ulmer Solar LLC. The solar farm will be located southwest of the Food Lion Distribution facility near Felderville Road, Veneer Street and Farmers Road.
The solar farm will create some local jobs during construction and then local labor will be used for maintenance and upkeep. There will be no full-time jobs.
Volvo supplier Gnotec Group, a Swedish firm, announced in November 2018 it would invest $5.9 million and create 78 new jobs over the next five years. It is the company's first North American plant.
Gnotec will locate in a 30,000-square-foot production facility in the Carolina Regional Park off of U.S. 601 near Interstate 26. The building formerly housed flooring company Mohawk Industries Inc.
Gnotec will use the facility initially for warehousing and then manufacturing operations focused on welding and product assembly.
It is expected to come online in the first quarter of 2019.
Longleaf Packaging broke ground in September on its 18,700-square-foot automated cement package and distribution center on Good Farm Road off Interstate 95 near Holly Hill.
The company is investing about $6 million and is projected to create 28 new jobs at its 28-acre site over the next five years.
The plant will package and distribute bagged, preblended dry-mix products in 80-pound to 3,000-pound bulk bags.
Longleaf Packaging's product line includes mortar mix, concrete mix, portland cement and sand mix.
It is the company's first packaging facility.
Dempsey Wood Products announced in December 2018 it was expanding and creating 25 new jobs at its Orangeburg County plant.
The company plans to invest at least $26,465,970 and create 25 new jobs.
The expansion is a part of the company's effort to improve efficiency and productivity.
Announcements of expansions also came from Prime Engineering Wood and Trinity Industries.
Be the first to know
Get local news delivered to your inbox!