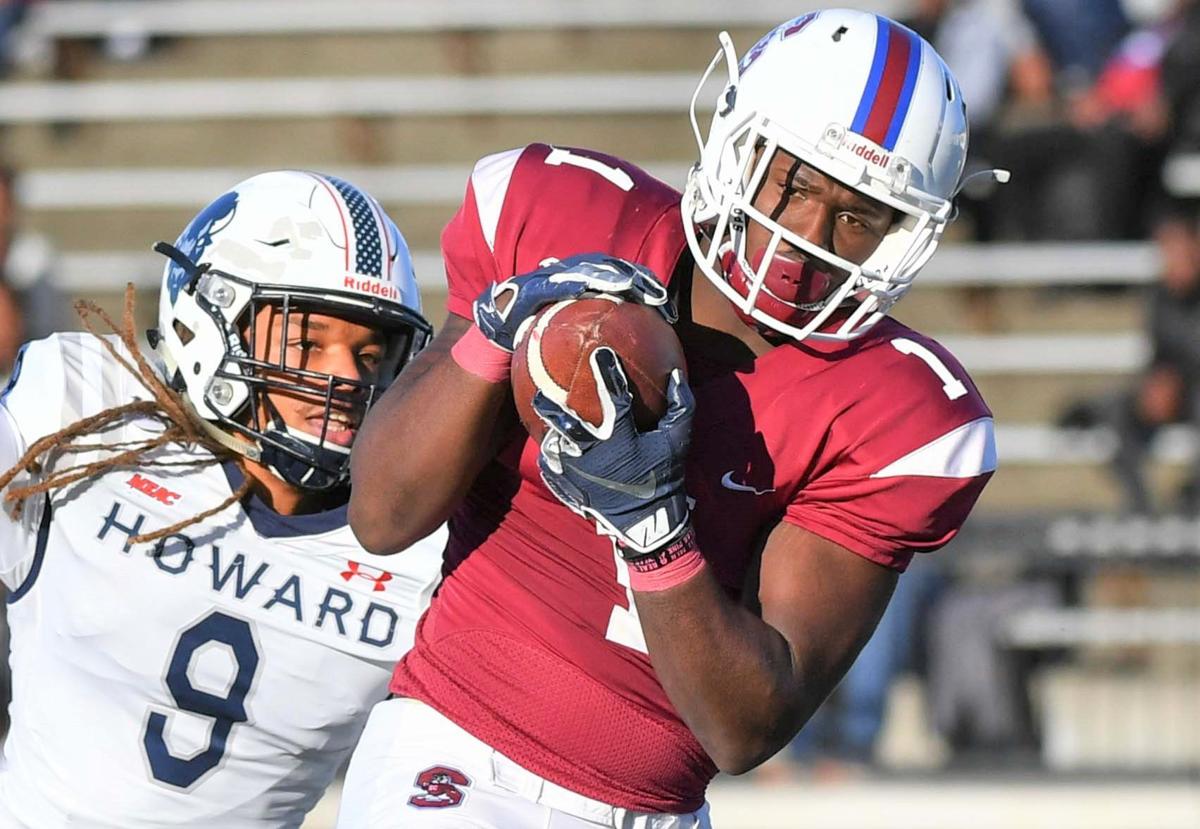 Saturday was senior day at Oliver C. Dawson Bulldog Stadium on Willie E. Jeffries Field in Orangeburg.
A South Carolina State senior caught a program-record 5 touchdown passes and a redshirt freshman passed for a program-record 7 touchdowns, as the Bulldogs took a 62-21 Mid-Eastern Athletic Conference win against Howard.
Bulldogs senior wide receiver De'Montrez Burroughs had 7 receptions for 140 yards and 5 touchdowns (eclipsing the previous record of 4 receiving TDs in a game by 3 different former players), while redshirt freshman quarterback Corey Fields passed 18 of 29 for 333 yards, an interception and 7 touchdowns (setting a school record and tying FAMU's Pat Bonner for second-best performance all-time for a MEAC team).
It was quite an eventful final home game for the Bulldogs (6-3 overall, 4-2 in MEAC), who are tied with N.C. A&T and Bethune-Cookman (both 4-2) for the MEAC lead. SC State will finish the regular season with games at N.C. Central (Nov. 16) and at Norfolk State (Nov. 23).
Redshirt senior linebacker Chad Gilchrist led the dominant SC State defense with 6 tackles, including a quarterback sack, while redshirt senior defensive end Bruce Johnson added 3 tackles, including 2 quarterback sacks. Redshirt sophomore free safety Jaylen Evans added an interception for the Bulldogs.
After the win Bulldog head coach Oliver "Buddy" Pough talked about the difficulty of getting up to play a team that was being coached by an interim coach who was put in place during the week and is now 1-9 overall, 1-6 in MEAC play. SC State was coming off a 2-point loss at home to N.C. A&T a week earlier.
"It's difficult, you don't know exactly where a team's going to come from when they're in an enemy's place," Pough said. "They have a new situation going on and that gave us a little bit of uneasiness."
"But we also had a little bit of change in ourselves, we're now pretty much going with Fields as our quarterback."
Fields and redshirt junior Tyrece Nick had been sharing duties behind center in recent weeks. On Saturday, Fields got his third straight start, while Nick caught 4 passes for 59 yards.
The Bulldogs' first touchdown came at the 13:39 mark of the first quarter, when Fields found redshirt freshman wide receiver Shaq Davis (5 receptions for 113 yards and 2 touchdowns) on a 40-yard touchdown pass, making the score 6-0 after the PAT was no good.
At the 7:17 mark of the first quarter, redshirt junior tailback Labron Morris' one-yard run gave the home team a 13-0 lead, after Dillon Bredesen added the PAT kick.
With 13 seconds left in the quarter, Fields hit Burroughs on a 4-yard scoring strike, for a 20-0 lead after Bredesen's PAT.
Then, with 6:24 left in the first half, Fields and Davis connected for a 9-yard scoring strike, making it 27-0 after Bredesen's PAT. The score was set up by a short Howard punt near their own goal line.
The Bulldogs' final points of the first half came through the air, on a 41-yard touchdown pass from Fields to Burroughs, making the score 34-7, after Bredesen's PAT and a Howard score with 14 seconds left (Dedrick Parson 1-yard run, Jordan Aley PAT).
In the third quarter, Fields and Burroughs connected for 3 touchdown pass plays, with strikes of 42 yards (a circus catch where the receiver tipped the ball to himself as he went into the end zone), 14 yards and 6 yards, for a 55-7 score after Bredesen made all 3 PAT kicks.
Ramar Williams connected on a 5-yard passing touchdown to Kyle Anthony late in the third quarter, for a 55-14 score after an Aley PAT.
In the fourth quarter, redshirt freshman quarterback Quincy Hill replaced Fields at quarterback and added the final points on a quarterback keeper run of a yard, making the score 62-14.
The Bison added the last score of the contest on a 5-yard run by Parson with 3:52 left.
Pough said the Bulldogs' aerial display Saturday was intended to be noticeable.
"That was kind of what today's message was for the rest of the league," Pough said. "The fact that we don't necessarily feel like we just need to take a beating up front, with people overloading the box.
"It's having the guy, its having the skill set, its having a guy who you feel like, over time, you have the total package. You've got to have offensive lineman that can protect, receivers that can run and catch and we've got a little bit of all of that. And then we've got to have a quarterback that can really, this guy (Fields) can really spin it."
Game note 
Howard's Ted White holds the all-time MEAC record with 8 touchdown passes in a single game. FAMU's Pat Bonner and White both reached their marks in the same game in 1993.
Be the first to know
Get local news delivered to your inbox!