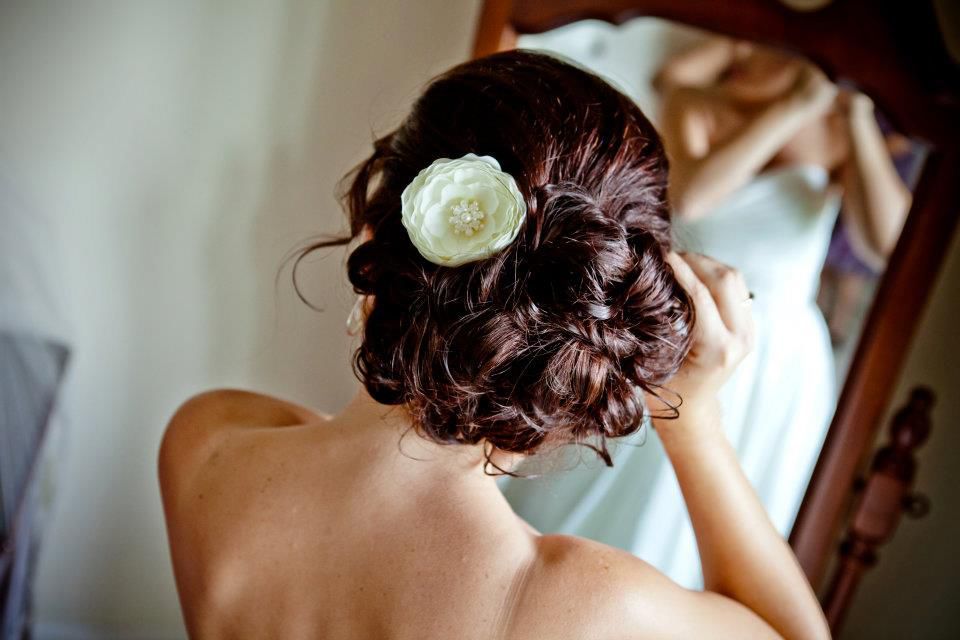 We've all heard the hair horror stories. Trusting bride submits to highly-recommended hairstylist, only to leave the salon on her wedding day with a hairdo that resembles a basket of brioche. Or, the glamorous updo that looked so photo-worthy indoors promptly flops in the middle of the seaside ceremony. How can you make sure that your hair is as dreamy as your dress, bouquet and bling-bling ring on the big day? 'It takes a village,' laughs Damien Carney, international artistic director for JOICO. "But with some forethought and collaboration with your hairdresser, it's possible to have the hairstyle you love on your wedding day."
Plan ahead
As soon as you have the guy, the ring, the date and the place, dial your hairdresser. Book an appointment and set up a two-, three- or six-month schedule for your cuts, your hair color, a practice session and the actual wedding day. "You'll want regular trims, even if you're growing your hair out,' notes Carney, 'and frequent deep conditioning treatments."
Schedule your final hair cut two weeks prior to the wedding, to give your ends time to recover from 'snip shock.' (If your hair is short, schedule this appointment one week before your wedding.) At that time, stock up on wedding day hair helpers. (Carney's go-to product for many of his glamorous looks is spray gloss. This helps control frizz and split ends, and it leaves hair looking glossy and lustrous.)
Book your final hair color application one-to-two weeks prior, so that by aisle-time, your hue will be beautifully blended. And don't forget the groom! Pick up a lightweight molding putty while you're at the salon -- it offers just the right amount of clean, flexible hold plus shine.
Be real
Work with your stylist to honestly assess your hair type, facial shape and personal style. While that ornate updo worthy of Marie Antoinette might seem like a good idea at first, if you're more of a natural type, you might want to consider something less structured. Bring lots of photos to the salon to help clarify the communication between you and your stylist. Also, think about the location of your wedding. If you're gathering on your parents' terrace, plan for the possibility of wind, humidity, even rain. "Be sure to carry the styling formula that your hairdresser recommends," suggests Carney. "A quick spritz of humidity blocking finishing spray, for example, will lock your style in place and tame frizz without making your hair stiff or sticky."
Get the picture
It's your big day and you're going to be photographed more than Lindsey Lohan leaving rehab. So when designing your style, it's important to think about how it will look in all those photo opps. "Make sure there is some visual interest to your hair when it's viewed from the front," suggests Carney. "It's a mistake to have all of the detail -- the flowers, the hair jewelry, the curls, the extensions -- at the back of the head, out of view 90 percent of the time." Your best bet? Use your digital camera or your cell phone to snap pictures from every angle when you're in the salon for your run through.
Rehearse
That's right. You're going to practice walking down the aisle the night before your wedding, and in the same vein, it's wise to do a practice session with your stylist a few days before the ceremony. Bring your veil, and have your hairdresser do the 'do from start to finish. That way, your stylist will have a practice session under her belt in order to perfect her work, and you'll have a chance to tweak the look, photograph it and feel it so that you'll know it's right. The payoff? There will be no surprises when you're trying to get to the church on time.
Relax
Try to maintain your perspective on what's really important -- your fiance, your family, your friends, and your future. "Remember, in the years to come, your happiest memories will center on your proud dad as he walked you down the aisle, your groom's happy smile and the love of your guests," notes Carney.
So plan ahead and do prepare as much as possible in advance. But once the big day arrives, let go and enjoy your wedding. That's the secret to looking truly beautiful!
Be the first to know
Get local news delivered to your inbox!