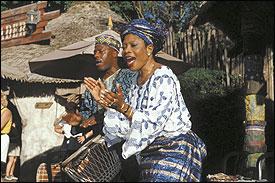 COLUMBIA - The life of Celia Mann and her descendants will be celebrated at the 26th annual award-winning Jubilee Festival of Heritage from 11 a.m. to 6 p.m. Saturday, Aug. 28, on the grounds of the Mann-Simons Cottage, 1403 Richland St. One of the longest-running African-American festivals in the Southeast, Jubilee features two stages of musicians, performers, artists, storytellers and reenactors from across the Southeast. Vendors will be selling African-American and other non-traditional specialty food and traditional merchandise. Informational booths will also be on hand. The event is free and will take place rain or shine.
Bill Pinkney and the Original Drifters
One South Carolina musician who can remember the days when "black music" became "beach music" as white dancers embraced the shag is Dr. Bill Pinkney, the only surviving member of the 1953 Original Drifters. Currently celebrating 50 years of touring, Pinkney and his Original Drifters will perform music of the fifties from 5 to 5:45 p.m. on the Main Stage.
Not only is he a member of the Beach Music Hall and Rock and Roll Hall of Fame, Pinkney is also a Negro baseball sandlot pitcher, a Rhythm & Blues Foundation Pioneer, South Carolina's "Ambassador of Entertainment," and a World War II Presidential Citation recipient with four Bronze Stars.
The Drifters have been called the "all-time greatest Atlantic recording group" by Ahmet Ertegun, founder of the Atlantic Recording Co. and the Rock and Roll Hall of Fame. Pinkney's 1954 version of "White Christmas," later used in the hit movies, "Home Alone," "The Santa Claus(e)" and "Mixed Nuts" ranks in the top 10 best-selling Christmas songs of all time.
Charleston's master blacksmith Philip Simmons will make two presentations. His life work has been the creation of wrought ironworks that adorn buildings and streets throughout South Carolina. The South Carolina State Museum and the City of Charleston have commissioned public sculptures by Simmons. A teacher as much as an artist, Simmons will present his craft from noon to 12:45 p.m. and 2 to 2:45 p.m. Saturday in the Gallery.
Now a member of the South Carolina Hall of Fame, Simmons originally apprenticed with a local blacksmith and then moved into the specialized field of ornamental iron. A recipient of the National Endowment for the Arts' National Heritage Fellowship, the Order of the Palmetto and the Elizabeth O'Neil Verner Governor's Award for Lifetime Achievement in the Arts, Phillips was awarded a lifetime achievement award by the legislature.
'Sermon of Fire: The Village Blacksmith'
The South Carolina Young Playwrights will perform "Sermon of Fire:The Village Blacksmith," a play based on the life of blacksmith Philip Simmons from 11 to 11:45 a.m. on the Main Stage. A modern parable about the struggles of Breezy, a teenage girl under pressure, and her grandfather, Phillip Simmons, who is searching for new ways to communicate with her while dealing with growing personal debt. The play examines their special bond and the power of enterprise to inspire.
Other acts include the Columbia City Ballet, OrisiRisi African Folklore Storytelling and Dance, The Buffalo Soldiers and many more. Traditional demonstrators will present interactive, educational workshops, including sweetgrass basket weaving and hand-crafted broom making. Vendor booths will feature demonstrators' crafts for sale along with African-American jewelry, fabrics and clothing.
Columbia City Ballet will perform "Pas de Deux" from the 19th-century classical ballet "Le Coraire" and the new "Love of the Harvest" from 1:30 to 1:45 p.m. on the Main Stage and 3:45 to 4 p.m. on the Community Stage. Performed to "Carry Me Home" by the Hallelujah Singers, "Love of the Harvest" offers a sneak peak of "Off the Wall & Onto the Stage: Dancing the Art of Jonathan Green," a new original ballet choreographed by executive and artistic director William Starrett. "Off the Wall & Onto the Stage," premiering in February 2005, translates Gullah artist Green's extraordinary paintings to the contemporary stage in a visionary blending of classical ballet, music and visual art.
Since its founding in 1961, Columbia City Ballet has evolved from staging only two performances a year to 22 full-length performances a year at the Koger Center and more than 80 major performances per year, reaching more than 51,000 people in a season. This year the company will travel to 15 cities in three states.
OrisiRisi African Folklore uses drums, dance and song to recreate the African storytelling experience. This child-centered, family-oriented entertainment has been performing five days a week at Walt Disney World's Epcot and in central Florida's area schools as a feature of Disney's Magic Music Days Outreach Program. Don and Tutu Harrell have been co-producing, directing and performing OrisiRisi's presentations for nearly 20 years.
Descendants and beneficiaries of The Buffalo Soldiers will perform a reenactment of the lives of African Americans who served in the 9th U.S. Cavalry during the late 1800s. Organized in 1866 by the U.S. Army, the Buffalo Soldiers faced many hardships protecting and serving the civilian population settling in the West. By wearing period appropriate dark blue wool uniforms and light blue trousers, a generation of African American men today continue this legacy, working toward insuring that the original soldiers receive recognition and their rightful place in the history of our country. Riding atop brown and black horses, these special men are a hit among children, as they offer a glimpse into the Wild West.
One of the few houses in South Carolina owned by free African Americans during the antebellum period, the Mann-Simons Cottage is named for Celia Mann, a Charleston midwife who acquired her freedom from slavery. According to family legend, she walked to Columbia in the 1840s, where she purchased the cottage, and, as a free black living in Columbia during the 1840s, she was instrumental in building a strong community. Preserved in 1970 as a historic site, the Mann-Simons Cottage now operates as a museum with exhibitions on Celia Mann, the restoration of the cottage and an archaeological excavation of the property.
The Mann-Simons Cottage will be open for guided tours and the trolley tour of Columbia's African-American sites, "Homeplaces, Workplaces and Resting Places," will run throughout the afternoon.
From 7:30 to 10 p.m. Friday, Aug. 27, a ticketed fund-raising art sale and gala celebration will take place at the Mann-Simons Cottage and will showcase African-American art by favorites such as Carol Anderson and batik and indigo-dyeing artist Arianne King Comer. Musical entertainment will be Skipp Pearson and Jazzology. Part of the proceeds from all art sales will benefit Historic Columbia. Tickets are $30 for members of Historic Columbia and $35 for non-members and include food and drink. Pre-registration is required and tickets can be purchased through Historic Columbia by calling 803-252-7742, ext. 23, or by visiting our website at www.historiccolumbia.org.