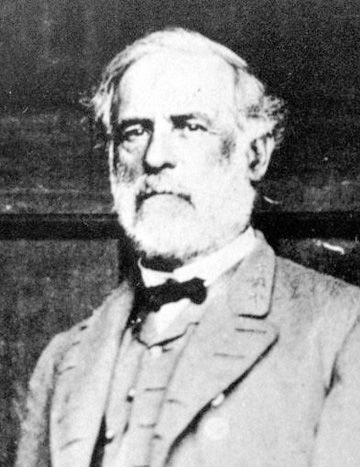 As a trained historian, I take issue with Major W. Ashby Rhame's letter of Sept. 10 titled, "History Lesson on R.E. Lee." Rhame's presentation is regrettable since his assertions are not supported by the historical record and simply throw more fuel on today's incendiary and misinformed national uproar about the origins, aftermath and memory of the Civil War.
First, Robert E. Lee's wife was not the granddaughter of George Washington; he fathered no [legitimate] children. Rather, Mrs. Lee was the only surviving child of GW Parke Custis, grandson of Martha Dandridge Custis, who married Washington as a widow with children. Thus, Mrs. Lee was the step-great-granddaughter of our first president.
Second, Rhame tells us that Lee "believed slavery was a great evil" and that Mrs. Lee violated Virginia law by teaching their slaves to read and write — both of which are true, though the implications are not clear. Is this Rhame's rebuttal to those who renounce Lee as a slaveholder and white supremacist? If so, what has he disproved? Among devout Christian slaveholders, there was nothing uncommon about what Lee said or his wife did. Lee did believe that persons of African descent were inferior to white people — the sine qua non of white supremacy. Simply because he did not manifest that belief in vicious language does not mean that he was not a white supremacist.
In a letter written to his wife in 1856, Lee described slavery as "a moral & political evil," but went on to qualify that it was "a greater evil to the white man [my emphasis] than to the black." He then resorted to the time-worn ad hominem attack on people of African descent: "The blacks are immeasurably better off here than in Africa, morally, socially & physically. The painful discipline they are undergoing, is necessary for their instruction as a race, & I hope will prepare & lead them to better things. How long their subjugation may be necessary is known and ordered by a wise Merciful Providence."
Third, Rhames' confident assertion that Lee declined command of the Union Army because he supported states' rights is patently false. Whose words should we believe, those of Major Rhame or Robert E. Lee? On Jan. 23, 1861, a month after South Carolina had seceded, Lee wrote a letter from Fort Mason, Texas, and in words of unmitigated clarity affirmed that secession was both unconstitutional and treason.
"I take great pride in my country, her prosperity and institutions, and would defend any State if her rights were invaded. But I can anticipate no greater calamity for the country than a dissolution of the Union. … I am willing to sacrifice everything but honor for its preservation. I hope, therefore, that all constitutional means will be exhausted before there is a resort to force. Secession is nothing but revolution. The framers of our Constitution never exhausted so much labor, wisdom, and forbearance in its formation, and surrounded it with so many guards and securities, if it was intended to be broken by every member of the Confederacy at will. It was intended for 'perpetual union.'"
As strongly as Lee condemned secession, he nonetheless inserted a caveat about honor that explains his decision to follow Virginia into war -- not the Confederacy per se. The high-born sons of England carried with them to Virginia the powerful cultural inheritance of the medieval code of honor and its internalized hierarchy of values — family and fiefdom being the most cherished. For much of the Virginia colony's 150 years, Lee's family stood among its wealthiest, most powerful and highly regarded. And like every other colony, its people identified themselves as Virginians. With little contact or interest in the other, each colony developed as a country-in-microcosm whose people displayed fierce pride and identification with their respective cultures and histories. This is perhaps the most significant legacy of the colonial period.
The competing loyalties of Robert E. Lee are better understood when we consider that his father, Major General Henry "Light-Horse Harry" Lee III, fought valiantly — much of it in South Carolina as a partner-in-daring with Francis Marion — to establish America's independence and the government that, as his son's letter also states, did not intend to bequeath anarchy to the liberated colonies. On the other hand, Lee's reverence for Virginia, his "ancestral country," reflects his adherence to honor; once the Virginia convention voted to secede, Lee believed he had no choice but to acquiesce in his state's defense. He resigned his commission and with a heavy heart, declared for Virginia. He did so without a hint of swagger or jingoism, knowing full well the skill, resources and fury of the U.S. Army; the overwhelming material disadvantages of the South, and the portentous implications of there being no Confederate navy.
Fourth, to address another of Rhame's convoluted and mistaken presentations around the disposition of Lee's home at Arlington:
A. The federal government's occupation of Arlington did not constitute an overreach or act of animus by the federal government. The mansion sat on the highest elevation in the environs of Washington, D.C., and would have provided Confederate artillery a deadly position from which to bombard and destroy the national capital. The Union Army simply followed the first rule of warfare: secure the enemy's most threatening field position.
B. The federal government did not single out and demand that Lee pay Arlington's taxes as an act of humiliation. The facts are these: the federal government never recognized the Confederacy as a legitimate nation, but as a group of American states in rebellion. In 1862, Congress passed legislation to make clear that the war's disruption had not abrogated the tax obligations of Southerners. Federal commissioners kept an accounting of tax debts that would be settled after the war.
C. The proximity and occupation of Arlington rendered it vulnerable to forfeiture and sale resulting from a tax delinquency — still the law today. (It was not possible nor practical to seize property deeper in Southern territory.) The taxes due on Arlington in 1862 amounted to $92.07. Rhame makes the preposterous claim that federal tax commissioners refused to accept Mrs. Lee's payment and turned her away because of her sex. The allegation calls for Rhame's evidence because Mary Lee never presented herself. She had abandoned Arlington in May 1861 having learned from a cousin in the Union Army that its occupation was imminent; she decamped for the safer environs of Richmond to be nearer her husband. Fragile health often confined Mrs. Lee to periods of bedrest. Even had she not suffered poor health, the 180-mile round-trip to Washington would have placed her life in grave danger: Stonewall Jackson ravaged to points north and west; the Union Army occupied Yorktown to the east. Mrs. Lee sent her cousin Phillip R. Fendall to pay the taxes and it was he the commissioners turned away precisely because Mrs. Lee, the owner, had not appeared. For obvious reasons, Gen. Lee could not.
D. The federal government purchased Arlington at public auction in January 1864 for $26,800. Contrary to what Rhame claims, the government did not seize it and begin burying soldiers there. At the end of 1863, the two Washington-area veterans' cemeteries neared capacity and, acting rationally, the U.S. quartermaster general ordered that a new location be found. By May 1864, the government faced the ghoulish task for burying an estimated 30,000 Union dead slaughtered in the Wilderness and Overland campaigns of May 1864. Arlington's sweeping acreage presented itself as the logical choice for their graves. (Note: In the 1870s, the Lee family sued the U.S. government on grounds that the property had been confiscated without due process. In 1882, the U.S. Supreme Court ruled in Lee's favor and returned the property to him. Lee then sold it back to the U.S. government for $150,000 -- roughly $3.2M today.)
Fifth, Major Rhame tells us that after surrender, Lee "worked with [President] Andrew Johnson's program of Reconstruction." It is not possible to comprehend the major's allegation or intention because President Johnson had no program of Reconstruction.
In May 1865, Johnson issued a proclamation of amnesty and pardon to all Southerners who had participated in the rebellion, with the exception of those whose service met any one of 14 specified conditions. Like other high-ranking military officers, Lee was required to submit his pardon application directly to the president, and he did so on June 13, 1865. In October, he signed an amnesty oath, but never received a pardon. (Congress posthumously restored his citizenship in 1975.)
If Rhame believes that Lee's submission of a pardon application and signing an oath — which he broke in 1861 — constitutes "working with a program of Reconstruction," he engages in egregious deception.
I am a native white Southerner, the 16th generation descendant of planters, politicians and decorated Revolutionary and Civil War veterans. My ancestors arrived in the 1620s from England and Scotland; they accumulated their wealth from the forced uncompensated labor of unfree people in Virginia, the Carolinas, Georgia and Louisiana. My heritage is nothing but the American South, just as it is for millions of white and black Americans.
Slavery made the South the South. It is the heart of Southern heritage and by right belongs to all whose people lived and died through its tragic history. I do not reflexively genuflect before the Rebel flag and find the incessant haranguing about it offensive. To deny its affinity with slavery and white supremacy is cowardice.
My views do not render me a pariah worthy of denigration. Over my life, Southern white men and women have ridiculed me. They have told me that I am neither a Southerner nor South Carolinian. They have even gone so far to declare to my face that I am not white. The neo-Confederate habit of hurling juvenile insult appears in Rhame's letter when he likens people like me to ISIS and Saddam Hussein.
With his letter, Rhame dared to assume the role of scribe and yet, there is hardly a particle of truth in his "History on R.E. Lee." If he and other devotees truly honor the general's memory and military service, they would emulate his composure and heed his words after Appomattox: "I think it wisest not to keep open the sores of war, but to follow the example of those nations who endeavored to obliterate the marks of civil strife, and to commit to oblivion the feelings it engendered."
Finally, Major Rhame warns, "Sadly, you can [change history]." Given the erroneous content of his "history," my reply is, "Sir, you are guilty as charged."
Elizabeth Robeson of Orangeburg earned a B.A. in history from Furman and holds graduate degrees in American history from the University of Mississippi and Columbia University in New York City.
Catch the latest in Opinion
Get opinion pieces, letters and editorials sent directly to your inbox weekly!