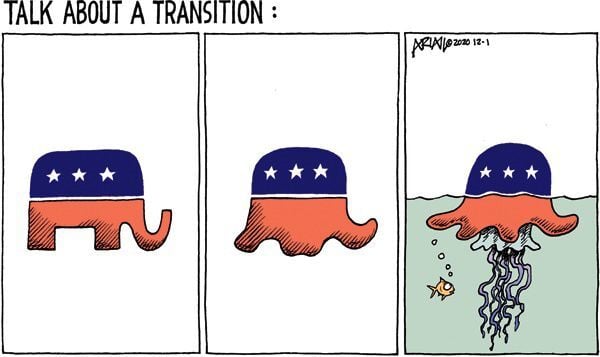 Wild-eyed liberal views
Turned to the editorial page on Thursday, Dec. 3, as I usually do. A sentence or two of Eugene Robinson proved that he was as worthlessly partisan as always, so I gave a look at one Adela Languein below, a bona fide grad student in digital journalism.
While she, I suppose, didn't write the mini-headline "Journalists' bias Is OK," that pretty well spells out her position. She agrees with her antecedents and betters that "journalists should go find the truth and be involved in the verification process."
All well and good -- but, to my great shock (okay, so it's not easy to express sarcasm in cold hard type), the people that she deems worth verifying and bringing down are all the usual suspects: "a white supremacist group" ... "rises in right-wing media, conspiracy theorists [we know who THEY always are, don't we?], and attacks on the media."
Not a word about investigating the origins of and money behind BLM, Antifa groups, and the like -- but boy, let a few Proud Boys show up at a rally and her journalistic hackles rise like the hairs on Joe Biden's legs. As she sums up in her final paragraph, "the need to be objective is slowly dying." (How would she know? Doesn't read like she's ever tried it.)
Also, she says, "it [being objective] doesn't meet the needs of the current climate of news." No, not if your all-too-obvious agenda is pushing identity politics in the newsroom. Two wild-eyed liberals (leftists) on the editorial page. Maybe tomorrow you can balance it out with Ann Coulter and Tom Cotton.
Counting on you, Mr. President
Dear President Trump, I am a Democrat who voted for Hillary Clinton in 2016, and I was devastated when she lost to you. I'm just being up front. I didn't agree with your wall, your plans to dismantle the Affordable Care Act and your positions on climate change.
I did not think you had the experience to be president of the United States. I didn't care for some of the things you said, or your general demeanor. As a Black man, it was my opinion that you cared very little about issues that were affecting Black people. I had several issues with you sir.
As many issues that I had with you, and all the names I called you, one thing I couldn't call you was a loser. Out of the largest field of primary candidates up to that point, you came from behind and beat all 16 Republicans that ran against you. And you mounted a successful campaign against Hillary Clinton and Tim Kaine and won the presidency.
Not only that, you won the undying allegiance and love of your loyal followers. Even today, although you lost the popular vote, you still received the second most votes of any presidential candidate in the history of American politics. You will forever be remembered as the 45th president of the United States. What an awesome club to belong to.
How fondly history will remember you as you exit the White House if you treat the president-elect and his wife with the same grace, courtesy and dignity with which the last outgoing president and his wife treated you and Mrs. Trump.
Only two days after your election, the president invited you to the White House and promised a smooth transition of power. Remember that beautiful letter he left for you in the Resolute Desk?
"Dear Mr. President," he wrote. "Congratulations on a remarkable run. Millions have placed their hopes in you, and all of us, regardless of party, should hope for expanded prosperity and security during your tenure."
Simple words and actions such as those to your successor, written by you, not one of your staff, would go a long way to healing the rifts that now exist in this country. As citizens of this great country, we're all hoping for a smooth transition of power.
I know it's tough losing. We have all experienced that in one way or another, but few of us have experienced it the way you have. But I hope you can find it in your heart to make this transition as graceful and dignified as possible. We're counting on you Mr. President.
Any words of advice you can offer to the president-elect as to navigating the rigors of the Office, I'm sure he would appreciate. Thank you for being a steward and attempting to take care of the country these last four years. I know it wasn't easy for you.