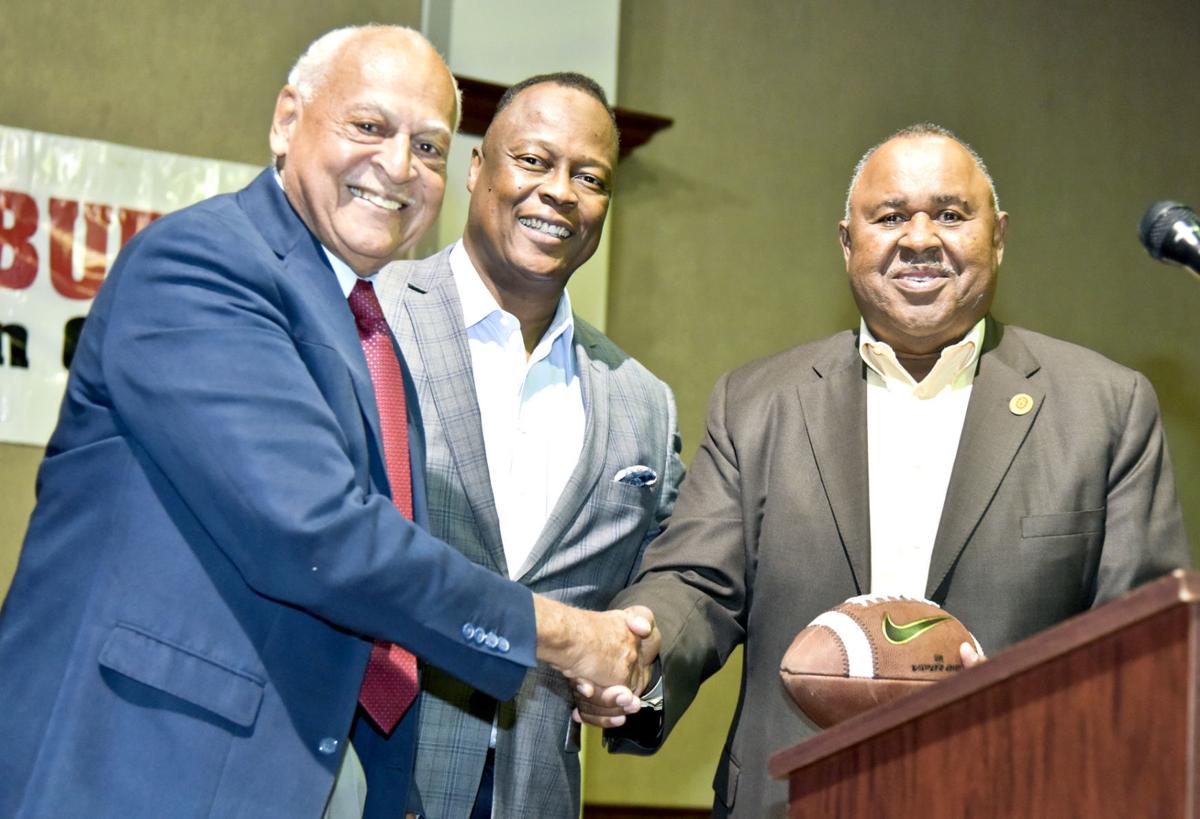 What a season it has been for head coach Oliver "Buddy" Pough and the South Carolina State Bulldogs. Pough set the record for the most wins by an S.C. State football coach – and he did it in a season when his team was picked by many to finish near the bottom of the Mid-Eastern Athletic Conference.
A win this Saturday vs. Norfolk State would put the Bulldogs at 8-3 for the regular season. And there should be more football to play.
It could be at the Celebration Bowl when the champion of the MEAC faces the Southwestern Athletic Conference winner for the black college national championship. For S.C. State to make the game, North Carolina A&T must lose Saturday to North Carolina Central.
If the Aggies win as expected Saturday, that leaves S.C. State needing a Football Championship Subdivision playoff bid to continue the 2019 season. As much as some may say the berth is unlikely, there's a good case to be made for including the Bulldogs in the 24-team field that competes for a national championship.
Though S.C. State is not ranked among the FCS top 25 teams, the Bulldogs have beaten ranked Wofford (Southern Conference champion) and narrowly lost to ranked N.C. A&T and Florida A&M of the MEAC. With A&T at the Celebration Bowl and FAMU ineligible for the postseason, that leaves S.C. State with a solid record to represent a conference featuring two of the top 25 teams (S.C. State is also receiving votes in the STATS FCS poll).
Though the MEAC does not have an automatic playoff bid as does the Southern Conference and others, S.C. State is a legitimate contender deserving of a postseason berth.
Pough thinks so and is saying as much:
"Somebody needs to remember that South Carolina State beat Wofford somewhere back when, earlier this season. We don't seem to have anyone who has a recollection of that fact out there.
"We go off that win and, besides the South Florida fiasco, the only (FCS) teams we lose to are Florida A&M by 4 points and North Carolina A&T by 2 points. We've shown ourselves to be competitive with all the top teams we've played and we feel like we are deserving to be in the playoff. It should be a no-brainer that we get in, apart from the fact that the MEAC does not have a representative (with an automatic bid). Yes, we need to be in, we should be in."
And the university is going about formally calling attention to the team's work ahead of the final weekend of the regular season.
MEAC rankings (team)
3rd scoring offense (31.9)
2nd rushing defense (118.3)
2nd scoring defense (22.9)
4th total offense (383.9)
3rd total defense (342.1)
3rd pass efficiency (140.9)
3rd rushing offense (144.4)
1st pass defense efficiency (113.7)
NCAA FCS rankings (team)
7th passing yards per completion (16.08)
2nd team tackles for loss (10.0)
MEAC rankings (players)
De'Montrez Burroughs (3rd scoring – 8.0)
Corey Fields (1st pass efficiency – 154.8)
De'Montrez Burroughs (2nd scoring TDs – 8.0)
De'Montrez Burroughs (2nd receiving yards per game – 87.0)
NCAA FCS rankings (players)
Corey Fields (2nd passing yards per completion – 17.19)
Jayden Brunson (t-2nd punt return TDs – 1)
Deondre Daniels (t-2nd punt return TDs – 1)
De'Montrez Burroughs (5th receiving TDs – 12)
Corey Fields (7th yards per pass attempt – 9.13)
Of note
 Fields set a school record for touchdowns thrown in a game with seven against Howard, tied for second most in MEAC history.

 Burroughs set a school record for touchdowns in a game with five against Howard on Nov. 9, tying the MEAC single-game record set in 2000.
Senior offensive lineman Alex Taylor has accepted an invitation to play in the Reese's Senior Bowl
The process of selecting at-large teams for the playoffs will feature controversy. It always does. For S.C. State fans, it is hard watching Furman (which lost to Wofford, which lost to S.C. State) be ranked at No. 17 in the STATS FCS Top 25 poll and in position to make the playoffs, while the Bulldogs could be on the outside looking in for the postseason.
As for us, we'll not debate which other teams should and which teams should not get in, beyond restating: The Bulldogs should get in.
Catch the latest in Opinion
Get opinion pieces, letters and editorials sent directly to your inbox weekly!