No better tribute could there be than the obituary that the Cox family submitted on its patriarch, William B. Cox Sr. No one should underestimate the impact that he had on his community's economy and very existence over decades.
Cox, who died Feb. 11, was acclaimed for much over a lifetime. An innovator in industry as founder of Cox Industries, he was much more to his family and community. While we could state again the many accomplishments, we instead want to use words that speak to his impact in very personal terms.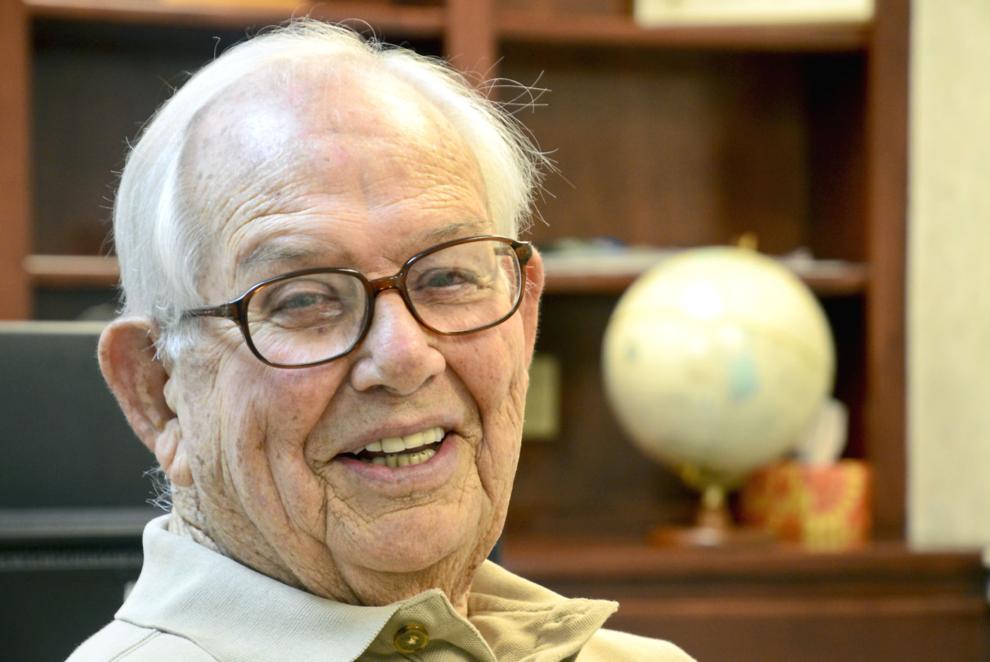 The late Dean B. Livingston was publisher of The Times and Democrat for 37 years. He and Bill Cox Sr. were contemporaries. In a column written in 1999, Livingston speaks volumes about why all should celebrate Cox even as we mourn the loss to Orangeburg. Following is an abridged text of Livingston's column.
In my more than 50 years of observing economic growth in Orangeburg, there is no person, place or thing that amazes me more than Bill Cox Sr. and his wood-preserving company. What has been accomplished on the Cox portion of land on the Cannon Bridge Road is a glowing testament to a person's will to succeed for his community and family in the turbulent world of American business.
I first met Bill back in 1954 while working in The Times and Democrat's advertising department as a college summer intern. The ad director told me that he wanted me to make a sales call to a new business on Cannon Bridge Road. He said there's a guy out there in a little shack doing something with logs.
"What do you mean with logs ... I don't understand," was my response. He came back: "Yes, he's doing something with logs and he's trying to sell 'em."
As a neophyte, I asked, "What kind of ad you want me to sell him?" The ad director came back: "About 10 dollars' worth. That will get you a 50 cents commission. A $15 ad will get you 75 cents."
Out the door I went; that was good money back in those days. I found the little shack on the Cannon Bridge Road. There wasn't much going on there. A tall man in his late '20s, wearing khaki pants and open collar, introduced himself as Bill Cox.
We sat down on the grass in front of his shack. There were no chairs. We chatted for a while and then I finally asked him what was he going to do with those logs. He said they were treated logs that would not rot in the ground when used as fence posts.
I told him that a $15 ad in The T&D would sell some of those posts. "Can't afford that much," he said, and, quite honestly, when I looked around at the sparse setting, I agreed with him. "How about 10 dollars?" I countered. He said he really couldn't afford that either, but he'd give it a shot.
"Give me an ad telling people that I am in business as the Cox Wood Preserving Co. on the Cannon Bridge Road," he smiled. I could tell he really didn't need the ad. At that time he really didn't have enough fence posts to sell, but he didn't want me to go away empty-handed. That's the kind of person he was then and still is today.
At the start in 1954, Cox Wood had three employees and one acre of land. A few months later they were producing fence posts by the hundreds, the thousands. More employees were added. Next came a complete line of treated lumber. More Cannon Bridge Road property was acquired and more employees were added. Cox wood products were being shipped to retail outlets over the South.
The growth cycle has never stopped. What was started in that shack back in the early '50s today is one of Orangeburg's soundest industries employing more than 250 people.
The man who started it all, Bill Cox, still dressed much of the time in khaki pants and open collar, remains very much involved in it all. He built his company -- as blue chip an industry as any community could hope to have -- with an enduring, strong commitment to succeed for his community and family.
Look America over and you'll have a tough time finding a more genuine success story as relates to business, family and community than that of W.B. "Bill" Cox Sr. What was a three-employee business that centered around that little shack in 1954 with about a $200-a-week payroll in 1999 will have gross sales exceeding $95 million.