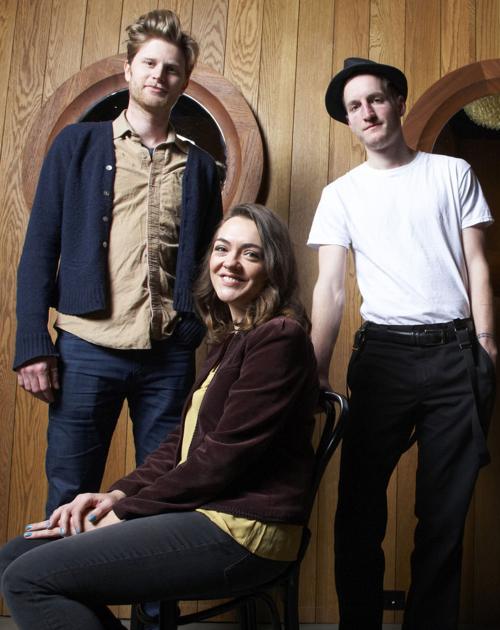 Secret to The Lumineers' success? A newspaper columnist
TRENTON, N.J. — A member of The Lumineers says a picture of a New Jersey newspaper columnist is the secret to the band's success.
On Thursday, Jeremiah Fraites posted a picture of his keyboard on the folk rock band's Facebook, Instagram and Twitter accounts. Taped to the keyboard is a photograph of The Record political columnist Herb Jackson.
Fraites says he didn't know who Jackson was when he taped the picture to his keyboard 10 years ago but that "looking at him assures me creativity will flow."
Jackson writes from Washington for the northern New Jersey newspaper and website.
He wrote that the photo was "the most bizarre thing I've encountered in this job." He says he doesn't know what it is about the photo that's inspirational, but he's glad to help.
The group began performing in New Jersey in 2005.
Free groceries for shoppers after cash registers crash
RALEIGH, N.C. — Shoppers at a Harris Teeter supermarket in North Carolina's capital city have gotten a very big break on their bills.
WRAL in Raleigh reports the cash registers at the chain's Cameron Village store crashed on Friday. The station quoted a store manager as saying his team tried for 15 minutes to reboot the system at the checkout lines.
When their efforts failed, the manager decided the shoppers had waited long enough and allowed them to get their orders free of charge. Anyone already standing in line was allowed to leave without paying. It's not known how many shoppers enjoyed the windfall.
Harris Teeter spokeswoman Danna Jones said she had no details on what caused the outage.
School votes for communism-themed dance dubbed 'prom-munism'
ALBUQUERQUE, N.M. — Seniors at a New Mexico high school have voted to hold a prom with a communism theme, which they've dubbed "prom-munism."
KRQE-TV in Albuquerque reports that Cottonwood Classical Preparatory School students voted online this week for the theme.
Senior Sarah Zachary says many of her classmates are jokesters and they wanted the prom to be funny. But She says lots of students also are intense about politics.
Cottonwood executive director Sam Obenshain says the school's students are in the International Baccalaureate program and are very academically focused.
Obenshain says he plans to talk to students to make sure that the communism theme is something they want to embrace.
Sophomore Cole Page says she didn't find it funny.
The prom is scheduled at the Albuquerque Aquarium on April 25.
Pair pilfer $9,000 worth of underwear from Wyoming store
CHEYENNE, Wyo. — Police say a man and woman have stolen more than $9,000 worth of women's undergarments from a department store in Wyoming's capital.
Officer Dan Long, a Cheyenne police spokesman, says the shoplifters made off with just over 1,000 pairs of panties from the J.C. Penney store in a local mall Wednesday afternoon.
Video surveillance shows the two leaving the store with a large plastic bag.
Long says store employees did not notice the theft until several minutes after it happened and the pair got away before police arrived.
Police estimate roughly 800 pairs of Ambrielle brand underwear and 200 pairs of Flirtitude brand garments were taken.
Be the first to know
Get local news delivered to your inbox!