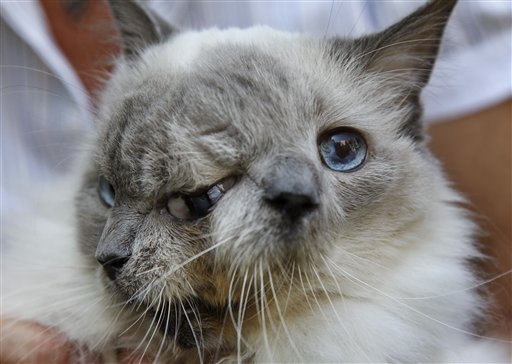 Record-setting cat with two faces dies
NORTH GRAFTON, Mass. — This cat had two faces — but only nine lives.
A feline named Frank and Louie after he was born with two faces, two mouths, two noses and three blue eyes has died at the age of 15.
The Telegram of Worcester reported that Frank and Louie died at the Cummings School of Veterinary Medicine at Tufts University in North Grafton.
The cat's owner, Marty Stevens, said veterinarians believe the cause of death was cancer.
Frank and Louie made it into the 2012 edition of Guinness World Records as the longest-surviving member of a group known as Janus cats, named for a Roman god with two faces.
Janus cats almost never survive, and most have congenital defects.
PGA: Golfer, 103, may be the oldest to record hole in one
SARASOTA, Fla. — A 103-year-old Florida golfer may have made history as the oldest person to record a hole in one.
The PGA of America announced on its website that Gus Andreone of Sarasota scored the ace Wednesday at Palm Aire Country Club. The group said it is likely that Andreone is the oldest golfer to score a hole in one, beating the previous record of a 102-year-old woman in 2007.
Andreone told Tampa Bay television station Fox 13 News that the ace marks his eighth since 1939. He used a driver on the 113-yard 14th hole of the Lakes Course, as he normally does, but then noticed something different. The ball went straight into the hole.
Andreone pocketed $80 for the feat, and says he looks forward to doing it again.
N.C. man bounces checks for $58K in postage stamps
NORFOLK, Va. — Perhaps Javorick Alexander Moore has a really long Christmas card list. Or a lot of pen pals.
The 40-year-old Greensboro, North Carolina, man was sentenced to two years in prison for bank fraud after writing more than $58,000 in bad checks for postage stamps.
Documents filed in federal court in Norfolk, Virginia, say Moore opened a checking account and deposited about $5,000 before visiting several post offices in Virginia and North Carolina to stockpile stamps. He also spent about $5,000 at office supply and clothing stores.
According to the Virginian-Pilot, defense attorney Suzanne Katchmar wrote in court papers that her client was abused as a child, loves to cook and hopes to someday operate a food truck. But she said nothing about his interest in stamps.
Be the first to know
Get local news delivered to your inbox!