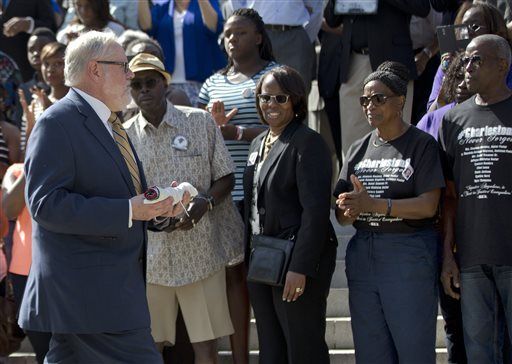 Local lawmakers say the Confederate flag needs to be moved from the Statehouse grounds and into a museum in the wake of the racially motivated killing of nine people in a Charleston church.
Sen. John Matthews, D-Bowman, says the Confederate flag has been used as a racist symbol by hate groups in America.
"The Confederate flag, for most people of goodwill, represents the worst of us as a nation and as a state. We should be about trying to be the best," said Matthews, the state's longest-serving African American senator.
"If we're going to make progress as a state, we need to move forward," he said.
Law enforcement officials allege 21-year-old Dylann Roof, who is white, sat in Emanuel African Methodist Episcopal Church for an hour last Wednesday before allegedly making racist remarks, then opening fire and killing nine black church members.
Investigators discovered Roof posted online photos with the Confederate flag.
Other lawmakers agree with Matthews.
"It is unfortunate that it's taken something like this shooting for certain elected officials to now think that the time is right for the flag to come down," said Rep Justin Bamberg, D-Bamberg.
Rep. Lonnie Hosey, D-Barnwell, said, "We've had this issue too long. It has caused us to be stagnant. It's a symbol of division in our state."
Matthews, Hosey, Sen. Brad Hutto, D-Orangeburg, and Rep. Russell Ott, D-St. Matthews, say the flag belongs in a museum with other historic emblems and artifacts.
Ott asked for everyone to do some sincere soul searching and reflection.
"To those folks that support the flag for the right reasons, I would ask them to truly ask themselves what harm it does to place the flag in a museum or other venue of historic relevance where we have other emblems or artifacts of our past. For those people that support the flag remaining where it is for other reasons, we'll just have to agree to disagree," Ott said.