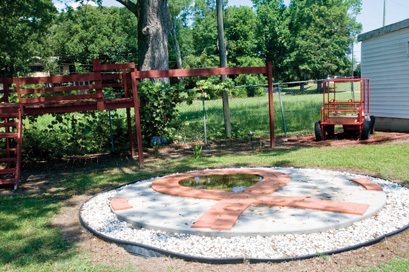 A "Serenity Garden" dedicated to those whose lives have been touched by HIV/AIDS will be celebrating its fifth anniversary this year.
A collaboration of Victory Tabernacle Church, the Orangeburg-based Minority AIDS Council and the church's "A Family Affair" group for those with HIV/AIDS and their families, the garden is intended as a place where someone can grieve without stigma or find comfort among others whose lives have been affected by the disease.
The church will hold a program celebrating the garden's fifth anniversary of hope and healing at 6:30 p.m. Thursday, May 17, at the Victory Tabernacle Church, 681 Broughton St. The program will also include speakers whose lives have been impacted by HIV/AIDS.
A Family Affair member Pat Kelly, who has been living with HIV since 1985, said the program will also be about remembering those whose lives have been lost to the disease.
"Since this past year, we've had two members of 'A Family Affair' pass away," Kelly said. "It's going to be a time of remembering them, and how much they gave to keeping the group going and being active in the things that we've done in the community."
Kelly said a list of names of other individuals who have died of complications from AIDS will be read, and a balloon will be released each time a name is called.
"Our speakers are going to be the faces of HIV," Kelly said. "This will give the community an opportunity to see people just like them who are living with this disease. They're going to talk about how HIV has impacted their lives and how the community can help in ending this epidemic."
According to the state Department of Health and Environmental Control's Surveillance Report, through December 2010, the South Carolina Department of Health and Environmental Control Region 5 — serving Orangeburg, Bamberg, Calhoun, Barnwell, Allendale and Aiken counties — reported a total of 2,125 HIV/AIDS cases.
The Serenity Garden was built on a four-acre tract behind the church and includes flowers, hanging baskets, a water feature and benches.
"The Minority AIDS Council has really been a great help in supporting 'A Family Affair' with the Serenity Garden and all the work that we do," Kelly said. "They give us support on a daily basis."
A Family Affair member Juanita Williams, who has been living with HIV for 23 years, is actively involved with The NAMES Project Foundation, a nonprofit organization that is the custodian of The AIDS Memorial Quilt. The quilt is a visual reminder of the AIDS pandemic and includes more than 47,000 panels commemorating the lives of those who have died of AIDS.
Williams has just come off of a 10-city tour with actress Sheryl Lee Ralph as part of an effort to increase awareness of the AIDS pandemic among the black community.
"The quilt is 55 miles long, and only a half mile of that are African-American panels. So we're been doing a 10-city tour to complete some African-American panels," she said.
Williams said the quilt will be unfolded in commemoration of its 25th anniversary at the Smithsonian Folklife Festival this summer in Washington, D.C.
"It's just really time that the South start hearing and recognizing that there are a lot of African-Americans that are dying and living with HIV and AIDS," she said. "We need to talk about it, and Pat and I are just like Siamese twins. We support each other and travel a lot, being activists and advocates for the voiceless and ourselves."
Be the first to know
Get local news delivered to your inbox!