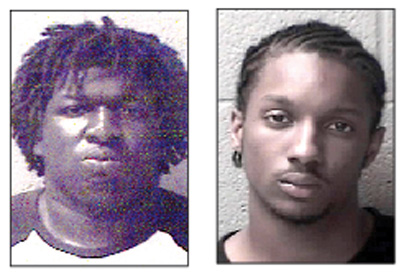 A third suspect has been arrested in connection with the April 15 shooting death of South Carolina State University student Johnathan Bailey.
State Law Enforcement Division spokesperson Jennifer Timmons said 22-year-old Hillard D. Pinkney of North Charleston was arrested Wednesday and charged with accessory after the fact of murder.
On Tuesday, 22-year-old Ray Anthony Alston Jr. of North Charleston and a 16-year-old from Holly Hill were both charged with murder in connection with Bailey's death. The 16-year-old was also charged with possession of a firearm during the commission of a violent crime.
The name of the teen has not been released. However, a 16-year-old accused of a crime that carries a sentence of more than 15 years is automatically charged as an adult, First Circuit Solicitor David Pascoe said.
In South Carolina, murder carries the possibility of life in prison or even death.
Bailey was discovered after crashing his car into S.C. State's Campus Services Building on Russell Street around 11 p.m. on April 15.
Initially reported to emergency personnel as a car crash, an autopsy revealed Bailey suffered a single gunshot wound to the chest. He was declared dead within hours.
Investigators later determined that Bailey had been shot in the nearby Queen's Hall apartments parking lot before crashing his Chevrolet.
S.C. State Police Chief Michael Bartley said a campus video surveillance system captured evidence crucial to the investigation but not the shooting itself.
However, that aided investigators in the identification of unspecified evidence, he said.
The warrant against Pinkney claims he drove four other suspects to campus to meet Bailey for a drug transaction.
It further claims that after a dispute arose over the quality of marijuana, one of the other suspects attempted to rob Bailey. One of the suspects shot Bailey as he tried to flee, the warrant said.
Meantime, Bartley said the campus is not unsafe. He believes the shooting was an "isolated incident."
"These young men did not live on campus. It was a pre-arranged meet," he said.
The case has been investigated nearly non-stop since it happened a month ago, Bartley said.
The S.C. State police chief said the three arrests were the result of a "collaborative effort of several law enforcement agencies," including SLED as the primary investigative agency, the Orangeburg Department of Public Safety and the Orangeburg County Sheriff's Office.
"I just want it to be solved and the apprehension of the right people made," Bartley said. "I hope it will in some way give to this family some closure from this incident."
On Wednesday, the university released a statement offering support for Bailey's family.
"We will continue to pray for and to support the Bailey family during this tumultuous time, and we will continue our efforts in this ongoing investigation," the statement said. "This tragedy, however, is an isolated incident for SC State University.
"The University Police Department has implemented safety measures for the students on this campus, and we are currently working on additional initiatives to ensure that our campus community is well guarded."
Police are still searching for any evidence that may be connected with the case.
If anyone has any information in the shooting, they are asked to contact S.C. State's Crimestoppers at 803-536-8200, campus police at 803-533-3740, or the state Crimestoppers at 1-888-CRIMESC.
Be the first to know
Get local news delivered to your inbox!