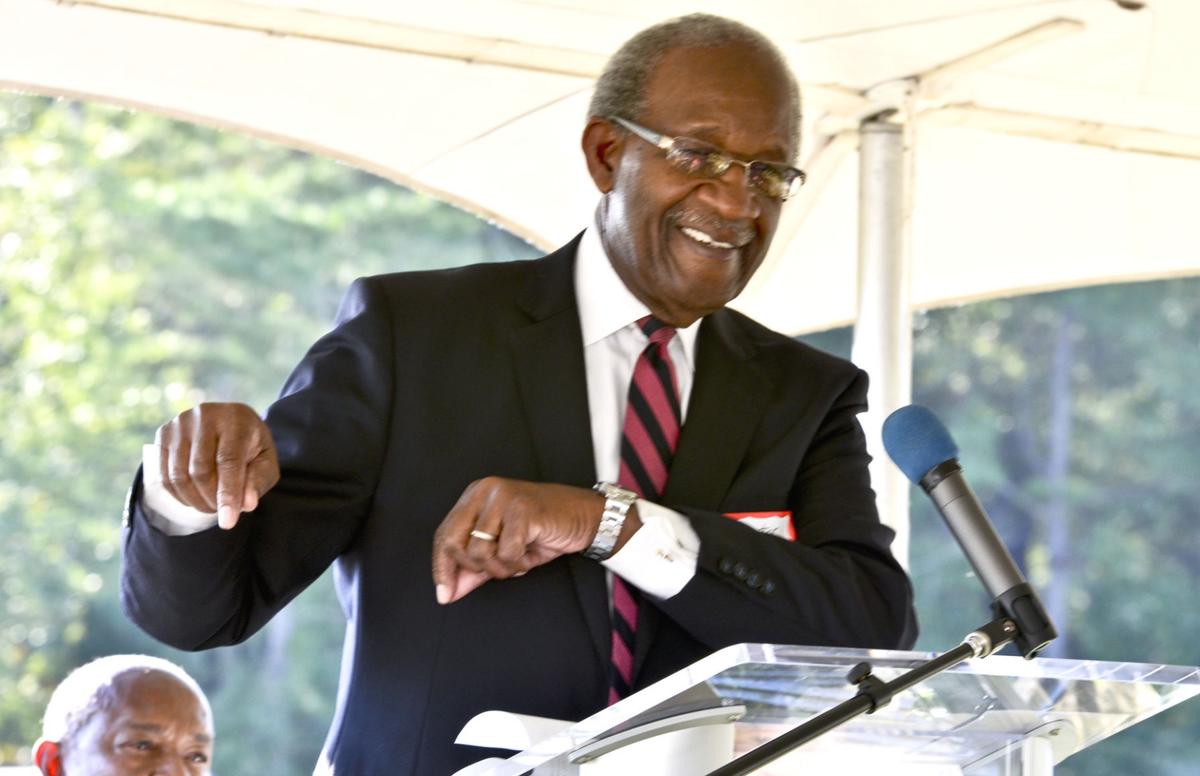 Amazing body of work
Thank you, Sen. John Matthews for four decades of exceptional public service. You have put together a stellar track record as an engaged, reliable, honest and trustworthy elected official. Your determined commitment to improving the human condition for the citizens of our state was strengthened by your uncompromising modesty and humility.
I regard you as a friend and mentor and I will continue to seek your sage advice. Consistent with your political beliefs, you have shared your wisdom with established elected officials and newcomers to the political arena. You also have demonstrated an uncanny ability to achieve consensus among divergent viewpoints to advance legislation in the South Carolina Senate.
I wish you tremendous success in this new phase of life. Because of your amazing body of work in the South Carolina General Assembly, you deserve a peaceful retirement as a reward for a purposeful life.
Michael C. Butler, mayor, City of Orangeburg
Best wishes for an enjoyable retirement, my friend. Your career as a business associate, educator and legislator has been one of distinction, honor and exemplary service to humanity. As a loyal son of South Carolina State University, you have exemplified true "Bulldog Tenacity" in making this community and the state of South Carolina a better place for all citizens. May God's blessings be with you and yours as you explore the wonders of this next "beautiful phase of life"!
Dr. Carl A. Carpenter, Orangeburg
Statesman for 4 decades
Well wishes to retired Sen. John Matthews. You served the constituents of Orangeburg County and District 39 for four decades as a statesman; through hearing and taking action/legislating the voices of the public. Congratulations on your public service!
Linda W. Foster, Orangeburg
Friendly, caring gesture
I first met Sen. John Matthews as I was renewing my notary licenses at the administration building back in 2019. He was standing there talking with someone. He just came up to me and shook my hand and asked me my name, and I said "David Franklin, sir."
I thought this such a friendly and caring gesture. I have never met him in person; but the way he greeted me made my day. I got back home and told my wife Sen. John Matthews shook my hand and asked little old me my name. That made my day.
David Franklin, Orangeburg
Senator is a legend
To me, Senator is an idol! He exemplifies the qualities of a positive role model. A role model many young men would like to emulate. He is a people person. He is the same whether wearing blue jeans and a sports shirt or a three-piece suit.
The things he has done to make Orangeburg County a better place to live, work, play and worship are innumerable. He has improved the quality of life for his constituents by improving economic development, providing funds to improve educational facilities (elementary, secondary, and higher education), funds to provide better health care and health facilities, infrastructure, broadband, affordable housing, consolidation of schools, and much, much more.
Sen. Matthews' leadership ability will not easily be surpassed. To sum it all up, he is a legend!
Janie Cooper-Smith, Orangeburg County Council
Thanks for dedication
Sen. Matthews, thank you for your service and dedication to improving our quality of life here in South Carolina. We sincerely appreciate you and wish you well in your retirement.
Lakesha Jeffries, Jeffries Law Firm, Orangeburg
Thanks from Bowman
I want to express my deepest appreciation to Sen. Matthews for all he has done for the citizens of our state and our community of Bowman in particular. He has been a strong supporter of agriculture, education and development, all of which have been the lifeblood for so many in our area. May God continue to bless him as he enjoys his well-deserved retirement.
Your friend, Landy Weathers, Bowman
Valuable input to governor 
I worked with Sen. Matthews first as a fellow legislator and later during my time as South Carolina's governor (1999 to 2003). Sen. Matthews was a true statesman -- smart, principled and focused on the best interests of his community and state. He was at the center of most major educational reform bills the last three decades, and was a true champion for South Carolina State University.
On issues of racial justice, he was one of the most respected voices in the state. He was always one of the first and last people I talked with regarding policy decisions. His wisdom and common sense have been invaluable assets to the people of South Carolina for decades.
Jim Hodges, governor of South Carolina (1999-2003)
Work matches his gratitude
Thank you for your service to South Carolina — District 39. Meeting you and your wife (2006) was my pleasure and privilege as program coordinator for then the Lower Orangeburg/Upper Dorchester (LO/UD) Community Development Grant to develop Leadership workshop courses for a deserving community. Sen. Matthews served as board member. His work matches his gratitude and my opportunity matches my appreciation — indeed celebrate him now and forever!
Barbara Bowman, chair, Sumter County Democratic Party
No one more remarkable
It is an honor to have known and served 34 years in the Senate with John W. Matthews Jr., and while I have had the opportunity to serve with some remarkable people, none are more remarkable than Sen. Matthews.
His service is exemplary, but more importantly, he is the ultimate gentleman. His love of God, family and community is evident in every action. The incredible way he inserts this into his every action inspires and gives hope. John, I thank you for your friendship and for being the wonderful man that you are.
Sen. Nikki Setzler, West Columbia
Proud to serve with him
Sen. John Matthews epitomizes the term statesman. Graceful, articulate, wise, firm and always one to take the long view in tense matters under debate, Sen. Matthews was a force in our body. These gifts and his keen sense of humor and knowledge of when to invoke it served his constituents, the Senate -- always in an effort to do good for our state. Beyond the bright smile he always wears, his attire is likewise exemplary. I am proud to have served with him!
Sen. Luke Rankin, Horry County
'First, foremost a gentleman'
As a freshman senator, I immediately felt a connection to Sen. Matthews as he represented my original hometown of Branchville. I still have many relatives there today. Sen. Matthews was first and foremost a gentleman. He had a smile and a kind word for everyone. He was an ardent supporter of public schools and he joined me in helping fight litter especially on secondary roadways, which are often rural. We agreed that it was a shame that some of our most beloved country roads were blighted by trash. I miss his smiling face in the Senate but our loss is Orangeburg's gain.
Sen. Sandy Senn, Charleston and Dorchester counties
Proud to be South Carolinians
It is a privilege to know such a man as Sen. John Wesley Matthews Jr. His gentle, kindly manner is fortified by a profound understanding and knowledge of the people of his state, its history and its institutions. His contributions are many and his impact -- especially in the Senate – is invaluable. Sen. John Wesley Matthews Jr. is the kind of man who makes us all proud to be South Carolinians.
Gov. Henry McMaster, Columbia
Voice for school children
I recall in 1983-84 during my first term in the House of Representatives, John Matthews was a respected member of the Ways and Means Committee and a leader in the passage of the Education Improvement Act. Years later, Sen. Matthews played a vital role with his support of full-day public school kindergarten.
During my time in the Hodges administration, Sen. Matthews was instrumental in passing First Steps, our program for school readiness. For over four decades, Sen. Matthews was a voice in the legislature for the school children of South Carolina. Future students will benefit from his service for many years.
Billy Boan, S.C. House of Representatives 1983-1999 and governor's chief of staff, 1999-2003, Kershaw
Important to S.C. success
Sen. John Matthews is a state treasure. During the 14 years I served in the S.C. House and S.C. Senate, and the eight years I served as governor, I never served with anyone who fought harder to improve the educational opportunities for South Carolina's children than John Matthews. He was an important part of every success South Carolina achieved while I was governor and I am so proud to have John as one of my dearest friends.
Dick Riley, former S.C. governor and former U.S. secretary of education
Honor to work with senator
Sen. Matthews, It has been an honor and one of my greatest joys in life to have worked so closely with you over the years. Through your hard work and leadership, many lives have been changed throughout District 39 and the entire state. I will be forever grateful for your kindness and friendship.
Never forgot his roots
Sen. Matthews is an honorable man that was always concerned about his constituents and looked out for their best interests. He always listened attentively when you contacted him about any issues. And, unlike some folks, he never forgot his roots. Just an all-around great guy!
He spoke, smart ones listened
Sen. Matthews is the realized personification of the great statesman ideal --a  common-sense leader and quiet storm. The citizens of District 39 were fortunate to have his decades-long representation in the General Assembly. It was a privilege to serve as a staffer for his subcommittee and observe the great respect he amassed from his fellow members and the public at-large. Never one to talk too loudly or for too long, any time he spoke, the smartest ones in the room always listened. We are a better state for his service.
-Endra C. Curry, MPA, director of financial policy, Offices of Senate Research and Majority, S.C. Senate
-Jeffrey S. Gossett, clerk of the Senate
-Sen. A. Shane Massey, Senate majority leader
Efforts have saved many lives
In the early 1990s I retired from the federal government and moved to Holly Hill. Shortly after my arrival, I became aware of the lack of adequate emergency medical services for Holly Hill, Eutawville and Vance residents.
Seeking to see what could be done to improve the situation I contacted several regional political representatives. Sen. John Matthews was the first individual who responded to my requests. With his guidance, I and several others were able to lobby Orangeburg County Council to provide permanent EMT support to the area.
I think it is fairly clear that Sen. John Matthews' support for our efforts to obtain rapid EMT assistance to Holly Hill, Vance and Eutawville residents has resulted in the saving of many lives over the years.
Mary Lee Thompson, Myrtle Beach
Distinguishing right from wrong
For 25 years I represented the University of South Carolina System campuses at the Statehouse. I saw firsthand Sen. Matthews' many gifts. On every occasion when the legislature was facing a critical issue, his colleagues always relied heavily on the senator's leadership, wisdom, judgment and integrity. South Carolinians have been blessed with his goodness and his insistence that right be distinguished from wrong. God bless Sen. John Matthews.
He made S.C. a better place
During the 38 years that I served in the South Carolina General Assembly, I stood alongside Sen. John Matthews as he sought to improve public education in South Carolina. South Carolina is a better place in which to live and work today because Sen. John Matthews served. He was committed to making our public education system better and he did. All of us owe John Matthews praise and appreciation for his service.
Former Sen. John C. Land III, Clarendon County
UofSC indebted to his service 
Retiring after almost 50 years of legislative service, Sen. Matthews embodies what it means to be a servant leader. The UofSC system and the entire education community are indebted to his past service and will continue to benefit from all he accomplished for many years to come. We remain grateful for his leadership and faithful service.
Bob Caslen, president, University of South Carolina System
Commitment to OCtech, community
Sen. Matthews has been a longtime advocate and supporter of OCtech throughout my years of service as president. I recall going to the Gressette Building on many occasions with my prepared notes and an idea as to how I wanted the conversation to transpire. However, after taking my seat, and as he got his coffee and crossed his legs on his couch, I spent more time answering his questions as opposed to discussing my agenda.
He is a skilled politician, and I walked away with more to-dos from him than he from me. I did get 5 minutes at the end of our conversation to explain my 20 minutes' worth of information, and getting a similar response year after year, "I got it!" Moreover, as a ranking member on Senate Finance, he would always deliver. I'm thankful for his leadership in the Senate, but more importantly, his commitment to OCtech and this community.
Walt A. Tobin, Ph.D., president, Orangeburg-Calhoun Technical College
Rise together or sink together
Sen. Matthews is a stalwart champion of public education and a gift to the people of his district and to South Carolina. I vividly recall his interview for a S.C. Campaign to Prevent Teen Pregnancy video when he spoke to the need for a strong, equitable public education system and called people to action by saying "children in South Carolina are no different from children in North Carolina, Georgia, New York, Texas or California. It is the support system we provide for our children that makes the difference. We can't leave one third behind and expect our economy to grow. We have to take care of all of them. We either rise together or we sink together."
Thank you, Sen. Matthews for being a powerful voice for South Carolina's children.
Joy Campbell, advocate for children, founder S.C. Campaign to Prevent Teen Pregnancy, retired
Loyal son, supporter of S.C. State
Sen. John Matthews is the epitome of a loyal "son" of S.C. State University. During my tenure as president, he used his impeccable reputation to advocate for funding to support the mission of the institution. This included garnering millions of dollars for capital improvements, including base state funding for construction of the Fine Arts Center and Davis Hall. Also, funding for nuclear engineering and other academic programs resulted from his advocacy. The 1890 Extension facility bears his name because of his tireless support for SCSU and, specifically, for his work to ensure that the 1890 Program received equitable state matching funds. Thank you, thank you many times over for your legacy of support for our alma mater.
Leroy Davis, Sr., former SCSU president
Increasing pool of teachers
The SC-PRRMT (Minority Teacher Recruitment) wishes to express our sincere appreciation and gratitude for your many years of dedicated service in support of our program. Through your efforts on the Senate Education and Senate Finance Committees, we can continue serving students of South Carolina in the Minority Teacher Recruitment Program to increase the pool of qualified teachers in our state.
Reinell Thomas-Myers, Minority Teacher Recruitment Program, S.C. State University
Advocate for the needy 
Senator, thank you for your love, sincerity and dedicated service to South Carolinians. Especially, your advocacy for the needy so they could experience justice, peace and a sense of belonging. My father, Thomas Moss, would say unequivocally, "You've been busy about your Father's business meeting the needs of the people!" We pray above all things that you may prosper even as your soul prospers. May your help that comes from above continue to cover, surround and wisely order your steps. We Love You!
Gladys V. Moss, Andre and Karyn Moss of Orangeburg
Heart for South Carolinians
I worked for the Senate Minority Caucus of which Sen. Matthews was assistant minority leader. I have so much respect for Sen. Matthews, who has a heart for South Carolinians in need and fought every day against those who just didn't understand what God meant about helping "the least of these." Sen. Matthews did and went about doing that in his own selfless way. Thank you, senator, for allowing me to work beside you in the S.C. Senate. You will always be the Senator from Bowman to me.
'Keep at it'
Sen. John W. Matthews was more than a legendary politician; he was also a great community leader, an outstanding mentor and a notable citizen. Sen. Matthews never hesitated to lend a helping hand and shine a beacon of light within the communities where he served. He accomplished this by speaking words of wisdom at local youth events, sponsoring youth programs, recognizing children for their academic excellence, and by mentoring the next generation of leaders.
Sen. John Matthews became a personal mentor to me. He always encouraged me to "keep at it" in everything I did. I can remember being in between career decisions, unsure of what to do and he encouraged me to "keep at it." From that day forward, the phrase stuck with me and even now I draw strength from it. I've also passed this phrase on to my children and to those I have encountered within the communities that I have been a part of. Sen. Matthews' legacy goes beyond the political realm, it runs deep within our communities; and we are forever thankful for his extraordinary work.
Tyrone Dantzler Sr., Bowman
Beacon going forward
In the early 1990s, Sen. Matthews attended a retreat at the Penn Center on Saint Helena. It was obvious then and afterwards his talent for giving astute attention to the details to be in full grasp and informed.
Securing from the state $90,000 of the approximated $415,000 in costs for the renovations and restoration for the Orangeburg County Fine Arts Center was the result of Sen. Matthews listening and acting. The Arts Center's inspiring mission is built on his confidence in its potential. His loyalty and dedication to all his constituents will serve as a beacon for us going forward.
Orangeburg County Fine Arts Center
Kindness, smile in Senate
Your leadership is your legacy, but your kindness and authentic gentlemanly ways along with your wonderful smile are what I will remember from your days in the Senate.  We all miss you.
Visionary leadership
I recognized early on Sen. Matthews' visionary leadership in economic development and education. As president and founder of the Orangeburg County Young Democrats over 40 years ago, I awarded him the Orangeburg County Democrat Of The Year Award through the organization. Later on as chairman of Orangeburg County Council, I led the effort to name the John W. Matthews Industrial Park in his honor, which was approved unanimously by council. Sen. Matthews worked in helping the county pass the penny investment tax, which has had a tremendous impact in improving the quality of life in the county.
As I worked in the Lieutenant Governor's Office in the 1980s, I witnessed John Matthews lead the legislature in getting former Gov. Dick Riley's Education Improvement Act of 1984 passed. I also saw Sen. Matthews persuade former Gov. Jim Hodges in awarding Orangeburg County over $10 million from the tobacco settlement, which was more than any other county received in the state. Thank you, Sen. Matthews, for our personal breakfast meetings through the years where we planned strategy for moving the county and state to higher levels. You have been a true mentor to me.
John H. Rickenbacker, constituent services supervisor, Office Of Congressman James E. Clyburn
Making bipartisan difference
I am proud to have served with Sen. John Matthews and the special friendship that we have. We worked together on education issues and feel that we made a bipartisan difference. I miss his smile and fellowship in the Senate. His calm demeanor and wisdom are missed and I wish him the very best in retirement. I just regret that I cannot see his portrait from my Senate desk.
Sen. Shane Martin, Greenville, Spartanburg, and Union counties
'Well done, our faithful servant'
During the past several years it has been my honor and privilege to know John and his departed wife Geraldine. John served the State of South Carolina and his district with distinction and honor, always looking out for our best interests. He is an honorable gentleman and we will miss his leadership. I want to wish him continued success during his retirement years. Well done our faithful servant to the people he represented for four decades. God bless you and your family, John Wesley Matthews.
Paul Miller, Orangeburg, former mayor of the City of Orangeburg
Some cookies in his future
I was elected to the Senate in 2012 and it's intimidating enough to be a freshman in the South Carolina Senate, but I beat an 18-year incumbent to become the only woman in the body. Sen. John Matthews was my first suitemate. I was an inexperienced Republican girl from Lexington County and I was fortunate enough to have a very experienced senior Democrat senator from Orangeburg as my suitemate.
At first I wasn't sure his staff was really excited about having the only woman or a Republican in the office, but it worked out to be the best relationship ever. I love Valarie and Dawn to this day! I learned respect and bipartisanship. I learned trust and sharing.
Sen. John Matthews was someone I could sit down and ask a question about an issue or share a chocolate chip cookie and a cup of coffee. Which reminds me how much Sen. Matthews loves chocolate chip cookies. Even as I moved on into a different office, I sent the good senator cookies every Tuesday when we started the session. I miss seeing him sitting on the front row in the chambers, but I'm sure he is enjoying retirement. I might even see some cookies in his future.
Sen. Katrina F. Shealy, Lexington County
Dedication to his work
Sen. Matthews, what an exemplary and fruitful journey you have taken for your constituents in District 39, as well as all the lives you have touched in the entire state.
We will never forget your dedication to your work, both as a public school administrator and as a politician.
May God grant you a wonderful and peaceful retirement.
Beatrice J. Swett, friend, Holly Hill
Purpose, passion for all
Sen. Matthews, you are a beacon of South Carolina politics. You have served District 39 and the state with integrity, humility, compassion and dedication. You are a leader who served with purpose and passion for ALL people.
Your servant heart and spirit will be a living legacy. Enjoy your well-deserved and earned retirement. God's continued blessings for you.
Exceptional servant
Sen. Matthews, you have been an exceptional servant to/for the people of Bowman, District 39 and the state. Your time as a South Carolina representative and senator has made us proud. Your legacy will be remembered for all your contributions to South Carolina. Be blessed and enjoy your well-deserved retirement my faithful servant and friend.
Supporter of Positeen
Project Life: Positeen Inc. is indebted to you for your loyal and dedicated service as senator for District 39 of Orangeburg County. We are very grateful for your generosity and kindness shown to us over the many years of service to our young people. You have truly been a blessing to us in our efforts to help students achieve academic success through our After-School-Tutorial Program. We wish you much peace and success as you enjoy your retirement. God Bless You.
Liz Zimmerman Keitt, staff and students
Inspiration of a principal
My name is Felicia Baker-Washington and I am a school nurse. Sen. Matthews was my principal at Gaillard Elementary School in Eutawville. I remember the disciplinary measures he used with the students. He was always fair. I can say that he gave me the inspiration to become the person I am today.
Fighter for what is right
Congratulations Sen. John Matthews on your retirement! I grew up in the hometown (Bowman) of Sen. Matthews, therefore, I know him quite well. He has always been a fighter for what is right. Senator, continue to enjoy your retirement and may God continue to bless you.
Hands-on, in-person attention
I am happy to share my experience with Sen. John Matthews. As an elected official, constituent service was his constant goal.
The upper western section of Dorchester County received hands-on, in-person attention. The public schools, community development, political awareness, economic progress, parks and recreation were all impacted by the handiwork of Sen. Matthews.
I can attest to his delivery of resources through the restoration of the St. George Rosenwald School. I wish him well.
Ralph James, Rosenwald School Board, Upper Dorchester Civic Organization
Praying all goes well
Congratulations, Sen. Matthews, on your retirement. We pray that all will continue to go well for you in the future. May God forever bless you.
Jerry and Juanita Richardson, Shanika Richardson Sims, Mareo Richardson and Lydia Richardson
Making things better
Congratulations and thank you!
These words are the least that we can say to an awesome leader and thoughtful man of service. We congratulate you for the time and sacrifice that you made over the last four decades to make things better for your constituents and fellow man. Thank you for leading the way for improvements in education and other important areas for all of us. We appreciate all that you did and honor you on this day! Humbly submitted.
Jacob and Gloria Heatley, Orangeburg
Saints of Bowman smiling on him
Congratulations to my "Big Brother," Sen. John W. Matthews Jr., as he retires from his many dedicated years of public service. It is indeed an honor and an utmost pleasure to have known him all of my life, watching him play basketball at our beloved Bethune Memorial High School, admiring and applauding his educational pursuits and achievements, respecting his love and devotion to his family members, his beloved Pineville UME Church, and all of his friends and constituents throughout his political career!
"Jr.", as we call him, NEVER FORGOT FROM WHENCE HE CAME! Every person who proudly hails from Bowman, South Carolina, gives thanks to Almighty God for our beloved Sen. John W. Matthews.
Congratulations again! May God bless you greatly with many happy retirement days, peace and contentment in knowing that you have represented us well, and that many loving SAINTS of Bowman are smiling down on you!
Mazie Glover Lewis, Columbia
Pioneer, mentor, friend
Having the opportunity to serve with Sen. John W. Matthews Jr. must certainly be a hallmark of anyone's career in the South Carolina General Assembly, and it was definitely one of the greatest privileges I was afforded during my first eight years in the Senate.
Sen. Matthews is a pioneer, a mentor and a friend who has an easiness and calmness about him – along with a level of respect gained over 40 years of honorable service – that allowed him to work with almost anyone to reach the consensus required to achieve great things for District 39 and for the people of South Carolina.
He is one of the all-time giants in state government, cut from rare cloth that is in too short of supply in today's politics. While Sen. Matthews is greatly missed in the Senate chamber, he is most deserving of all of the wonderful things that await him in retirement.
Sen. Thomas McElveen, Sumter, Kershaw, Lee, and Richland counties
Standing for education
I worked with former Sen. John W. Matthews all of my 30 years as a public school administrator in Orangeburg County. During this long professional association, I engaged with the senator on many calls and one-on-one, in-person discussions about the critical needs of education in our state, particularly as they related to students living along the I-95 corridor.
I can say without reservations, during that period of interactions, he always kept the discourse and his recommendations to address my concerns on a high ethical and moral plane, articulated what he believed was best for all students, and voted on educational policy that reflected those convictions.
David Longshore Jr., former superintendent, Orangeburg County School District 3
Standing for the 3 E's
Congratulations on your retirement from the South Carolina Senate. I extend my sincere appreciation for your dedicated hard work and exceptional efforts in leading the fight for your "3 E's – Education, Employment, Environment."
Thanks for being a champion in sponsoring countless bills that served to improve education at all levels and advance the economic welfare of all. Thanks for your sincere "winning smile" and the many times you adjusted your busy schedule in response to my requests for your participation at events.
May God continue to bless and keep you.
Mary J. Dantzler Butler, Orangeburg County
Missed at the Statehouse
Much missed at the Statehouse, always a gentleman with a kind word for all he encountered.
Deborah Barthe, S.C. Senate staff
Honor to serve with him
Sen. John Matthews is one of the finest people I have ever known. During my two terms in the state Senate serving with him, he always had a smile on his face and was willing to work with others to serve the people of his district and the state. His record of service in the General Assembly will be very hard to surpass and I am honored to have served with him.
Sen. Tom Young, Aiken County
A man to be honored
The Williams family of Elloree wishes to pay tribute to Sen. John W. Matthews Jr. He has been and continues to be not only a friend of the family, but also a supportive presence to Williams Funeral Home of Elloree, and the community at large.
His guidance, encouragement and support enabled us to navigate the construction of our new establishment, and parking lot. He served as our keynote speaker at the grand opening and dedication in November 2016. He is to be honored for his service to the community.