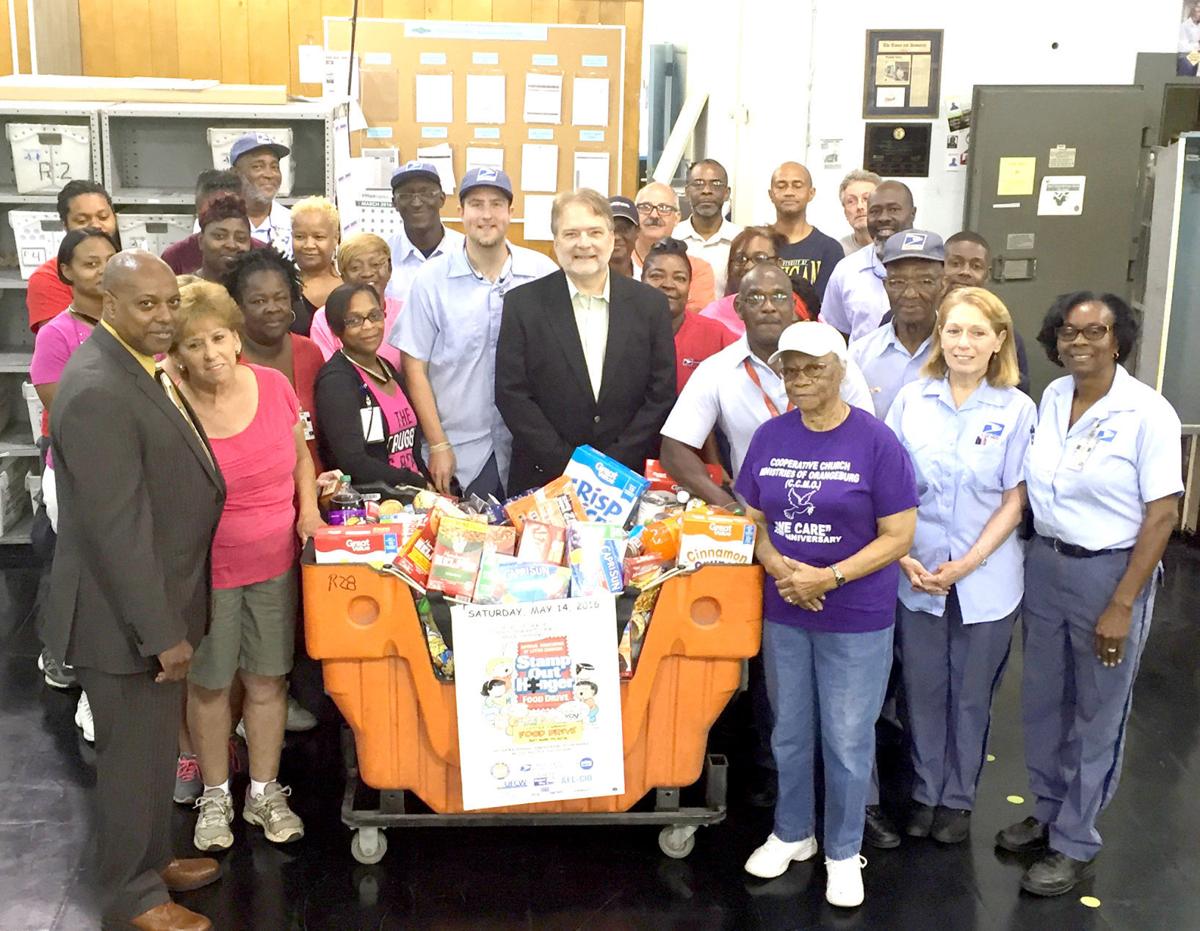 Grits, sugar, canned vegetables, boxes of cereal, cornbread and macaroni are some of the nonperishable foods that letter carriers will collect this weekend during the nation's largest one-day food drive.
Letter carriers from Orangeburg and surrounding areas will join other carriers in more than 10,000 cities and towns nationwide to collect food this Saturday, May 14, as part of the National Association of Letter Carriers' 24th annual "Stamp Out Hunger" food drive.
Carriers will collect the nonperishable food donations left beside or in mailboxes and post offices and deliver them to local community food banks, pantries and shelters.
Orangeburg donations will be given to Cooperative Church Ministries of Orangeburg.
Longtime CCMO volunteer Elizabeth Douglas, who has participated in the drive for 22 years, was among those at the Orangeburg Post Office Tuesday morning to help kick off this year's volunteer effort. Sen. Brad Hutto, D-Orangeburg, was also there.
Douglas said the food donations, which enable CCMO to feed the needy, are appreciated.
"It means so much because we have so many needy people. We feed about 400 families each year. We appreciate everything we can get from anybody," she said.
CCMO is open 9:30 a.m. to 12:30 p.m. Monday, Wednesday and Friday.
In 2015, the nationwide drive collected approximately 71 million pounds of food from postal customers for the needy. More than 1 billion pounds of food have been collected since the NALC National Food Drive began.
Local event coordinator Jon Rector said the Orangeburg Post Office gets the support of area branches, including Cope, Bamberg, North, Bowman, Denmark, Neeses, Norway, Rowesville, Santee, St. Matthews and Vance.
"The main reason we try to do it is because we want to make a difference. It sounds cliché, but we want to stand out in the world and stand out for the right thing," Rector said.
"I think that we all feel fortunate to have the jobs we have. Through our appreciation for what we're given, it drives us to want to give back," he said. "The best way we can do that is through giving food."
Orangeburg Postmaster Dan Washington said, "It's that time of the year, and we all got together as a team. This year we're going to try to break records. Last year we had an outstanding year with gathering the food, and this year will probably be even better."
"We're going to have an exciting year feeding the hungry," he added.
Canned meats, including tuna, chicken and salmon; canned and boxed meals; and canned fruits and vegetables are among the most desirable food items to donate. Items that will not be accepted are rusty, outdated and unlabeled cans; glass containers; homemade items; and opened or used products.
Postal customers will receive notification cards, along with plastic bags in which to place donated items. A bin will be placed in the lobby of the Orangeburg Post Office for individuals to place food items in, Washington said.
Hutto on Tuesday presented a proclamation on behalf of the Orangeburg City Council designating May 14 as "Letter Carriers' Food Drive Day."
"We thank you. I know people may not say that enough. People really do expect their mail to be there, and we thank you because it is there. People depend on what they get through the mail," the state senator said. "They depend on the mail to get their bills paid and other things. So thank you very much for all that you do for everybody in Orangeburg."
Rector said, "There was a time in my life when I was very poor. I was definitely standing outside restaurants looking for scraps, so this is real. People really do need food. … We really are being a part of something that is much bigger than ourselves."
The U.S. Postal Service reports that 49 million Americans face hunger every day, including millions of children.