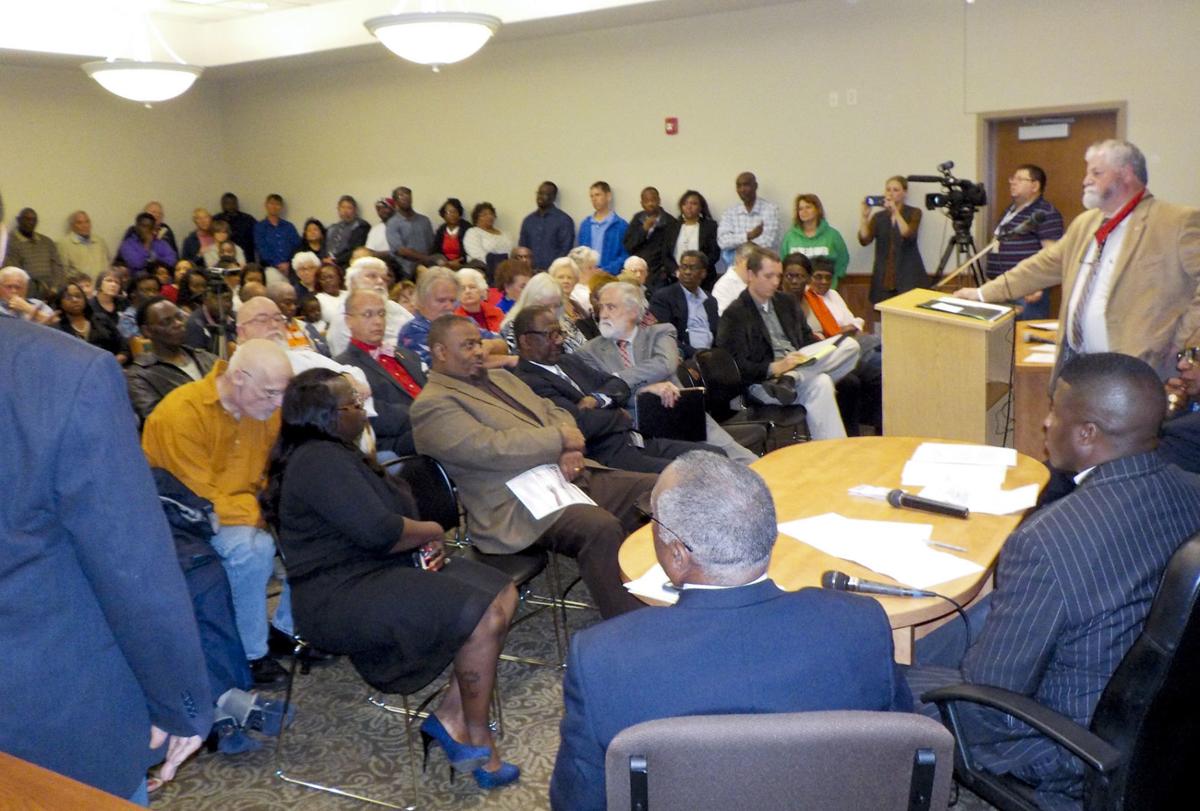 HOLLY HILL -- Representatives of the Sons of Confederate Veterans listened Thursday night as citizens expressed concerns about the organization's plans to erect a "Confederate Memorial Banner" just outside of the Holly Hill town limits.
But at the end of the meeting in town council chambers, the SCV members refused to reconsider its plans for a flag display, or even discuss a compromise with the more than 100 people who packed the room.
"My thoughts about compromise is, basically there is no compromise anymore," SCV Commander T. Leland Summers said. "However, we are willing to listen. If we weren't willing to listen, we wouldn't be here."
"There is no compromise," Summers repeated later when asked again by an audience member if any compromise would persuade the SCV to reconsider its intention to erect the flag.
The Ministerial Alliance of Eastern Orangeburg County had helped organize the meeting at the request of Holly Hill Mayor William Johnson.
"Somewhere around the first of March, I got a call from someone inquiring what was going to be put up at the entrance to Holly Hill," Johnson said. "I checked into it and found that there was a group that wanted to put a Confederate flag at the entrance of our town."
"I got lots of calls and business people, regular citizens, people from the community asked, 'What can we do? We really don't want that. We think that it will divide us. We think it's not good for economic development,'" the mayor said. "So, I spoke with the council and we, too, agreed we should do something."
After considering their options, Johnson and the council members passed a resolution on April 3 asking the Sons of Confederate Veterans to reconsider placing the flag on the edge of town. In the process, Johnson also got in touch with Summers, who asked for an opportunity to address concerned citizens. As he thought about how he could put such a meeting together, Johnson turned to the ministerial alliance for help.
"I knew we had the Eastern Orangeburg Area Ministerial Alliance that was diverse, and I thought that was the group that we would reach out to," he said.
In addition to Johnson and Summers, panel members participating in the discussion included Father Tom Hendrickson, rector of the Church of the Epiphany in Eutawville; Rev. R.L. Brown, pastor of Greater Target A.M.E. Church in Holly Hill; Holly Hill Police Chief Josh Detter; local businessowner Robbie Mims; and Julius Steed, pastor of Greater Unity A.M.E. Church of Holly Hill. Rev. Gralin N. Hampton, founder of New Way Church Worldwide and president of the ministerial alliance, moderated the discussion.
"I'm very disappointed after going through 10 years of suffering as a small business owner that now we've got this to be faced with," Mims said.
For his part, Summers discounted the notion that the flag might adversely impact local businesses.
"There is no study that I have been able to find that says that the economic impact of displaying the Confederate battle flag is detrimental," Summers said. He did, however, distance himself and the SCV from recent comments about the proposed project made by James Bessinger of the South Carolina Secessionist Party.
"I can assure you that Bessinger is not part of the Sons of Confederate Veterans, and he will never be a part of the Sons of Confederate Veterans," Summers said. "We are not affiliated with any other organization, period."
He said Holly Hill became a site for the flag project when a local resident donated the property to the SCV.
"We didn't single out Holly Hill for a place to put a flag," Summers said. "It just happened to be one of the first sites that was made available to us. There are others available to us in various parts of the state and, yes, we're even looking for more."
Though unwilling to compromise on the flag placement, Summers did express a willingness to keep the lines of communications open with the community. Similarly, organizers expressed their appreciation to the SCV representatives who participated in the meeting.
"I sincerely believe that there can be no real growth without real dialogue," Hampton said. "We must not be enslaved by what has been or even what is. We must be freed by the enormous possibilities that are before us."
Be the first to know
Get local news delivered to your inbox!