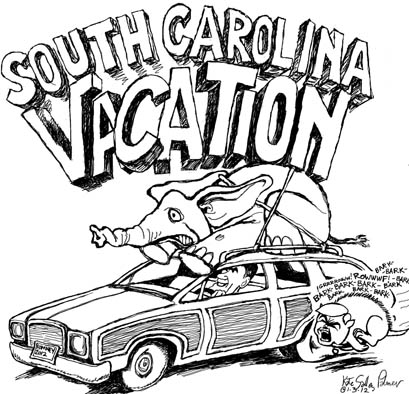 Last December, Orangeburg native and former Greenville News political cartoonist Kate Salley Palmer started a blog, for which she does political cartoons and illustrated commentary.
The new blog gives Kate a chance to indulge her passion for political cartoons and observation.
She enjoyed doing "cartoonist's notebook" articles for The Greenville News, attending miscellaneous events from bowl games to country music concerts to political campaign appearances.
Kate drew cartoons and wrote at and about each event, creating an informal "cartoonist's notebook" which described the happenings from her point of view.
Kate says one of her favorite assignments was the evening in 1980 when she covered a campaign appearance in Greenville by then-candidate Ronald Reagan.
It was his 69th birthday, and the restaurant produced a huge fluffy cake with candles for him to blow out. "The national press was covering the event, and it was crowded. I was backed up against a table with only the Secret Service between me and the candidate." she remembers. "When he leaned over to blow out the candles, Reagan got a little 'overbalanced,' fell into the cake, and got white icing all over his suit!"
That story is covered in full in Kate's memoir, "Growing Up Cartoonist in the Baby Boom South," which features Orangeburg quite prominently.
Kate believes that political cartoonists have a strange relationship with Power and the powerful.
"Our job is not to become friendly with Power," she says; "Our job is to get as close to Power as we can without getting any on us."