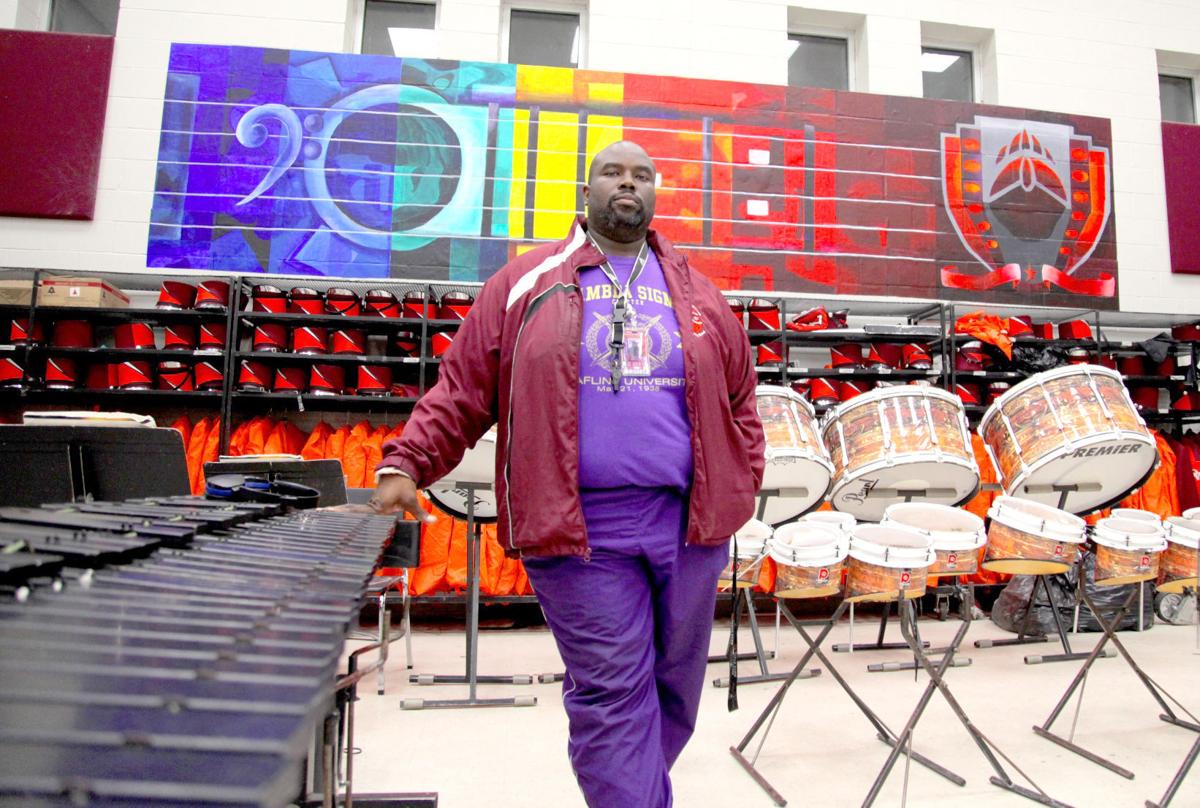 Busy weekdays, busy weeknights and busy weekends.
The work doesn't stop for teachers and especially not when you're tasked not only with classes throughout the day but with overseeing multiple bands and organizations, plus keeping parents happy at the same time.
That's the life of Michael McClain, the band director at Orangeburg-Wilkinson High School.
As he said, "Band season is all year long."
When he arrives at school around 7 a.m., McClain begins monitoring O-W's halls, a task all of the school's teachers are given.
He greets the familiar faces of those that are in the band program as well as those who just happen to know of him through friends.
McClain started working at O-W in 2010 after teaching at Columbia High School for 10 years.
He's not only in charge of the Orange Pride Marching Band, but the concert band, wind ensemble, two jazz big bands and one smaller jazz combo as well.
Along with this, he is the advisor for the Highlight Society, a campus community service organization which holds fundraisers and participates in "Adopt-a-Hallway." Once a month, they brighten a designated hallway or decorate it for upcoming holidays.
He balances all this with teaching band and music appreciation classes throughout the day.
On top of it all, he is also a member of The Exotics, a community band made up of past band directors and musicians in the area including Dwight McMillan, Rogers Jarvis, Wilbur Shuler, Leroy McClain, James Stroman and Harry Palmer, among others. The late Skipp Pearson used to drive the band around to different gigs.
McClain has also been the band director for 18 years of Palmetto Boys' State, a program where rising high school seniors learn about the American system of government.
Through it all, McClain manages to keep the sweat from showing.
He says it's hard sometimes to hear negativity from the community.
"With all that we do for the kids of our community, from the experiences that we give them to the education that we give them, the most painful thing is negativity for all that you do," he said. "I don't follow up negativity and I'm not doing it for appreciation.
"I do it for the love of music and my job is to bestow the love of music on as many young minds as possible either by teaching it, performing it (or) having them perform it. I see it through in everything I do."
McClain said one of his proudest moments came when he successfully finished his first year.
"My first year was a great learning experience and a great opportunity to walk into one of those prolific programs and try to continue the tradition," he said.
"We came in, and we did!"
Each year, he gets to expose students to new environments, experiences and learning opportunities.
He is working to take the band down to Atlanta for the annual Honda Battle of the Bands.
The battle features the top eight marching bands of Historically Black Colleges and Universities. They exhibit their best halftime shows.
But that's just the hook to entice the students.
"Over the time, we've had more kids taking advantage of the college fair," he said.
During the weekend of the battle, a college fair is offered for students to scope out potential colleges and speak with representatives. Seniors also have the ability to audition for scholarships.
McClain said many students are accepted or offered full rides on the spot.
"The last few years, acceptance scholarship offers just for our seniors at Honda for that weekend have been close to $1 million and that's not all of the seniors auditioning," he said.
One year, McClain said they even got close to a total of $10 million in scholarship offers.
This year, he hopes to see the same for his students.
The band was invited once again to play at Mardi Gras, which he feels is an experience students should have to see what's out in the world for them.
His students have been as far north as Chicago, where they participated in the Thanksgiving parade. He has taken the jazz band as far south as the Bahamas.
He said, however, that these trips were not for leisure but to go in and leave their mark to show how talented the youth of Orangeburg really are.
"We're not going vacationing just to enjoy the sights," he said. "We're going to enjoy performing and have people enjoy us being there."
McClain has had a passion for music since birth.
His father was a band director at Edisto High School and later taught at Bowman. McClain's mother worked alongside him with the school's majorettes.
Now it seems his life has come full circle as he works with his wife Wanda McClain, who oversees the band's color guard.
Through it all, McClain said he still feels the rewards of seeing his students succeed.
"The most rewarding part of my career as a teacher is the success of my students," he said. "Not just the students that were in music, but all of them."
McClain said some have gone on into acting or playing gigs regularly. Some have even gone on to become teachers themselves.
"I think those are my favorite," he laughed. "They send you a text or hit you up on Facebook and say, 'I apologize. I'm teaching school now and I kind of remember what you told me and I have to say I apologize because I don't think I was the best student.'"
"Those are the moments that let you know that your work hasn't gone in vain," McClain said.
McClain said his mantra in life is, "Always leave your legacy."
He plans to continue taking the band to higher heights and more profound experiences.
"No matter where we go, we must perform," he said. "They're going to know we were here, why we were here and they're going to miss us when we're gone."
Be the first to know
Get local news delivered to your inbox!