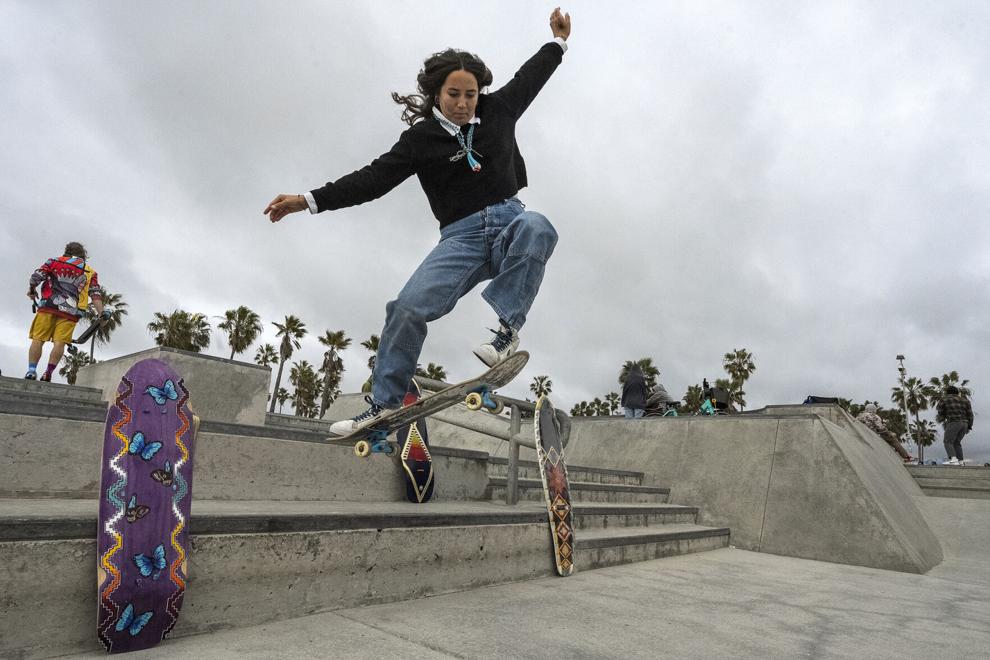 PHOENIX — Years ago, skateboarding was branded as a hobby for rebels or stoners in city streets, schoolyards and back alleys. Those days are long gone.
Skateboarding, which has Native Hawaiian roots connected to surfing, no longer is on the fringes. It became an Olympic sport in 2020. There are numerous amateur and professional skateboarding competitions in the U.S. On Friday, the U.S. Postal Service issued stamps that laud the sport — and what Indigenous groups have brought to the skating culture.
Di'Orr Greenwood, 27, an artist born and raised on the Navajo Nation in Arizona whose work is featured on the new stamps, says it's a long way from when she was a kid and people always kicked her out of certain spots for skating.
"Now it's like being accepted on a global scale," Greenwood said. "There's so many skateboarders I know that are extremely proud of it."
The postal agency ceremoniously unveiled the "Art of the Skateboard" stamps in a Phoenix skate park as a skateboarding competition was going on nearby.
The stamps feature skateboard artists from around the country, including Greenwood and Crystal Worl, who is Tlingit Athabascan. William James Taylor Jr., an artist from Virginia, and Federico "MasPaz" Frum, a Colombian-born muralist in Washington, D.C., round out the quartet of featured artists. Everyone but Taylor was in attendance.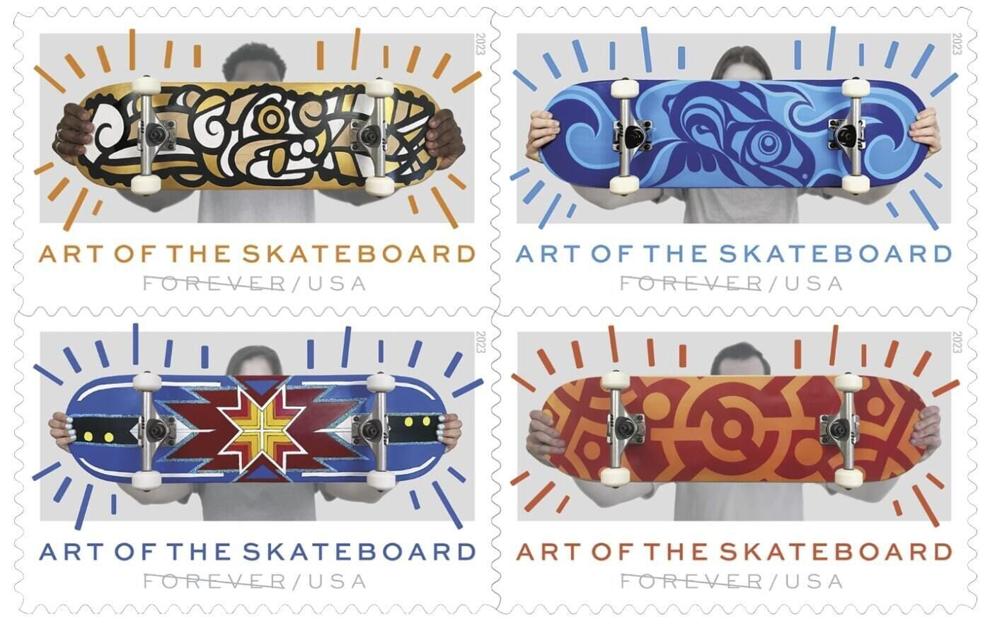 "Over time skateboards themselves have become works of art highlighting artists' creativity, boldness and energy," William Zollars, of the USPS Board of Governors, told an audience of city officials and supporters. "As an American institution older than the country itself, the Postal Service is always looking for ways to highlight and honor stories and histories that are unique to the United States."
The stamps underscore the prevalence of skateboarding, especially in Indian Country where the demand for skate parks is growing.
The artists see the stamp as a small canvas, a functional art piece that will be seen across the U.S. and beyond.
"Maybe I'll get a letter in the mail that someone sent me with my stamp on it," said Worl, 35, who lives in Juneau, Alaska. "I think that's when it will really hit home with the excitement of that."
Antonio Alcalá, USPS art director, led the search for artists to paint skate decks for the project. After settling on a final design, each artist received a skateboard from Alcalá to work on. He then photographed the maple skate decks and incorporated them into an illustration of a young person holding up a skateboard for display.
Alcalá used social media to seek out artists who, besides being talented, were knowledgeable about skateboarding culture. Worl was already on his radar because her brother, Rico, designed the Raven Story stamp in 2021, which honored a central figure in Indigenous stories along the coast in the Pacific Northwest.
The Worl siblings run an online shop called Trickster Company with fashions, home goods and other merchandise with Indigenous and modern twists. For her skate deck, Crystal Worl paid homage to her clan and her love of the water with a Sockeye salmon against a blue and indigo background.
She was careful about choosing what to highlight.
"There are certain designs, patterns and stories that belong to certain clans and you have to have permission even as an Indigenous person to share certain stories or designs," Worl said.
The only times Navajo culture has been featured in stamps is with rugs or necklaces. Greenwood, who tried out for the U.S. Women's Olympic skateboarding team, knew immediately she wanted to incorporate her heritage in a modern way. Her nods to the Navajo culture include a turquoise inlay and a depiction of eagle feathers, which are used to give blessings.
"I was born and raised with my great-grandmother, who looked at a stamp kind of like how a young kid would look at an iPhone 13," Greenwood said. "She entrusted every important news and every important document and everything to a stamp to send it and trust that it got there."
The four skateboards designed by the artists will eventually be transferred to the Smithsonian National Postal Museum, said Jonathan Castillo, USPS spokesperson.
The stamps, which will have a printing of 18 million, were available at post offices and on the USPS website starting Friday. For the artists, being part of a project that feels low-tech in this age of social media is exciting.
"It's like the physical thing is special because you go out of your way to go to the post office, buy the stamps and write something," Worl said.