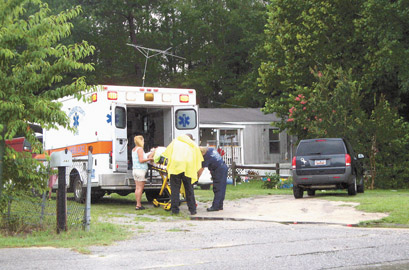 On Friday the 13th, an Orangeburg man became one of an estimated 360 U.S. residents per year who are struck by lightning.
Emergency crews were sent to the 200 block of Tecza Drive about a mile west of Drag Strip Road around 12:30 p.m. as a storm front rolled in from the southwest.
The victim was said to be conscious and talking with emergency crews before being transported to the hospital.
And that was only after his Jack Russell terrier, perched on the prostrate man, reluctantly allowed Emergency Medical Services workers to approach him.
A witness who didn't provide his name said he and the victim were preparing a lawn mower in the back yard of the residence for a job they'd planned to finish Friday.
As the men were huddled around the mower, clamping off a gas leak, Friday the 13th arrived.
"That thing rolled up pretty quick," the witness said of the storm.
The witness was knocked about 10 feet away and the victim was sent several feet in the opposite direction. Then came the explosion of thunder.
The witness said he believes the lightning bolt may have struck the house initially, then traveled along a power line that provided a work shed with electricity.
"I think it hit him in the leg. His eyes were rolling in his head," the man said. "I was afraid he was paralyzed."
It's not the first time the residence has been struck. Several years ago, a power pole was hit.
The residential area off Neeses Highway is called "tornado alley" by those who live there, he said.
An estimated 40 people per year are killed by lightning strikes in the United States. Men are four times as likely as women to be struck by lightning, according to NASA.
With his dad having been struck earlier, his friend struck Friday and several close calls in between, the witness still says he doesn't expect his turn is any closer.
"I respect it, I'll put it that way," he said. "Lightning ain't nothing to play with."