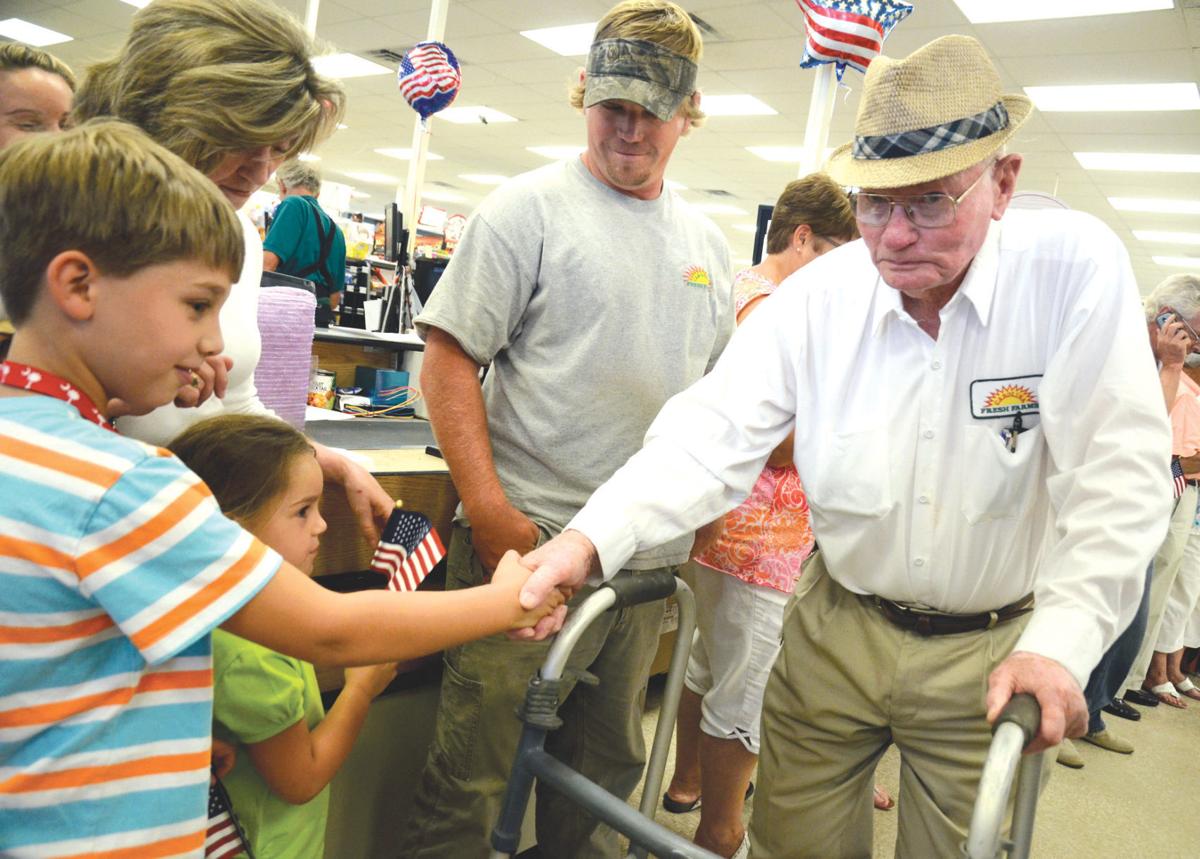 A member of America's "Greatest Generation," Carolina Fresh farms founder, Times and Democrat's 2014 Person of the Year and friend to all passed away on Friday at age 95.
John Anthony Fogle, affectionately known as "Papa Tony," died at his home in Neeses.
During World War II, Fogle served in the 90th Infantry Division, nicknamed "Tough 'Ombres." His division landed on Utah Beach and fought its way through Normandy, France, eventually fighting in the Ardennes Forest at the Battle of the Bulge.
Twice during World War II, Fogle received injuries, and for his service, he received the Purple Heart.
After returning from the war in the late 1940s, Fogle began farming cotton, corn and soybeans, starting out with less than 100 acres.
Fogle started the small farming operation which grew to over 3,000 acres and is called Carolina Fresh Farms.
The main operation remains in Neeses, with a smaller farm in Rutherford, North Carolina.
You have free articles remaining.
Over the years, Fogle purchased vast amounts of land, sometimes paying as little as $10 an acre, then selling it for $200 or more an acre.
He next began farming hay and timber in the 1960s and called the operation Coastal Hay Farms.
Now the business he founded is Carolina Fresh Farms and specializes in growing and selling sod.
In addition to farming, Fogle also owned several other businesses, including a grocery store and a hat shop in Columbia.
Fogle donated sod and land to various organizations over the years: land for the former private school Heritage Hall, grass for North Greenville University's sports complex in Tigerville, and grass for the Lugoff-Elgin High School baseball field as well as landscaping materials for Hunter-Kinard-Tyler High School and others.
His contribution to North Greenville University, where he served as a board member, resulted in the football field being named "Fogle Field" to honor him and his wife, Margaret.
He was an avid contributor to local sports teams – including a high school bass fishing team – and Boy Scout troops.
Fogle was an active member of the Ruritan Club and Calvary Baptist Church in Neeses, where he was a former deacon.
Fogle is survived by his wife Margaret Smith Fogle; son John Anthony Fogle III and his wife Bonnie of Norway; daughter-in-law Deborah Fogle of Neeses; brother Bobby Fogle; grandchildren Carol Lynn Fogle McCuen, Andy Fogle, Drew Fogle, Ross Fogle, Cole Fogle; and seven great-grandchildren. His son, Steven R. Fogle, preceded him in death, along with brothers Henry Fogle, Carlisle Fogle, Carrol Fogle, Norman Fogle, Bryan Fogle and a sister, Virginia Port.
The family will receive friends from 3 p.m. to 4 p.m. Sunday, June 16, prior to his service at Calvary Baptist Church in Neeses.