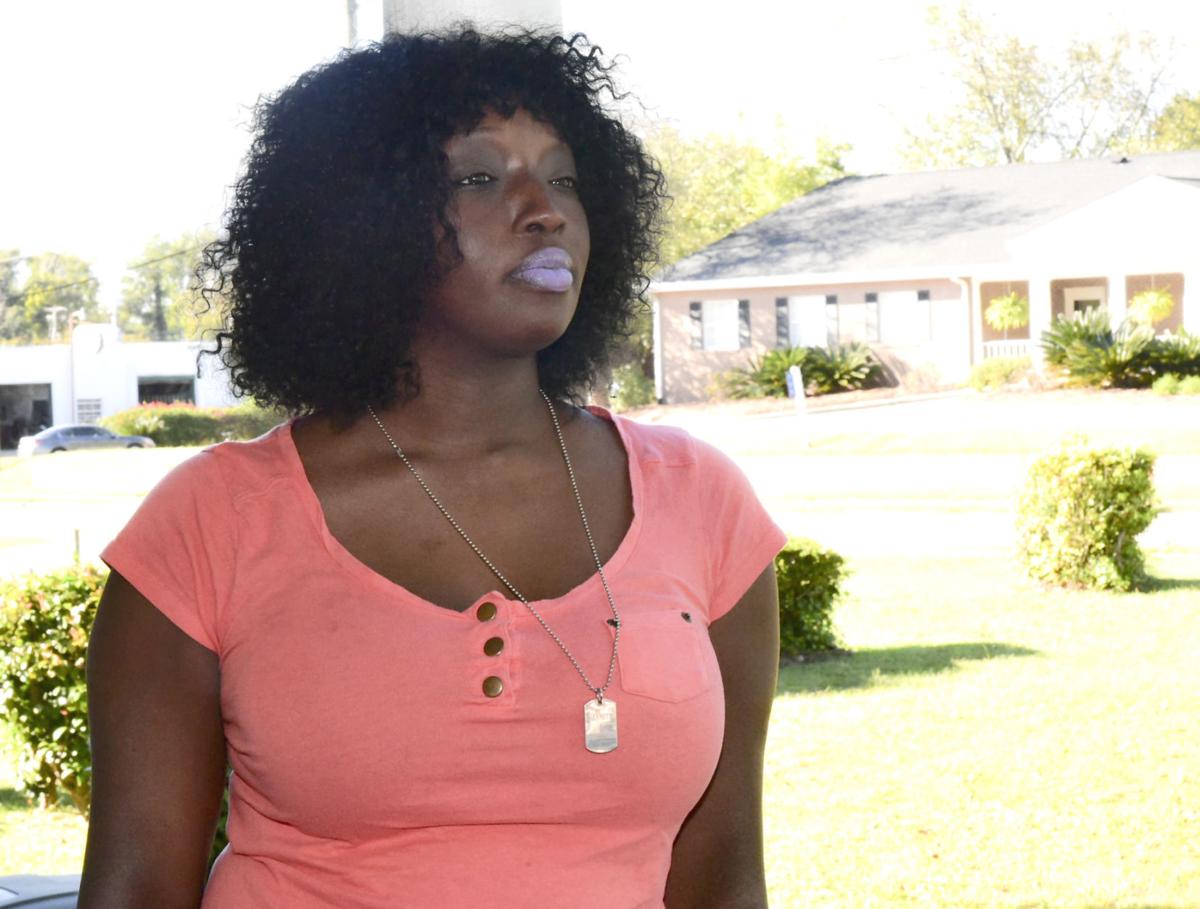 Keyonnah Haynes vividly remembers the pearl handle of the snub-nose revolver. It was the weapon placed at the side of her mother's head by her abusive stepfather.
On the night of Aug. 25, 1994, the massive man burst through the door of their home while her mom was taking a shower. It was the night she almost lost her life.
Haynes, who was 8 at the time, remembers standing in the hallway as her mother was yanked from the shower and pummeled in the face before being shot in the head. The man then shot her mother's job supervisor, who was at the home.
"My mom was able to get up, blood leaking from her head, dropping blotches and blotches everywhere. She said, 'I just need to get to the hospital,'" Haynes said.
She also watched the supervisor take his last breath at the hands of her stepfather.
"The supervisor had ran and hid under my bed. He (stepfather) reached under the bed and kept shooting. As he's getting shot, he's looking at me the entire time. I watched his hands tremble, and they finally just rested," she said.
That 8-year-old is now 30 years old. And she idolizes the strength of her mother, who stayed in the hospital for months recovering from her horrific injuries.
Haynes is also a survivor. The mother of three went through abuse at the hands of violent men. She recalled how one man kicked in her door while drunk and began fighting her while she was eight months pregnant, leaving a long scar on her back.
"It just went from that relationship into another. I feel no woman should give no boyfriend wife tendencies at all, when at the same time you're being mistreated. You're being beaten and have to try to smile around your family when you really don't want to smile," she said. "When you find out what you're worth, it's priceless."
Hayne's story of survival points to the continuing scourge of domestic violence. One local victims' advocacy agency is working to reduce the violence through a holistic approach which focuses on both prevention and intervention.
'We do much more than sheltering'
Help is available for victims of domestic violence.
CASA Family Systems provides sexual assault services, complete with a 24-hour hotline; Alternative Methods, a batterers' intervention program; domestic violence services, including individual counseling; and an emergency shelter for women and children.
The agency has applied for a U.S. Department of Agriculture grant to assist in the construction of a new emergency shelter for women and children.
CASA Executive Director Gilda Cobb-Hunter thanked Orangeburg County Council and voters for the more than $800,000 which the agency has already received for the project from the 1 percent capital project sales tax.
"We're moving in the right direction. We will announce more as we get closer to actual construction," she said. Cobb-Hunter is also a Democratic representative in the State House.
CASA's Edisto Children's Center seeks to prevent and investigate physical and sexual violence against children. It also treats the victims.
The children's center is partnering with the Children's Trust of South Carolina to deliver its Strengthening Families Program. The program works to build parenting and family skills.
Also, CASA has seen a growth in requests for information and speakers through its community education program.
Cobb-Hunter said Hayne's story illustrates how CASA works with the entire family in dealing with domestic violence.
Hayne's mother was a resident in CASA's emergency shelter along with Haynes and her two sisters. Haynes also found herself in the same room with her own three children several years later.
"I knew I was in the same room when I saw my name was carved in the floor," she said.
The Elloree native went on to participate in the Strengthening Families Program and is now living happily in Denmark, South Carolina, with her children.
The 2004 Orangeburg-Wilkinson High School graduate went on to study machine tool technology at Orangeburg-Calhoun Technical College.
She said the lessons she learned through CASA have helped her raise her children and deal with – or without – relationships with men.
"You have to find who you are. You have to seek inspiration that you can just grab on to and really meditate on. If you don't know your worth, you're not going to know yourself. Once you learn who you are, you'll know what you can accept," Haynes said.
"It's not OK to accept abuse of any kind. Anything that's keeping you from getting the better you is not acceptable," she said.
You have free articles remaining.
Cobb-Hunter said, "What this young lady's story proves is the importance of intervention, particularly with children. It shows us that what we're doing matters and is making a difference, and that's the biggest reward any of us could ask for."
New domestic violence laws passed last year include changes that have restructured the entire penalty system in the state.
Also, the Governor's Domestic Violence Task Force was formed in 2016 to address the gaps in service to the victims and perpetrators of domestic violence.
CASA Chief Operating Officer Labrena Aiken-Furtick said it is too early to tell whether it is working.
"A lot of agencies and entities are in now in the process of planning to move forward with the task force recommendations. I think time will tell whether or not these will work or need to be tweaked. There's always work to be done, but I think we've gotten off to a great start," Aiken-Furtick said.
She is pleased with the emphasis on educating children as young as middle school on the dynamics of domestic violence.
"The focus on education is one that I think is really important, putting a focus on prevention and starting when the kids are very young in recognizing violent behavior," Aiken-Furtick said.
'You can't legislate behavior'
The latest report from the Violence Policy Center ranks South Carolina fifth – it was once first -- in the nation in women killed by men.
Local officials say improving the situation will require a legislative and a coordinated community response.
The South Carolina Attorney General's Office announced the 2015 domestic violence statistics last month.
The data revealed that Orangeburg was one of 19 counties that reported one or more domestic homicides. Orangeburg County had three homicides, with three people awaiting trial for the offenses.
No victims were reported in Bamberg County. Calhoun County had one the case of a man dying from a gunshot wound, with the defendant in that case awaiting trial.
Aiken-Furtick said while the number of domestic violence deaths in the counties are relatively low, they should be read with cautious optimism.
Cobb-Hunter agreed, saying, "Before we pat ourselves on the back too much, we need to recognize two things: one, depending on how a report is written up, it may or may not be counted as domestic violence. I would just say that while the numbers appear to be down, we don't need to rest on our laurels.
"We need to continue to make sure that people understand the dynamics of this issue and focus on continuing our work in prevention. While we're glad to see it go down, we've been at this long enough to know that it may or may not be an accurate reflection of what's actually occurring."
Under the state's newly restructured domestic violence laws, first-offense criminal domestic violence is a crime that can now be heard in General Sessions Court rather than being mandatorily sent to Magistrate's Court.
First Circuit Solicitor David Pascoe said his office is already putting all first-offense CDV cases in General Sessions Court.
"We're going to bring them all up to General Sessions in Orangeburg before the end of the year. And they're going to be brought up in Calhoun County. I'm going to continue to prosecute them in magistrate's court in Dorchester County for a while, but that's because I have an assistant prosecutor who's prosecuting those cases," Pascoe said.
The solicitor thanks state Gov. Nikki Haley for providing the state funding for additional prosecutors this year. He said the funding has specifically allowed him to bring the CDV cases up to General Sessions Court in Orangeburg and Calhoun counties and to provide a prosecutor in the Magistrate's Court in Dorchester County, with the option to bring cases to General Sessions Court there, too.
"Quite frankly, that's where people charged with domestic violence need to go, not where you're just sitting with people who do 40 in a 25 (mile per hour zone)," he said.
Pascoe said the creation of a Domestic Violence Fatality Review Committee is another crucial part of the legislation.
"We've also established a committee in the First Circuit, which is made up of my prosecutors, law enforcement and counselors throughout the First Circuit. It's an 11-member committee, and I just sent most of them to training," he said.
"I also want to look and see if we can get more advocacy centers involved in helping out in the First Circuit," he said, noting that CASA Family Systems and Dorchester's Community Against Domestic Abuse program are already involved.
"They do a fine job, but I'm looking to see if we can bring other advocacy centers to assist as well," he said.
Aiken-Furtick said the work of a Domestic Violence Fatality Review Committee will be beneficial in "giving communities an opportunity to look at the cracks in some of their systems."
"That is huge. Collaboration can always be improved upon," she said.
In the meantime, Cobb-Hunter said while it is too early to gauge the success of toughened domestic violence laws, a community response to the problem remains important.
"You can't legislate behavior, and that's why you can't look at legislation as the cure to this problem. Our philosophy at CASA is that this is a community problem that requires a community response," she said. "It's a very complex issue that requires complex and comprehensive solutions."