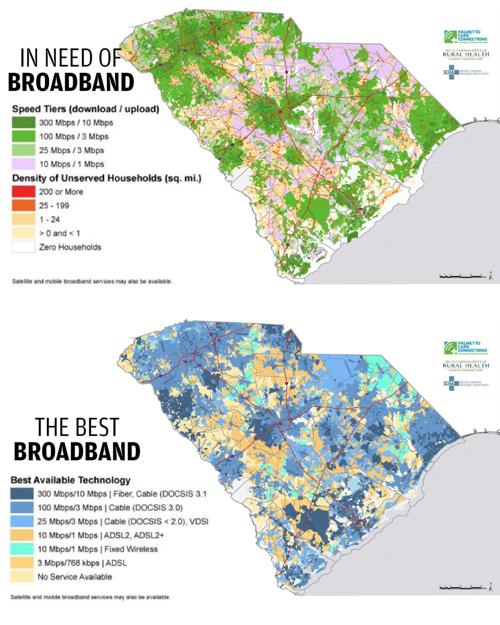 Health care and educational access in a COVID-19 world of self-distancing have shed light on the haves and the have-nots in internet access and technological capabilities for rural areas of The T&D Region.
Orangeburg County Administrator Harold Young said broadband gaps were very much evident when COVID-19 first hit.
"When the Department of Education talked about buses that had Wi-Fi, we did not have those on our district buses where other districts had," Young said. "In a nutshell, we were behind from the start."
"I have department heads and directors who can barely get a good enough signal to do Zoom meetings and Wi-Fi meetings," he said.
In order to ensure all students had access to the internet, the Orangeburg County School District transported buses equipped with Wi-Fi into neighborhoods and areas lacking such service. This enabled students previously without access to the internet to do their schoolwork.
Access gaps remain
The gaps in internet access were confirmed in a recent study by the South Carolina Office of Rural Health, the South Carolina Hospital Association and Palmetto Care Connections.
The three bodies released a map study showing where gaps in health care, especially telehealth, remain. The maps also are an indicator of where broadband needs are most pressing.
Using Geographic Information System mapping and overlaying Federal Communications Commissions data as well as Speedtest Intelligence data and U.S. Census data, two maps were produced for each county.
One map shows the areas of residential need by indicating the download and upload speeds as well as the density of unserved households per square mile.
The map shows what areas of each county have internet speeds in line with the FCC's recommendations, which are 25 megabits per second download and 3 Mbps upload.
The other map shows the type and speed of the best technology available in each area. Fiber and cable deliver the best speeds, and DSL-based services offer the slowest services.
According to the map, some rural areas in Orangeburg County have broadband and high-speed internet, including those surrounding Rowesville, Cattle Creek, Canaan, Branchville Bowman and Duncan Chapel.
Rural areas surrounding Norway, Neeses, Livingston and North also have received high-speed broadband through Illinois-based TDS Telecom.
However, there are gaps in locations such as Canaan, Four Holes, Eutawville, North, Norway and Holly Hill.
The data indicate 38.6% of the population of Orangeburg County did not have the minimum recommended internet speed as of 2019, according to Matt Hiatt, director of technology at PCC.
"There are a lot of other variables that impact those percentages, including the number of people who have access but who are not using that access due to monthly internet costs. So the percentages of those without high-speed internet access could be much greater," Hiatt said. "These maps are a good visual starting point for working with internet service providers, community and state leaders to connect the most people with broadband in each county."
In Calhoun County, the areas of most need for high-speed internet are generally west of Interstate 26 and south of Old Sandy Run Road in the county's panhandle area, and areas from the Lexington/Calhoun County line north of Bull Swamp Road, according to the broadband maps.
Generally, the southeastern portion of the county south of St. Matthews is also lacking high-speed internet, with the exceptions of some isolated patches.
About 29.6% of the population of Calhoun County did not have the minimum recommended internet speed, and 37.3% of the population of Bamberg County did not have the minimum recommended internet speed.
In Bamberg County, southern Bamberg County in areas such as Govan, Olar are in most need, according to the broadband map.
Three municipalities (Bamberg, Denmark and Ehrhardt) have broadband access but poor signal strength.
For many people, county libraries have free Wi-Fi that individuals can tap into.
Closing the gap
Orangeburg County has done its part to help improve broadband.
County Council has approved a resolution approving a $9.75 million U.S. Department of Agriculture grant to expand broadband infrastructure. The grant is a part of the ReConnect program.
The total cost of the project is more than $13 million. The county is providing a $3.5 million match for the grant.
"It still does not go far enough," Young said. "For every person we serve, there are three more wishing we could serve them as well."
The broadband installation project will connect 3,911 households, 21 farms, 17 businesses, 13 educational facilities, nine community facilities and a health care facility to the internet.
It will deliver at least 100 Mbps download speed and symmetrical upload speed.
The project is targeted for a 2021 completion.
The county has already placed broadband into critical facilities such as the hospital, fire stations and county buildings, making them "hot spots" that help neighboring communities tap into broadband.
The county also has left money in the fourth round of the 1% capital projects sales tax.
Tri-County Electric Cooperative has announced plans to invest $50 million over the next three years to construct 1,700 miles of fiber network that will serve about 15,000 homes and businesses in six counties, including Orangeburg and Calhoun.
The cooperative will receive some federal funds for the project through the FCC, but it does not yet know how much will be available.
The St. Matthews-based utility will be working with engineering firm Conexon.
The service will transmit data up to 1 gigabit per second, which is fast enough to download a full, high-definition movie in just a few minutes. The goal is to connect the first members by fall 2020.
The fiber-optic network will overlay the cooperative's current electrical system.
The Tri-County fiber network will also bolster the co-op's electrical infrastructure with smart-grid capabilities that will improve power outage response times, load balancing and electricity delivery.
The cooperative does not know how much of the $350 million it will receive.
Tri-County Electric President Chad Lowder said no one in the county has fiber optics going into their home providing a "true gigabyte service up and down."
"The majority of the area in Calhoun County, the most you can get is like Windstream is offering 25 meg (megabits) to the house over copper line," Lowder said. But service speeds fluctuate.
"Our service will be true fiber to the home and will offer a true gigabyte service to the house," Lowder said.
Meanwhile, Windstream announced faster broadband would become available in Cameron and St. Matthews from Kinetic. The addition is part of an ongoing investment in an 18-state network footprint by the company.
The deployment brings higher speeds to approximately 1,500 homes and businesses in the area.
The project is part of a multiyear investment program to deploy fiber and fiber-like services to communities across the Kinetic network.
Bamberg County also has taken steps to improve broadband, modeling Orangeburg County's efforts, through a number of measures including:
Community surveying and meetings as well as contact with state and federal delegations about need for broadband.
Applying for a USDA ReConnect Grant for Hunter's Chapel/Rivers Bridge areas of Bamberg County. The county is responsible for a 25% match. The grant could total upward of $2.5 million.
County officials say any local match required will come from South Carolina Department of Commerce funding and from revenue generated from the project. Officials say no local tax dollars will be necessary.
Obtained funding commitment from Department of Commerce to the tune of about $500,000.
Applying under Federal CARES Act to help fund its "shovel-ready" project for regional broadband grant.
Bamberg County Council passed a resolution in May requesting both the state and the federal government provide the needed funding to expand rural counties' broadband.
In the resolution, the county notes its "shovel ready" project has been put on hold for two years due to the lack of funding.
"We are awaiting federal guidance but anticipate there will not be a match requirement because it would defeat the purpose of providing this funding to rural communities who require financial assistance to establish broadband," Bamberg County Public Information Officer Mary Tilton said.
Has conducted community training of leaders about broadband.
"The COVID-19 pandemic has highlighted the disparity in internet accessibility in rural areas where students are unable to access distance learning and employees are unable to work from home," Tilton said. "Bamberg County Councilman Larry Haynes said during the May 18 council meeting that he would prefer to attend the meeting from the safety of his home, but his lack of broadband forces him to attend electronic meetings at the County Courthouse Annex."
Friends in the delegation
Both U.S. Sens. Tim Scott and Lindsey Graham, as well as 6th District Congressman and House Majority Whip James Clyburn and 2nd District Congressman Joe Wilson, are backing expansion of rural broadband.
Clyburn says while the coronavirus pandemic has shown disparities from rural and urban America, it is also a time to seize the day. Clyburn is the current chair of the House Democratic Rural Broadband Task Force.
"This is an opportunity to deliver broadband to rural America," said Clyburn, who has supported efforts by Orangeburg County and Tri-County Electric. "My vision is making America's greatness accessible and affordable for us all. That is my vision for all."
Growing up in rural South Carolina and being a history teacher at C.A. Brown High School on the east side of Charleston, and his wife being librarian in Berkeley County, exposed Clyburn to the technology divide.
He came to see broadband along similar lines to having electricity during earlier days.
"I know what it was like to grow up without electricity," he said. "It occurred to me that what happened to rural America when electricity came ... could happen to rural America if broadband came."
Wilson joined Clyburn in writing a letter to the House and Senate leadership calling on both bodies to expand high-speed internet in underserved areas and to make it affordable.
"During these times when many of us must stay at home, internet access is more important than ever," Wilson said in a statement. "People in these areas should still have the ability to learn, talk to their doctors, and do their jobs remotely."
The letter notes that unconnected Americans during the current pandemic are at a continued disadvantage as schools and libraries that provided free internet access are closed.
The letter also cites the challenges of rural residents to access remote health care and governmental information online.
Clyburn said the lack of internet connectivity puts rural communities at a disadvantage when it comes to providing local health care options.
He specifically noted the Bamberg County hospital closed eight years ago due to its inability to use the advances in technology offered through high-speed internet.
In light of this, he championed a provision in the COVID-19 relief legislation that provides $200 million for a pilot program to help rural health care providers receive necessary broadband connectivity and devices for telehealth, provides $25 million to expand investments in distance learning and telemedicine, and allows both community health centers and rural clinics to be reimbursed for telehealth services during this time of emergency.
The pandemic has also impacted how children are being educated and has forced students to study online.
"Our children in rural communities are not getting an adequate education because they are not connected to the internet," Clyburn said. "You have to have to have telehealth and you have to have online learning. We've got to connect rural America to the rest of this country."
"How many school children have not been able to meet qualifications that are required to move on the next grade all because of this pandemic," Clyburn said. "We call the internet the information highway. The information highway to me is just as important to those kids as having paved highways. ... This is infrastructure."
Clyburn also supported, through the Heroes Act, directing the FCC to accelerate the deployment of funds to bidders who commit to building new high-speed broadband networks.
An estimated $350 million through the FCC's Rural Digital Opportunity Fund will be available for South Carolina providers to build new broadband infrastructure.
This includes Tri-County Electric Cooperative.