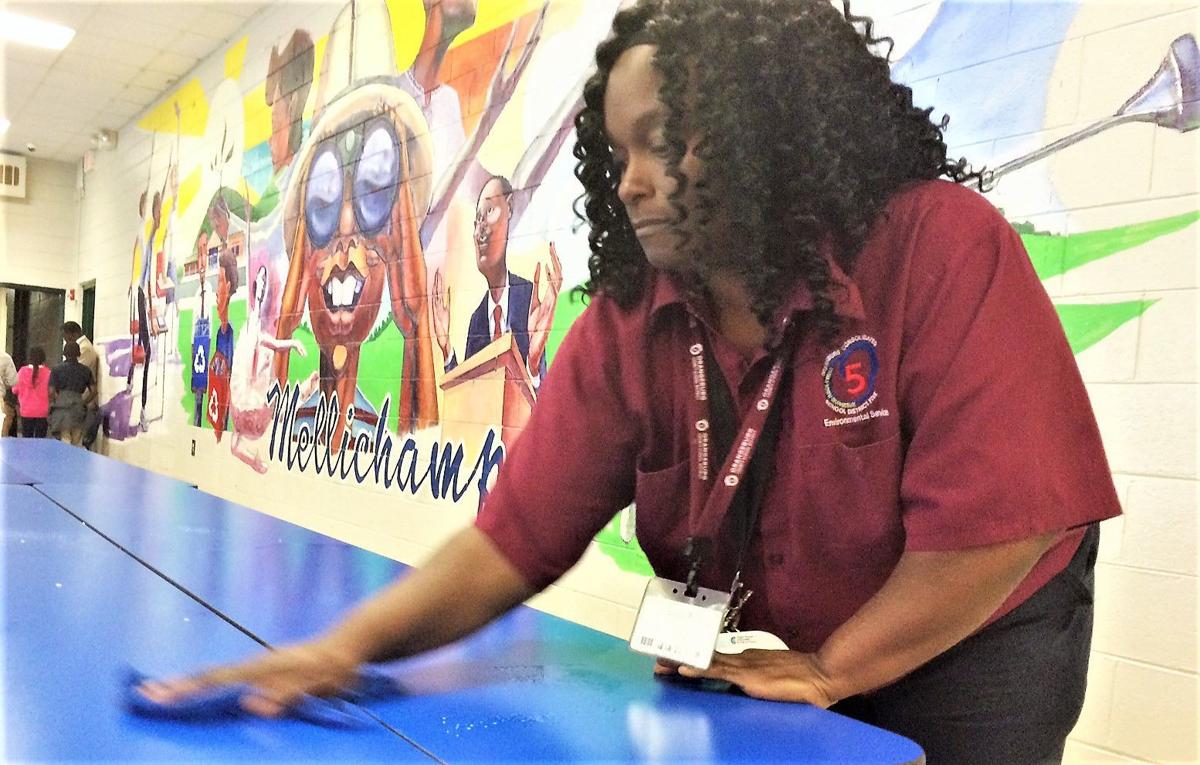 School officials say they're not taking the coronavirus lightly.
"This thing is scary and we are just trying to stay on top of it and hopefully we will not have a case," Calhoun County Public Schools Superintendent Dr. Steve Wilson said.
"We won't play with this," he said.
All local districts say they're keeping surfaces clean, educating students and keeping in touch with state officials.
The Orangeburg County School District has postponed all out-of-state field trips and is monitoring in-state field trips on a case-by-case basis.
Some organizations not affiliated with the school district have cancelled events, having a ripple effect on district band students.
The Carolina Winter Ensemble Association announced Thursday it has cancelled its Color Guard Championships and Percussion & Winds Championships scheduled for later this month.
The S.C. Band Directors Association has also cancelled its Concert Performance Assessments and suspended its Outstanding Performance Awards event.
About 15 students with the Reserve Officer Training Corps' Orienteering Team were going to Fairfax Station in Virginia this weekend to participate in the National Orienteering Championship. The event was cancelled due to the coronavirus.
All local school districts are staying in close contact with the S.C. Department of Health and Environmental Control and the Centers for Disease Control and Prevention and following their lead in developing recommendations and guidelines in light of the coronavirus.
Currently, there have been no cases of coronavirus reported in The T&D Region.
"We are following the coronavirus situation carefully and closely," OCSD Nurse Patti Padgett said.
The district is teaching students about respiratory etiquette. Posters and videos are being shown to students about proper hygiene, she said.
Padgett says hand sanitizers are in the classrooms and its use by younger children is being supervised.
Nurses are going into classrooms, especially for younger students, to teach hand-washing classes.
District custodians are conducting frequent restroom checks and cleaning and sanitizing high-touch areas such as sinks, fixtures, and flush handles. Evening custodians also disinfect all high-touch points at the end of each day.
If the coronavirus becomes more widespread or an outbreak did occur, the district can utilize additional methods such as disinfectant mists or foggers.
The district is also ordering two handheld electrostatic sprayers with expectations the equipment will arrive next week.
For school buses, disinfectants and spray bottles have been purchased.
Also, the district has also been in contact with the S.C. High School League with regards to the possibility of discontinuing handshakes between teams and players before and after games.
No school activities or games have been cancelled as a result of the coronavirus yet.
There are measures in place for handling illness.
"If a student or staff member begins showing flu-like or other respiratory symptoms at school, our school nurses follow standard medical precautions and procedures," OCSD Interim Superintendent Dr. Darrell Johnson said in a letter to district stakeholders last week.
"Parents and guardians are reminded to keep their children at home when they have a fever higher than 100 degrees Fahrenheit before they are given a fever-reducing medication," Johnson said.
"Once your child's fever breaks and your child no longer has a fever (without Tylenol or another product in his/her system), please keep your child home for another 24 hours," he said.
The district's human resources department is also monitoring staff to ensure the district has the appropriate personnel in place to continue educating students.
Padgett said the district is monitoring absenteeism. The data is being shared with DHEC regularly and the district is in touch with the agency about what steps will be taken should the virus become more widespread.
Regarding the possibility of school closures, Padgett said "Currently we are not there."
"There is a plan laid out and we work with our administration team," she said.
Padgett said the distinct always tracks attendance during flu seasons and reports to DHEC when absenteeism is above 10 percent or above 20 percent for a particular group of students or staff.
"We continue to report numbers as needed to DHEC and they will guide us," Padgett said.
Johnson said no school is supposed to close or cancel classes until it goes through DHEC, the Health and Human Services Department and the state Department of Education.
In the event of school closures, District Chief of Curriculum and Instruction Dr. Lana Williams says review material is being prepared for students that they can download on their Chromebooks so that the students will have material they will use at home in the case of an emergency.
Calhoun County Public Schools
All schools in the Calhoun County district have outfitted restrooms with soap dispensers for hand-washing and hand sanitizers will be placed throughout the school. Instructions have been provided on proper hygiene.
"Students are encouraged to visit the school nurse when not feeling well," Wilson said. "Keep kids home if they have fevers or any symptoms. We are trying to make sure we stay on top of this stuff."
District custodial staff continue to do more frequent cleanings.
Though school closures are not in place, Wilson said the district is putting together curriculum packets that will enable e-learning. School closures will be at the direction of DHEC.
Wilson said the district has cancelled out-of-state field trips but has not seen a need to cancel regularly scheduled events or after-school activities.
"We will keep an eye on it," he said.
Bamberg School District 1 Superintendent Phyllis Schwarting said the district has implemented a number of protocols, including the monitoring all symptoms and documenting both student and staff illnesses.
"We have concluded that the only sure thing about this virus is its unpredictability," Schwarting said. "Communication is the key to avoiding panic among our children, staff and parents."
"Hopefully we will see the end of this epidemic very soon," she continued. "We pray for all those who have lost loved ones to this frightening illness. Again, at this time we have no reported or suspected cases."
Parents will be informed if any students in their child's classroom has a confirmed case of the virus.
"We have made sure we have an adequate supply of hand sanitizer (at least 60 percent alcohol), soap for vigorous hand-washing, paper towels for drying hands," Schwarting said.
She says if a child displays symptoms, they school will quarantine the child until he or she is picked up by parents.
Parents are encouraged to monitor the news, district/school Facebook pages and district web sites.
Bamberg School District 2 has also taken the same necessary precautions as their counterparts in other districts such as making sure soap is available for frequent hand-washing and that disinfectant wipes are also available.
"The school nurse is encouraging anyone who feels sick to stay home," Superintendent Dr. Thelma Sojourner said. "Cleaning and disinfecting processes have been enhanced."
Sojourner said all information from DHEC, the CDC and the SCDOE has been shared with all of the schools, nurses and administrators to ensure that communication is passed on to parents and the community.
"Should a case of coronavirus be confirmed by the hospital or other health officials, the district will rely on the direction and guidance from DHEC and the county health department," she said. "Should they recommend closing the schools, the district would follow their direction and make sure necessary precautions are followed."
She said if a case is confirmed in the district, appropriate notification would be made to parents and the community.
No school trips or sporting activities have been cancelled or otherwise impacted in the districts through March 13, but Bamberg School District 1 says it is awaiting a Monday decision from the South Carolina High School League about how to proceed with sporting events.
Concerned about COVID-19?
Sign up now to get the most recent coronavirus headlines and other important local and national news sent to your email inbox daily.