Funniest Pet Photo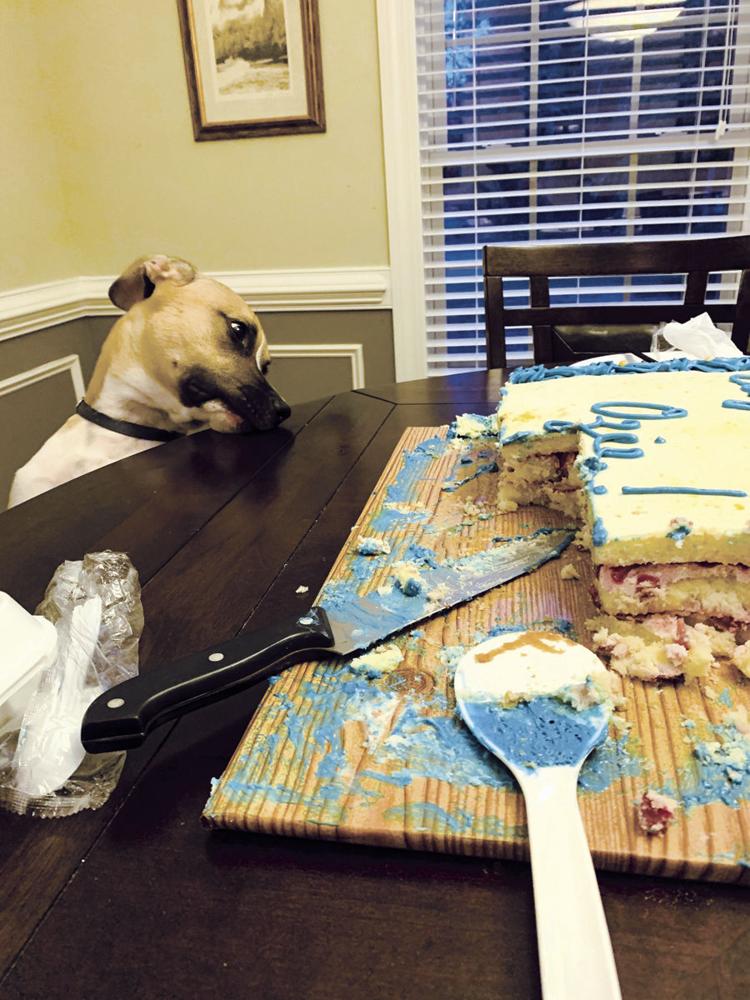 Amari Thompson of Orangeburg was excited when she learned her beloved pet Simba, a pit bull-mix, was tapped as the winner of The Times and Democrat's Funniest Pet Photo contest.
Simba's big personality really came through when he was pictured clawing to get a piece of Thompson's brother's graduation cake.
"It was my brother's graduation, and we had to put the cake on a different table because Simba was trying to get up and get it. On the video, he was just struggling on the higher table to try to reach the piece of cake," Thompson said.
She said Simba, who is loved dearly and spoiled, enjoys family get-togethers. It was Thompson's mother who suggested that Simba be entered into the contest.
"He always keeps my family laughing. My mom was like, 'We have to enter the picture of him trying to get the cake.' I was like, 'You know what? Let's go ahead and try it.' It was pretty funny," Thompson said.
When he can't get cake, the 9-month-old spends most of his time eating just about anything, including his favorite chicken sticks.
"I always buy him a pack. Every time I go in Walmart, I try not to get them, but I have to get them because he loves chicken sticks and bones," said Thompson, a lover of all dogs.
"I grew up having dogs. They were always just like part of the family. They're kind of like kids. They do have feelings, they do need love. That's really all Simba wants, is just some love and attention," she said.
Cutest Kids and Pet Photo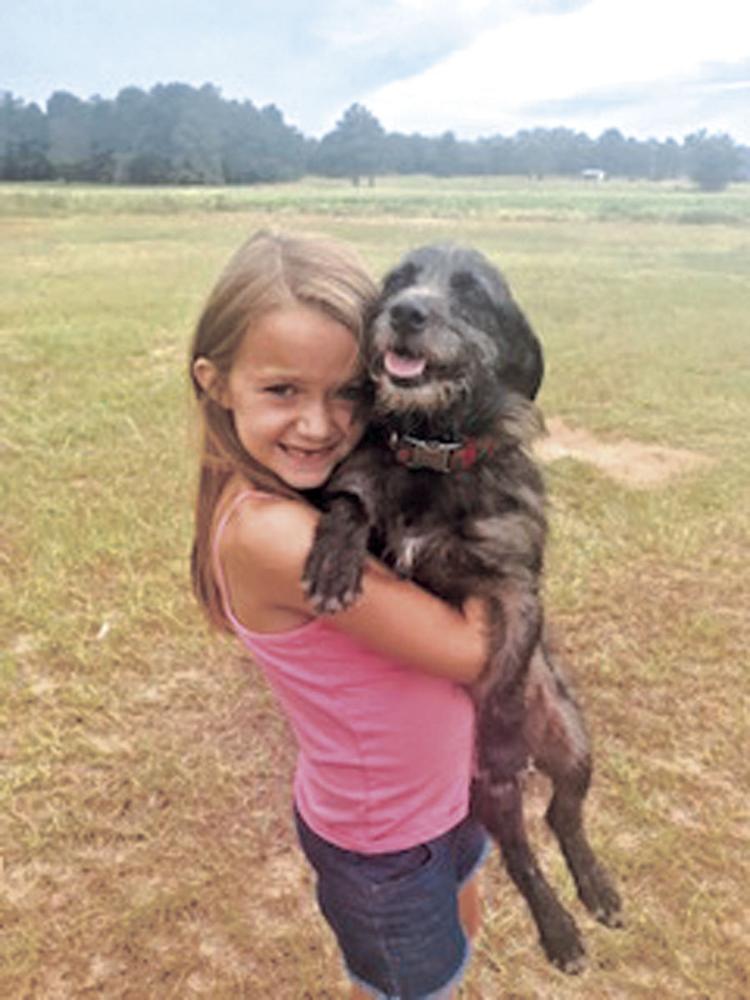 Joy Pifer of Elloree said it was love at first sight when her goddaughter, Layla, met Scooter.
"Scooter is a little dog who just showed up in the yard. It's like he just found her. Wherever he came from, he just knew that he needed to be around somebody that would love him and take care of him for him to show up in that yard," Pifer said.
"Layla has loved pets from the time she was little. She's only 8 now, but from the time she was walking, she loved animals," she said.
So it wasn't strange that a picture capturing Layla and Scooter playing out in the sun was tapped as the winner of The Times and Democrat's Cutest Kids and Pet Photo contest.
"They were just out that day playing in the sun. He follows her everywhere she goes. She loves animals. That's why I wanted to enter her into the contest. She's so photogenic anyway, that I knew she would do well," Pifer said.
Pifer said Scooter has come through a lot, including surviving an attack by pit bulls. He played dead just long enough to find his way back to Layla.
"As soon as they got far enough away from him, he took off running to Layla. He got away and found Layla. So that was good," said Pifer, who appreciated that part of the contest proceeds would go to the Maude Schiffley Chapter of the Society for the Prevention of Cruelty to Animals in Orangeburg.
"We can't help them all, but we can donate money to try to help some of these animals that haven't had the best of life. That's what Layla wanted, too, was to help the pets. We know we can't rescue them all, but we can donate money to help those who are helping them," she said.
Most Unique Pet Photo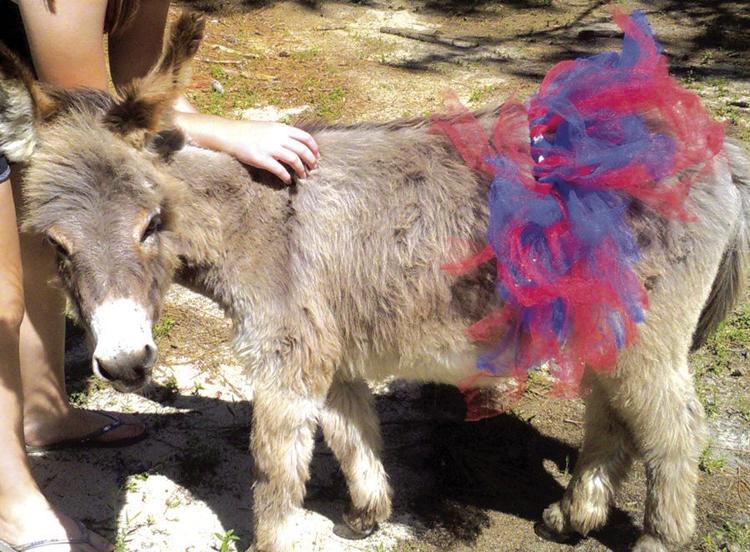 Dianna Myers said her 12-year-old daughter's pet donkey, Jill, is a character who her family has taken care of since birth.
Myers figured it wouldn't be strange to enter Morgan's pet into The Times and Democrat's Most Unique Pet Photo contest. After all, Jill came out on top as the contest winner.
"When I saw unique, I figured that's a pretty unique pet. She's like a kid. She follows you all around. We raised her with a bottle, and she's quite a character," Myers said, noting that Jill loved to play hide-and-seek with the family when she was smaller.
She added, "She still likes to drink her bottle, and she likes birthday cake, pecan twirls and cereal. She's spoiled. Me and my daughter have done everything with her since she was born."
The family also has a pony, which Jill keeps company.
"My daughter's like an animal doctor. We've raised all kinds of animals. We've got bunny rabbits, dogs and fish. I do landscaping and have found some baby doves and stuff where we've cut trees down. She's raised some and helped some that have broken wings. She's always got her hands on some kind of animal. We've got ducks and everything," Myers said.
She said animals, unique or not, were made to be loved.
"They're just like humans. They need attention, they've got to be taken care of. Kids love their animals, and I love them, too," Myers said.
Most Entertaining Pet Video
2020 Pet Idol winner Maddie, an adorable 5-year-old shih tzu, also came out on top in the The Times and Democrat's Most Entertaining Pet Video contest.
Her owner, Jen Prince of Orangeburg, said she was excited about the win.
"This year I really liked the addition of the four extra contests. I thought that was a really nice addition," Prince said.
The video featured Maddie playing with one of her many toys.
"She likes to get one of her toys and squeak it. Then she rolls all over it so that she gets her scent all over it. Then when she rolls back over onto her front, she brings the toy with her. It's just something that she does regularly," Prince said.
"I love her video. I'm biased. When I put her video up there, I think it's the cutest video in the world, but evidently other people agreed with me. So I'm happy about that," Prince said.
Get local news delivered to your inbox!
Subscribe to our Daily Headlines newsletter.