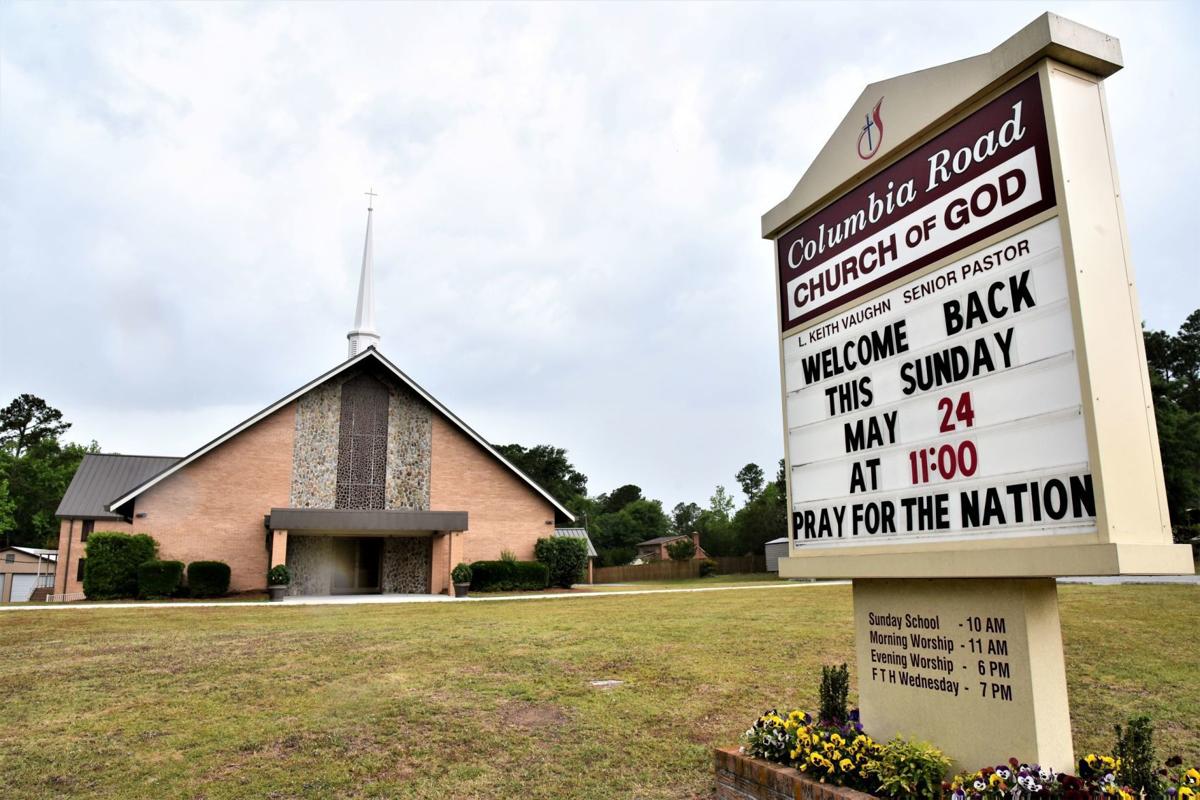 Church buildings that have been empty during the coronavirus emergency are beginning to reopen.
For two months, most churches in The T&D Region have not been holding traditional services in response to the stay-at-home provision of South Carolina's emergency declaration. Many have used online platforms such as Facebook Live, YouTube and Zoom for virtual services, with more than 30 churches placing weekly videos at TheTandD.com.
The reopening of the state has some churches back to holding traditional or outdoor services and others making plans and setting dates. But things have changed, both in the way traditional services will be held and how churches plan to use social media.
The Rev. Nathaniel McMillan of Orangeburg, a pastoral coach and consultant at the South Carolina Baptist Convention, said most ministers are being cautious about resuming in-person services, following state guidelines. "But they also are listening to the Lord."
"It is a major awakening," McMillan said of the coronavirus emergency. "It is really looking to the Lord for the next steps."
At Ebenezer Baptist Church in Cordova, June 7 has been set as the date to resume in-person services, the Rev. Brian Self said. To promote distancing safety, there will be two services, one at 9:45 a.m. and the other at 11.
"We're encouraging our senior members or those who have stayed at home during this time to attend the 9:45 service. For those who have been out in the public each day or have small children, we ask them to attend the 11 a.m. service," Self said.
"We're changing how we do things to prevent unnecessary contact," Self said. People are to be spread out during services via seat spacing. Hand sanitizer will be available.
Northside Baptist Church in Orangeburg is also planning a June 7 reopening.
Senior Pastor Dr. Shane Stuntzman said the church will have about 30% capacity. Multiple services will be offered, all featuring sanitizing stations. A 9:30 a.m. service will be geared toward seniors with an 11:15 a.m. service for younger people. For safety, masks need to be worn.
Once a month, there will be a drive-by Wednesday night prayer time, Stuntzman said.
Other churches have not made the decision to resume in-person services.
At Cornerstone Church in Orangeburg where a Sunday service will draw more than 1,000 people, Pastor Dustin Bates said leaders know it is on their shoulders to make a decision. But he is not rushing.
The decision has to be based on "what is going to be the prudent thing for ourselves and our families to try to keep people safe," Bates said.
"Things are not going to change overnight," Bates said of the potential health threat from the coronavirus. The church has to modify the way it does things by figuring the number of people it can accommodate at one time, as well as what does and does not need to be offered.
Cornerstone has taken one step toward reopening with its café. Hours have been modified to 7:30 a.m. to 2 p.m. and the venue is operating at 50% capacity. "Most people are still doing takeout," Bates said.
At New Mount Zion Baptist Church in Orangeburg with its nearly 500 members, the Rev. Todd A. Brown said reopening will occur in phases.
The church is presently in phase 1 with virtual services and weekly distribution of food to the needy via the pantry.
"We have not really set a date for phase 2," Brown said. "We will be looking at integration of more of our small groups." The groups would be 15 or less for sessions such as Bible study.
Brown cited the higher coronavirus risk factor for African Americans. "As pastor, my main thing more than having the doors open … is the safety of the sheep. No opening for the sake of opening."
The return to in-person services won't mean an end to using the virtual world to reach members and the public.
McMillan said many pastors already were using social media to grow their audience and the absence of in-person services has expanded the number doing so.
"They have been reporting numbers that they never had before," McMillan said. "It's been amazing."
The only way ministers can reach some audiences is through social media. "They are really encouraged by the response," McMillan said. "It has inspired them."
McMillan himself has used Facebook Live for a Wednesday devotion in his role as Oaks PACE Adult Day Care Center chaplain.
Cornerstone's Bates said his church used social media platforms extensively before the coronavirus. But he has seen some changes.
A new audience has emerged, Bates said. "People are looking for some hope, some reassurance." And Cornerstone wants to help them find both.
The social media outreach during the coronavirus has been successful, he said. "We will continue to push into it. It has expanded our reach."
Ebenezer Baptist's Self said the live-stream services that began March 22 will continue for Sunday mornings. "We have had a good audience attending each livestream service. We've been utilizing Facebook Live for the past two years and it has become an important part of our ministry."
Mount Pisgah's Brown said the growth in attendance via Facebook during the coronavirus emergency has been about 30% per month. "We've kind of tagged it as the new normal -- the quarantine cathedral."
Northside's Stuntzman said Zoom, Facebook, YouTube and the church's website were important tools of the ministry before the coronavirus emergency. But he, too, has seen growth over the past months.
"Through the internet, the message of Christ is going out more than before."
The Times and Democrat's Kristin Coker, Amy Bryant and Carla Hall contributed to this report.
Concerned about COVID-19?
Sign up now to get the most recent coronavirus headlines and other important local and national news sent to your email inbox daily.